April 22, 2007
...And They're Off!!!
It's a bird, it's a plane, it's...backpackers! If you thought we were moving quickly before, hold on to your hats folks! The rest of Southeast Asia is going to come fast and furious. Of course this might mean less frequent posts, but we'll do what we can!
The general plan has been copied from a backpacker's travel company, with suggestions made by Dara, a fellow traveller way back in Namibia. To be fair to us, we're not insane for doing this so quickly as this company also runs the Indochine loop in 30 days. Our route will take us through Laos, Vietnam and Cambodia, before depositing us back in Bangkok.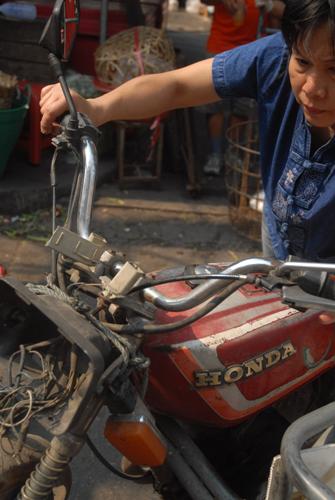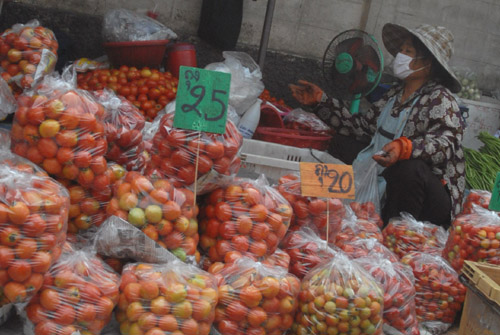 We started out with 3 days in Chaing Mai, a good sized city in the north of Thailand. It has an old fortress town at the heart of it, surrounded by a moat. This is most important at this time of year: The Buddhist New Year, Songkran, also kown as the water festival. Though the moat looked like no water I'd like to swim in, many people did just that. The rest loaded their buckets and water guns with this murky agua and proceeded to let loose on locals and farang alike. We spent several days soggily thanks to this, the biggest festival in this part of the world, without realizing the worst was yet to come - they go even wilder in Laos!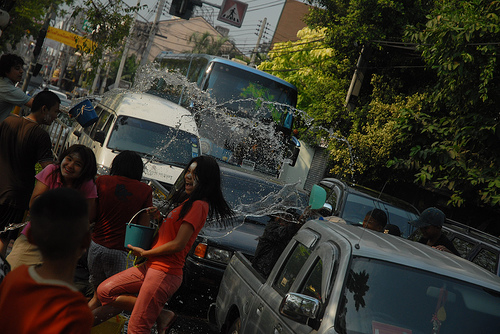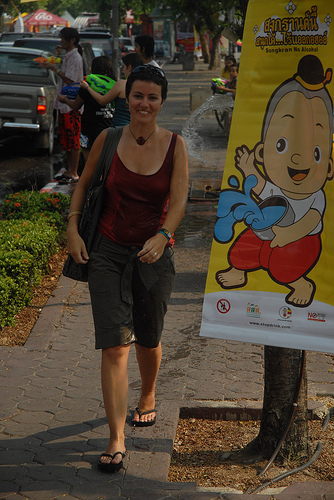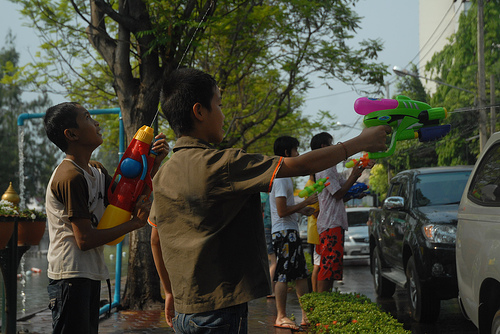 But we did manage to stay dry long enough for some good tourist activity. Off we went one afternoon to the nearby umbrella town of Bo Sang. We were in search of photos not parasols, but we still managed to find something to spend our money on: woven lanterns! SO simple, so beautiful, so cheap! This one stall left me with the dream of opening a shop of these in Canada. It would be absolutelyterrible if it required business trips back here! Between that and the very affordable night bazaar in Chaing Mai, we've wound up send yet another box home.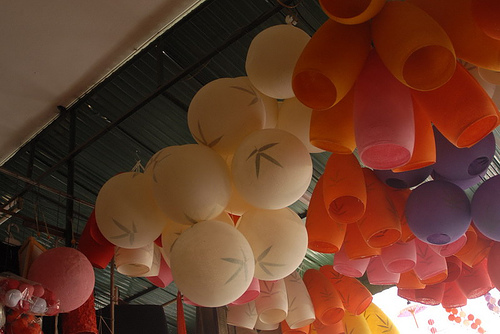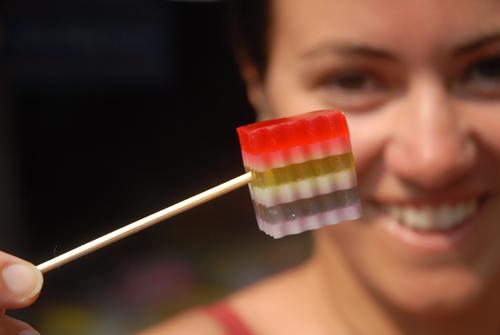 But if the shop doesn't work out, perhaps we can become thai chefs instead. We took a one day cooking class where we mastered six dishes including curry paste, spring rolls, cashew chicken, pad thai and bananas in syrup. If I do say so myself, they all turned out deliciously. We enjoyed our creations, with Tom and Kristen from Portland, for several days to come.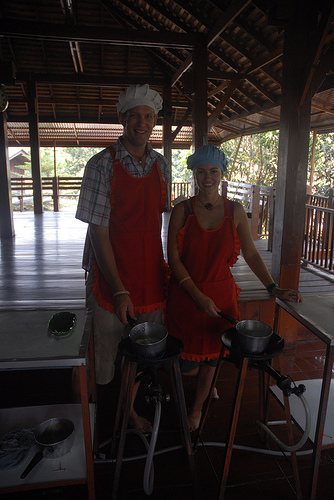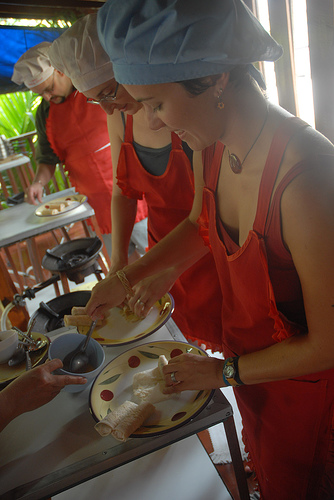 So now we have got two good job ideas. But why stop there? Let's see what 2 days on a boat up the Mekong in Laos can do for us...

Posted by psy2099 at 11:06 AM
April 09, 2007
The Facts!
I suppose that you may be interested in what we really have been up to; facts as opposed to a load of fibs!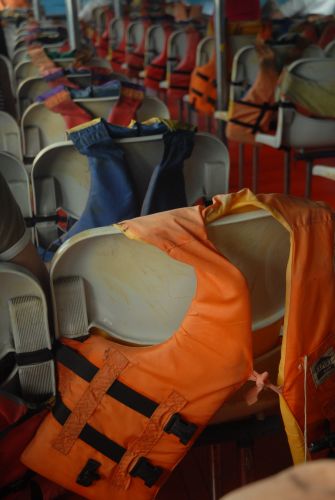 Going back a ways now, we left Bangkok for Koh Phi Phi via Phuket. You probably know these names from the 2004 Tsunami news reports - the area was one of the worst hit. Tonsei village on Phi Phi lost half of it's 5000 residents. We were immediately faced with this tragic history when the cab driver from the airport produced gruesome, shocking photos of a sea of floating bodies. Despite this, there is little evidence remaining of the event; we saw no memorials, only one tsunami warning sign and high water mark and the area is mostly re-constructed and the trees are re-growing. The island's visitors are not troubled by a tragic mood - if anything, the re-build is even more resort-y than the original. This is the spot for all young travellers looking for sun, sand, sea and no doubt, sin.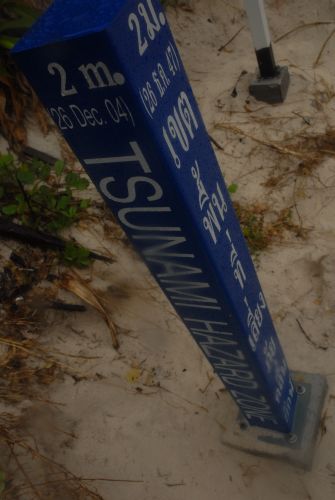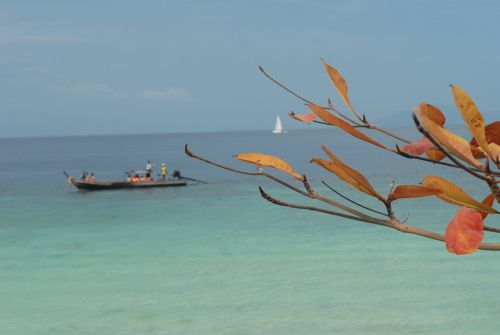 At the ripe old age of 30, Simon and I admit to having little stamina or interest in the party aspect of these islands, so we removed ourselves to a remote beach cabana, accessible only by long tail boat. This is the chosen form of H2O transport in Thailand - a boat of planks, propelled by a re-jigged car engine with a long drive-shaft extending into the water behind the vessel.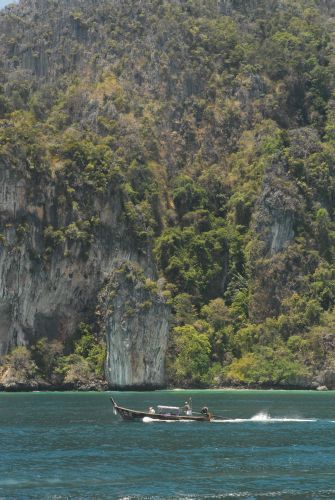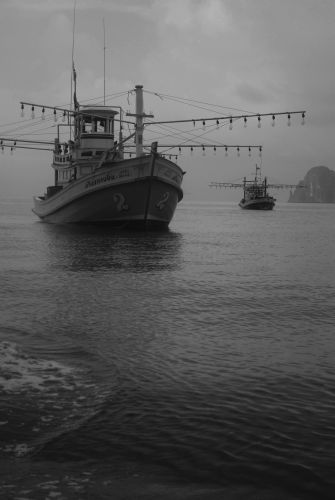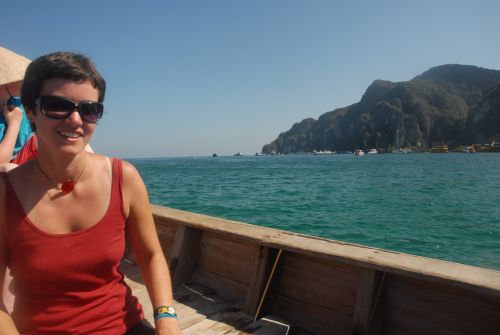 Here we got plenty of sunshine and swimming, a little snokelling, one very hot hike to a viewpoint (why do we feel the need to climb high!?!), much eating, reading, sleeping, and, well, you get the idea, a whole lot of non-taxing activity.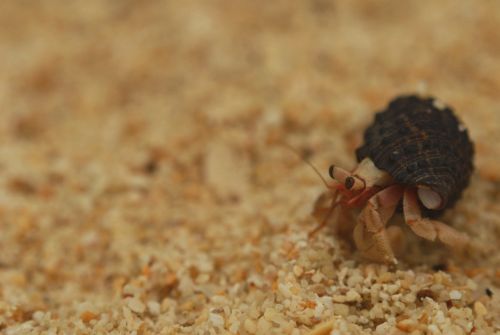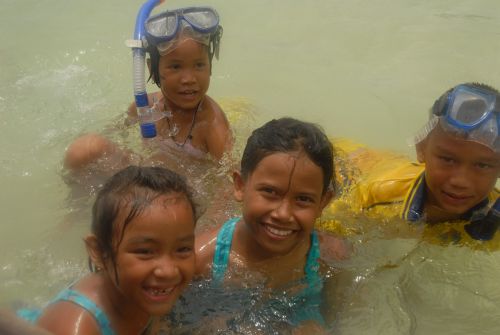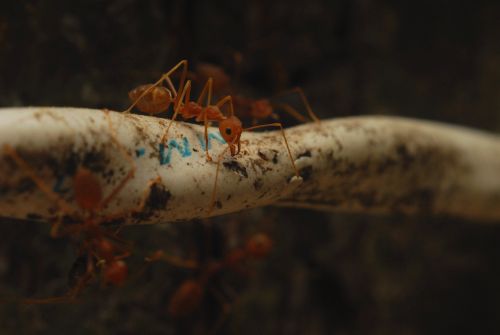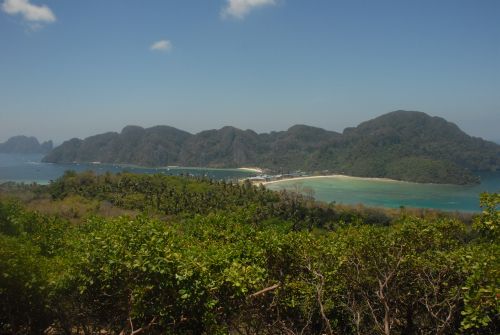 Yes Thailand's islands are clearly an indulgent, vacation spot, but it wasn't quite our perfect paradise, so we decided to check out a Malaysian Island. On the way, we really did stop in the jungle...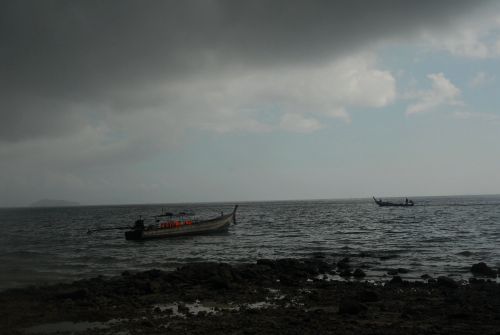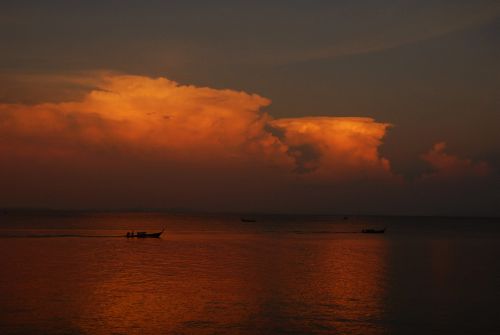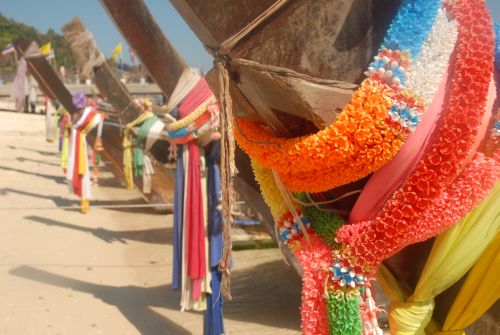 Posted by psy2099 at 05:16 AM
March 28, 2007
A-OK in BKK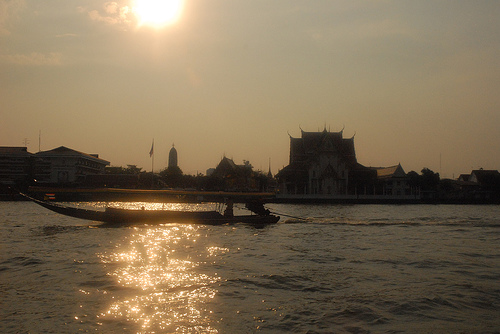 What's not to like about Bankok? I couldn't tell ya---we loved the place! From the cheap rooms to the dirty Chao Phraya, plied with river boats, to the sparkling skytrain, affording beautiful night vistas...This city could charm the pants off even the most reluctant urbanite. Within hours of arriving I was urging Simon to apply for an advertised photographer's assistant position. We quickly came to our senses, though--who needs work when we have money for at least one more care-free month?!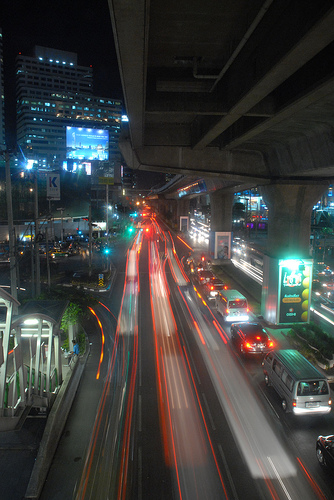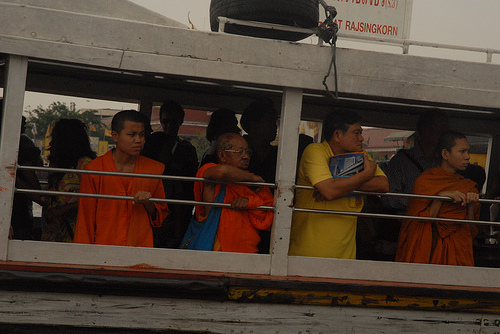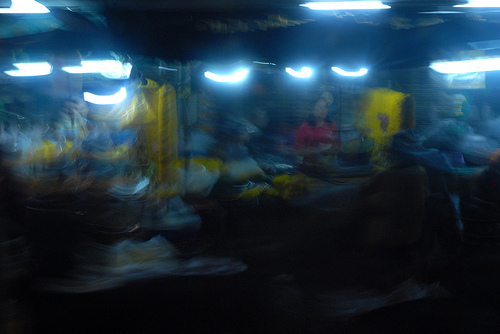 Actually, to be honest, our time here was mostly work as it was. Being the biggest hub that we would hit for a while, we took the opportunity to organize several up-coming visas. We also spent much time pouring over our Lonely Planet and the internet, attempting to form some sort of plan for our time in South East Asia. In countries rife with tourist scams and corrupt, tricky border crossings, not to mention a few terrorist hot spots, we decided we may want to be relying less on the seats of our pantalones than we typically have been.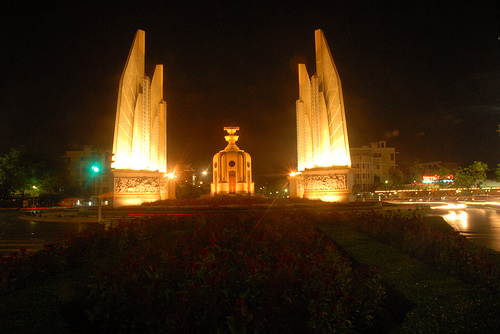 In fact, we proved to be such efficient little planners, and so content in our environment, that we planned away days from China, Japan and Australia in order to have and extra two weeks in this part of the world. This would not only stretch out our rapidly depleting budget, but would also afford us time to visit Malaysia with our favourite Aussie/Canadian couple.
But don't think that there was no play for us in this fair city. We ate well (surprise!) especially at the dirt cheap but immaculately clean and superbly delicious street vendors.
We also visited the gloriously golden Grand Palace and Temple of the Emerald Buddha.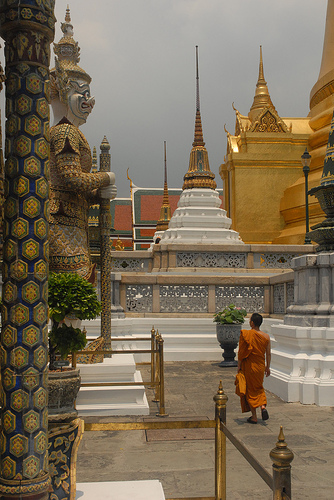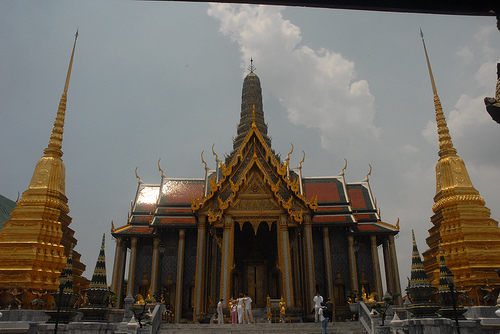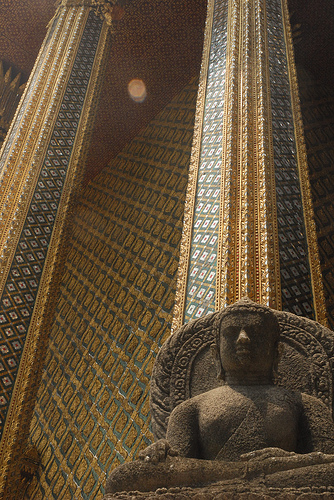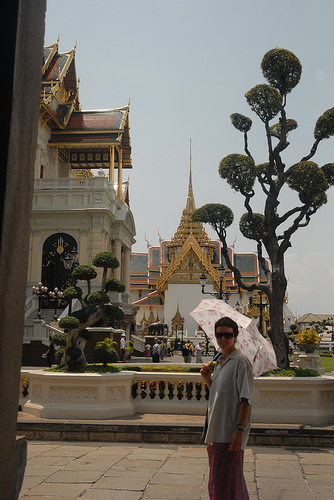 And finally...we shopped! Though we may not typically consider ourselves mall rats, we sure do love a good deal--and there are plenty of those to be had in Bankok! As the Lonely Planet says, this is not the place for a recovering shop-o-holic. Your favourite six-foot-five-amateur-photographer is now in the posession of a 4Gig memory card (on top of his other three cards!). He has been warned never to complain that he is running out of space.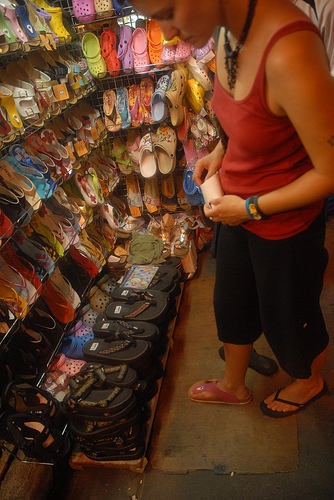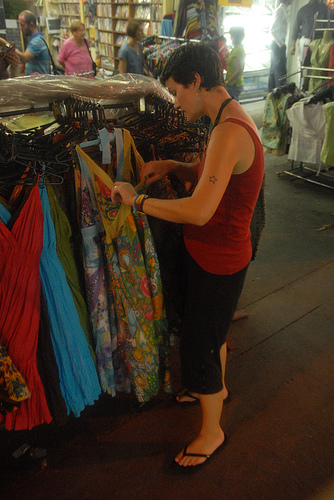 Having blown through our budget and then some in just a few short days, we decided it was time to sequester ourselves on an isolated beach where there would be no temptation to spend spend spend. So naturally we bought a flight to Phi Phi Island (well it WAS a budget airline!). We blew kisses to beloved Bangkok as the plane took us south, our only consolation that we would be back in two months time, this time to fly to China.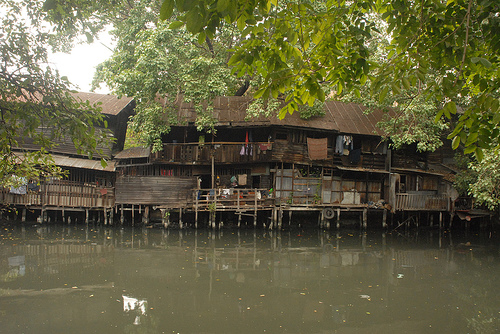 Posted by psy2099 at 09:01 AM