February 25, 2007
Désastre! (on a small scale): Technical Difficulties in Namibia
We're going on an African Safari! YAY! This is the break the budget, but worth every penny splurge: three days in Etosha National Park. We got up early, met with the group, boarded the bus from Windhoek, the capital, to the north of the country. A little lunch break, a few insect photos later and....what's this? The camera isnèt working! Strangely, poking and jostling do nothing to correct the issue & Simon's head looks like it's about to pop off. Many attempts to correct the problem & a lot of gritted teeth are invested before we face facts: Simon's darling has failed him at the most crucial point in our trip! Oh the penance one pays for deeply loving fickle technology!
One of the final shots: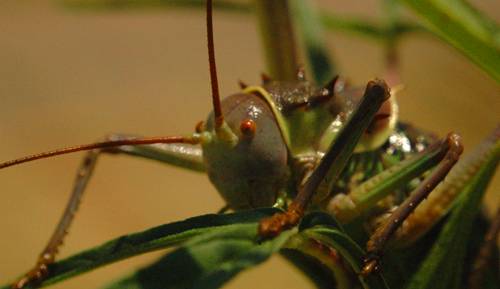 It took a few pep talks from C#3 (camera #1, computer#2) before our star photographer eased slowly out of his funk. But we were in terrific company & had great things instore for us.
Slowly melting with us in the African heat were: Nicola, Georgie & Dara - two British and an Irish - Lively gals who had just came from an incredible volunteer experience at a Namibian Wildlife Reserve. I long to someday cuddle a cheetah as they did.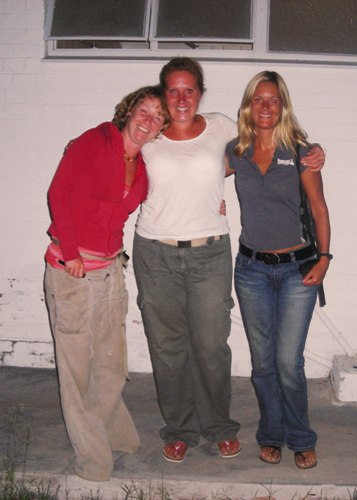 Also bumping along in the not-so-comfy bus were Catherine and her Mom and Dad, Joan and Keith, Al - a well travelled employee of the Stratford Festival, and Toshi - a very quiet Japanese.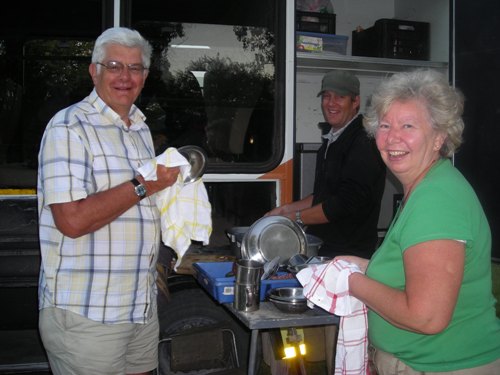 This group nutured us back to good humour & not only generously shared their camera with us, but often forced their little digital's upon a very willing Simon. All photos on this post are coutesy of them. Ièm sure you share our gratitude at not missing out on these pretty pictures.
Our personal bad luck must have absorbed it all, because as soon as we entered the park we had a lucky sighting: a lioness, some hyenas & jackals mowing down on a zebra carcass. I was shocked to find, as I would continue to be, that these animals we not way off in the distance, but within clear view from the road.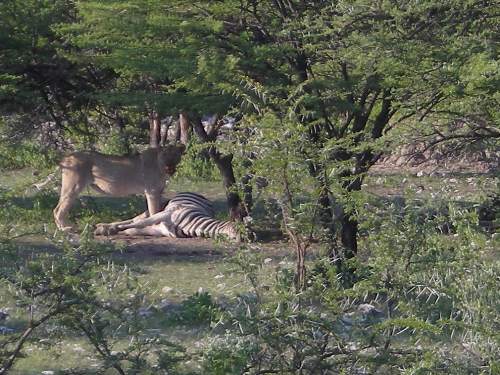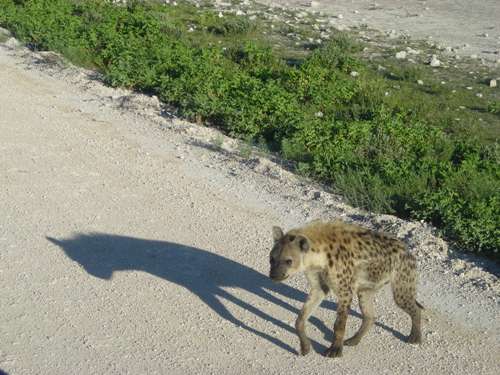 Our good luck held on through the next few days with sightings of Black & White Rhinos, a male lion, tonnes of zebras & giraffes, elephants, ostriches, baboons, hyens and so many more mysterious and delightful members of the African Menagerie.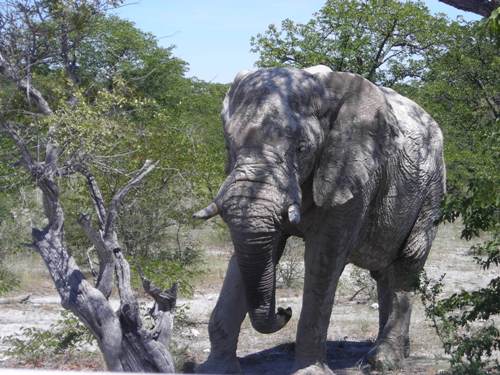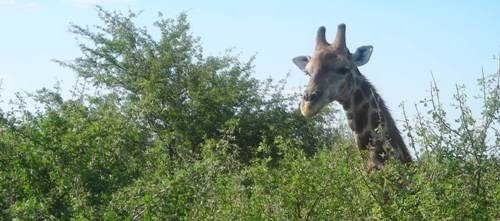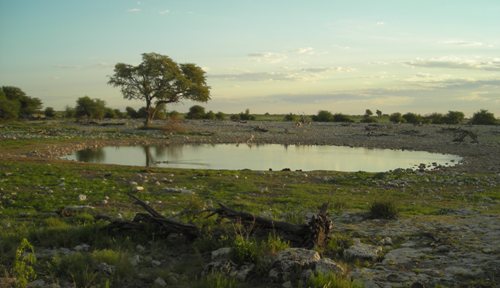 Winning the prize for most breath-taking experience, however, was an evening spent sitting by the floodlit water hole, watching pack after pack of elephants (including a tiny baby) drink from the spring. They dwarfed the lone, skittish rhino.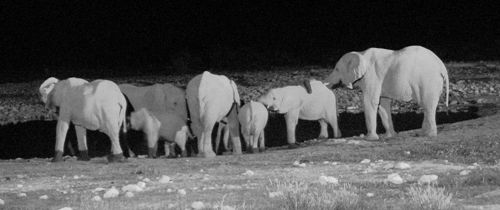 This adventure was better than we could have imagined. That says a lot given our camera calamity. We were sad to be dropped off back in Windhoek, though enjoyed a few more days in the company of Dara, Georgie and Nicola @ the Chameleon Backpackers Lodge.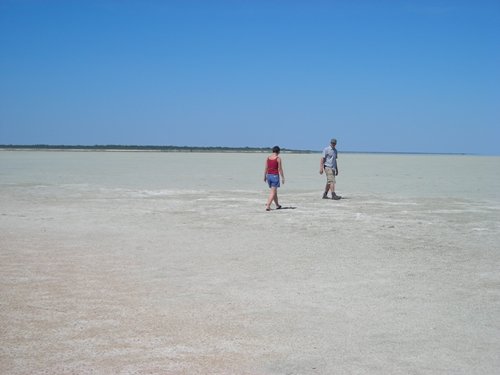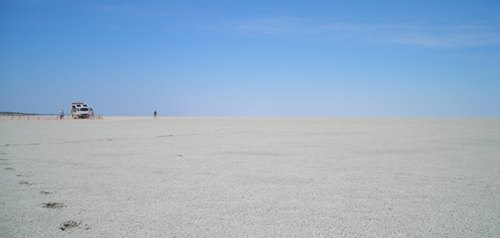 With a 24 hour bus ride to Jo'burg in our near future we had to make a decision about how to best spend the 1 1/2 days remaining in Namibia. High on our list was seeing the fabulous Namib desert dunes, perhaps a little sandboarding, and some sight seeing along the Skeleton Coast. Besides the wildlife safaris, this is why tourists come to Namibia & we'd been keenly looking forward to these sights since the conception of this trip. But with awkward bus schedules and a broken camera on our hands, we decided a whirlwind trip would not only be tricky but frustrating as well. So we made a decision that we would remain put in Windhoek and plan to come back here some day. Despite the unsettling crime warnings, we haved loved this part of the world & clearly there is more to see.
With that we boarded the bus back to Jo'burg where Fr. Ray Fortin, a friend of many in Simon's Minden Catholic Church Community, kindly offered to protect us from the "dangerous city". He has been a missionary with the White Fathers of Africa since 1956, working primarily in Zambia but is now offically retired, and still very busy in the Jo'burg area. He took us around to Alexandra, a really improvrished township that doesn't get the attention of the world like Soweto. We also went to the Tuscan Monte Casino which was modelled on a Tuscanny town all under one roof. Very over the top...
And to Pretoria, Jo'burg's "happier" northern neighbour.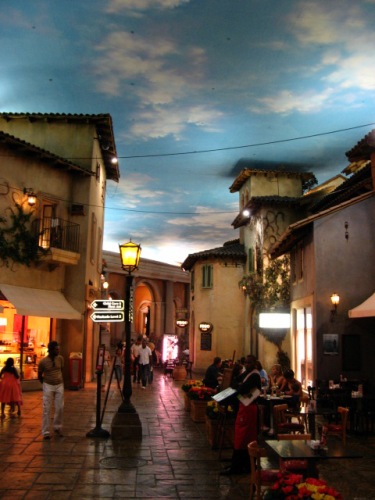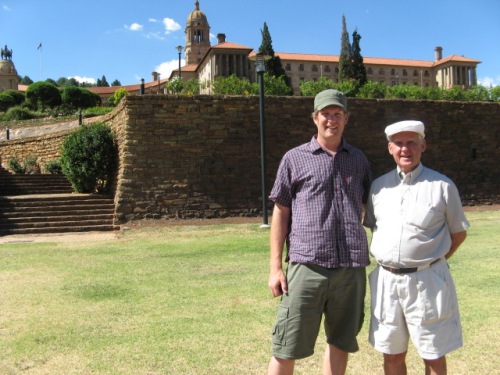 So, dear blog-readers, I'm sure you are wondering about the future of your favourite travel blog & time waster. As it seems that our dear little Nikon must make a trip back to it's manufacturers, we have made a plan that will make you & Simon happy once more. We fly to India on Monday, meeting my parents at the Mumbai airport. With any luck, we will find a good deal on a brand new camera companion and our broken baby will head home in the care of my folks.
So fear not: the show will go on!
Posted by psy2099 at 09:19 AM
February 17, 2007
Cape Town - Low on the Map, High on Comfort
Note from Nerd: Dial-uppers prepare yourself for a doozy! More pictures in the extended entry...

Taking advantage of the 'friends of friends' connection once more, we were warmly welcomed by Pete & Heather, their sweet girls, Maxine & Kate & their love-of-a-dog, Kobe. (Many thanks to Heather Bell for setting us up!)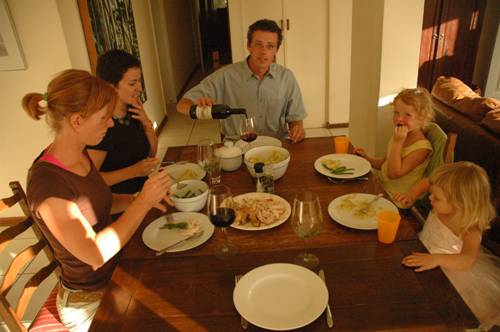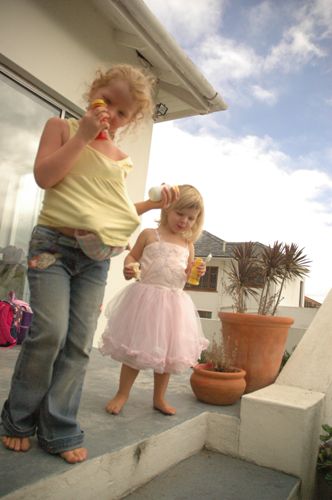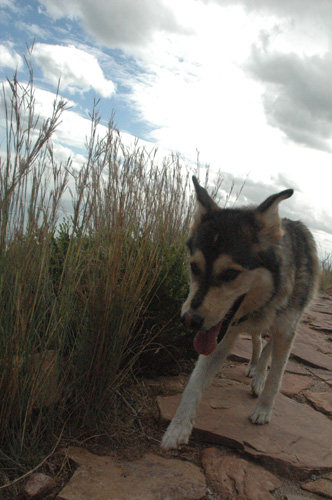 These generous folk gave us a comfy flatlet, many a fine meal, & some great company for four days - despite the fact that they move to Salt Lake City in three weeks! We're filled with gratitude for these hospitality super-heroes.
So what did we get up to besides invading the Turner household? Mostly enough hiking & biking to wear our legs plum out. As I write this, I am sitting on an overnight bus, on the top floor, which necessitates hobbling down stairs at every stop. May the twenty hour bus ride heal the pain.
Day one in Cape Town started with a hike up Lion's Head Mountain with Heather & Kobe. With a little excercise out of the way, we joined a walking tour of Cape Town, led by Toos, Simon's mom in ten years-really this is what Ursula looked like - could be the fact that she was also Dutch! (Toos, you'll still look good!) We spent the rest of the afternoon looking for an old manual camera for Simon - henceforth we're mostly in places where it's not a wise idea to promenade with his digital one in hand...and you know Simon would feel lost without this accessory! But alas, no luck. Home to Camp's Bay to plan our time in town.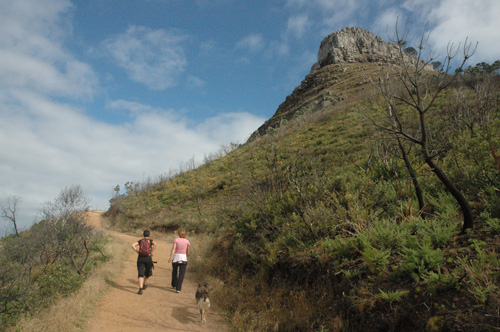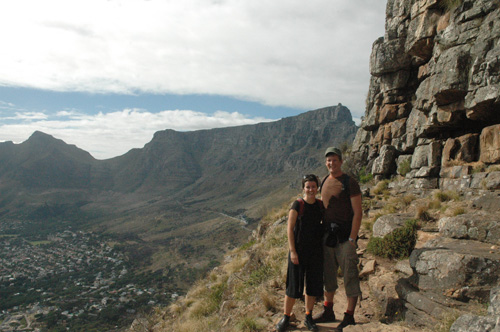 Day Two was a tour of the nearby wineries, led by Gareth, guide extrordinaire, and in the company of five other tourists (including 3 canadians!) we threw back sample after sample of glorious wine, and even a handful of cheese cubes. Hmmm, this is the life! Somewhere in there we also enjoyed a bike ride & a visit to a cheetah sanctuary.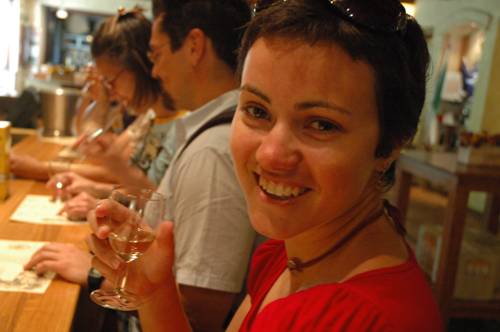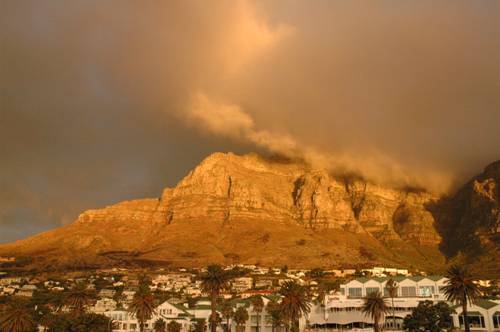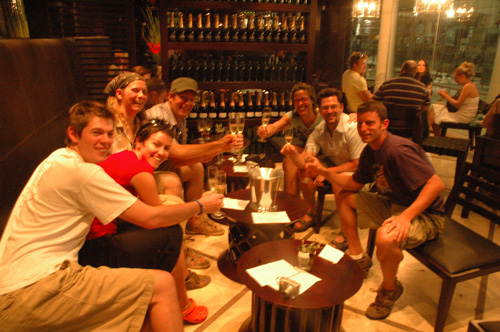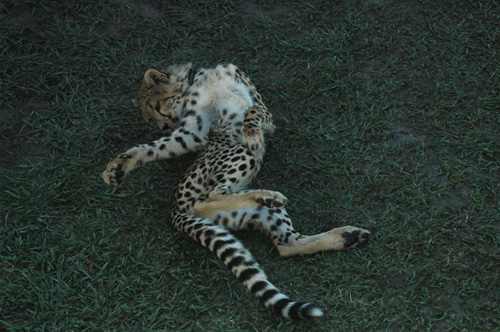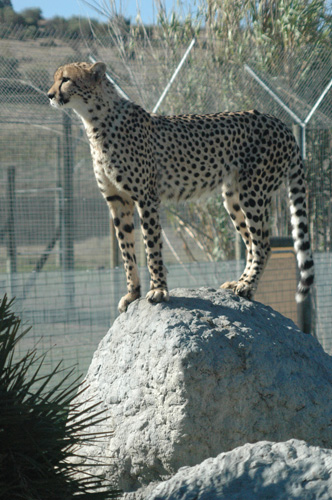 The day was topped with a fine dinner out with Pete & Heather & a movie - Blood Diamond. Contrary to the luke-warm reviews we'd heard, we all thought it to be a very well done flick-go see it! The only drawback was a night of bad dreams for Simon, brought on by some of the disturbingly violent scenes and compounded by the fact that this country we are happily visiting is still fraught with it's own appalling violence.
Day three saw us up early (by our standards!) & climbing Table Mountain with Kobe for protection (sadly there is crime even on the mountain). This proved to be unnecessary, as the day was beautiful and so the path was full of fellow hikers. We should have been worried instead about our conditioning for the hike, as we turned beat red in the blazing sun & lagged behind the unfazed Kobe. But we made it to the top & even decided that we had enough energy to hike down instead of riding the tourist -popular gondola. We were put to shame on our descent as we encountered Shirley Beste, an uncomplaining drag queen in full evening wear, including stilletoes, climbing the mountain for charity.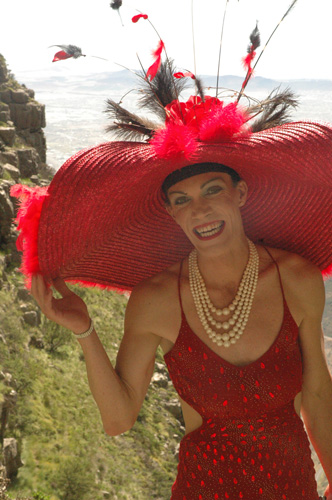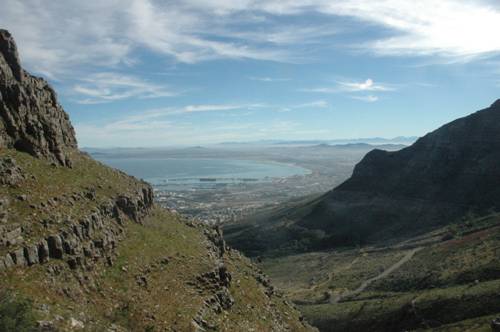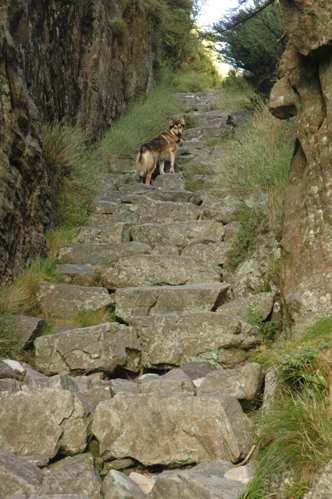 On Day four we awoke in great pain. Apparently our travels of late have consisted of too much sitting on buses and not enough climbing of mountains. Undaunted, though, we headed off on a tour of Cape Point, the most southern part of the continent & home to a national park.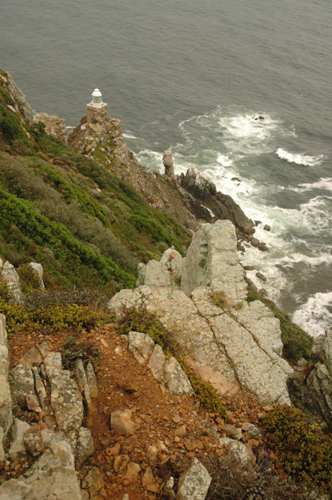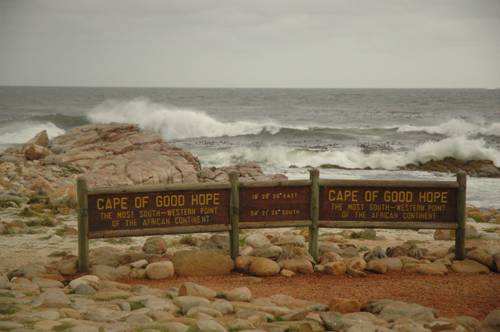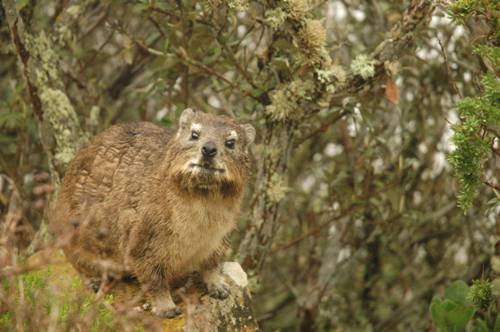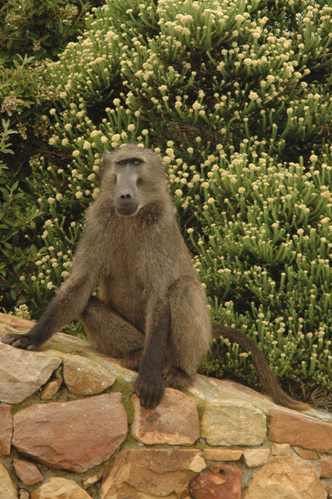 The we indulged in more hiking and biking & some wild-life sightings, Zebras, ?boks, & ostriches! After heading back up the coast a ways, we stopped again at a popular spot called Simon's Town (how could we miss it?) where I finally saw penguins! THese little guys can swim like dolphins but look just as silly on land as their larger Antarctic relatives. Another night of excellent food & company with our hosts & we bedded down for the last time in this fair city.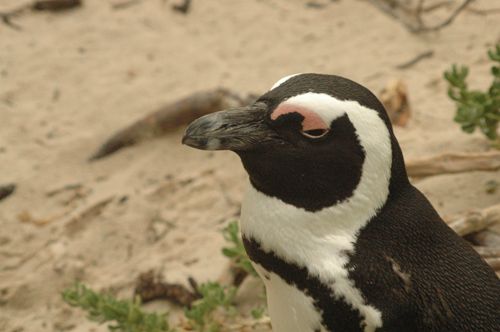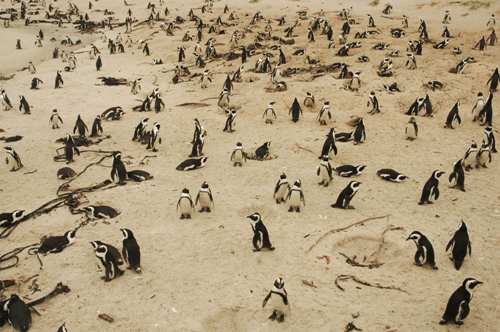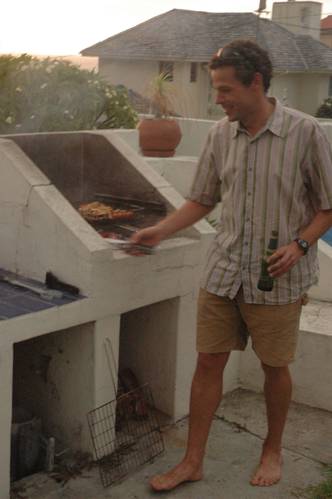 Day Five was some sad good byes & a re-packing of the backpack for the 1200th time before boarding a bus to Namibia.
Farewell Cape Town & Thank you, Turners!!!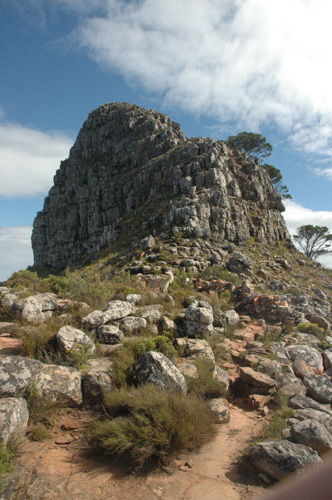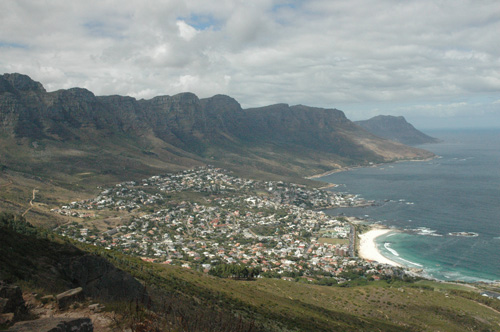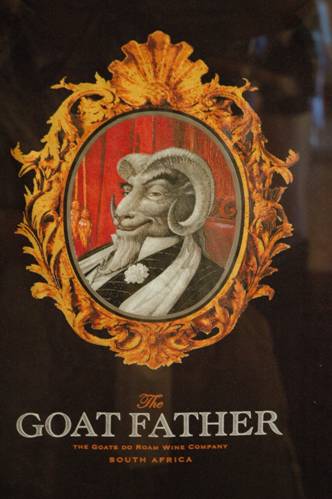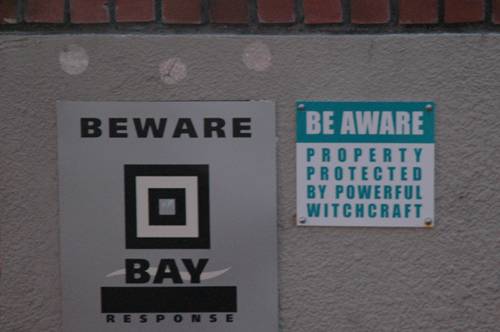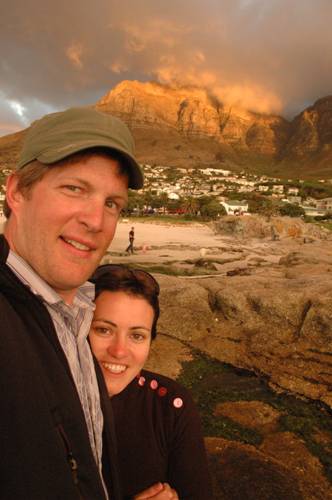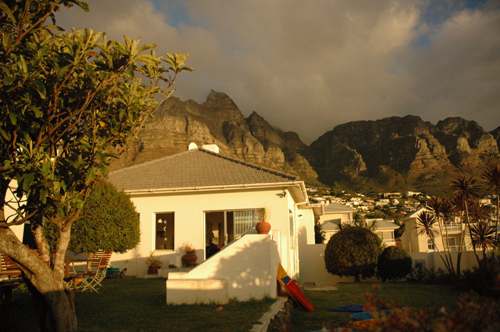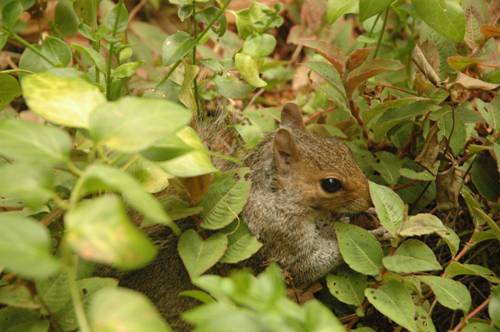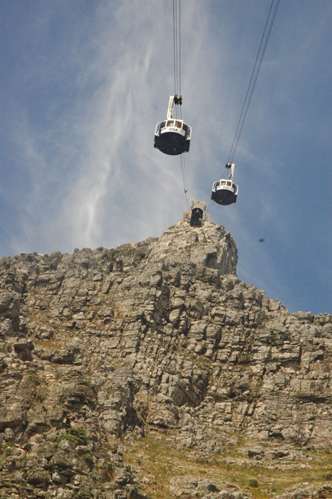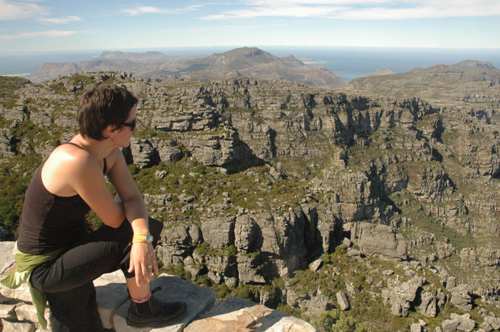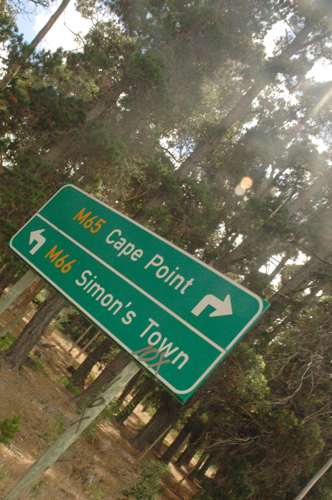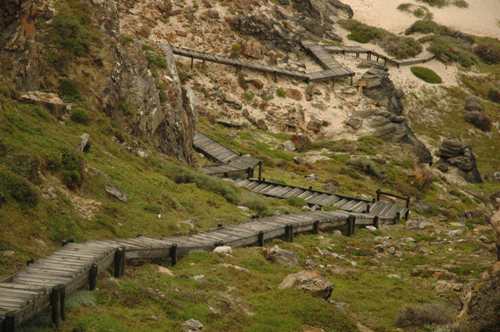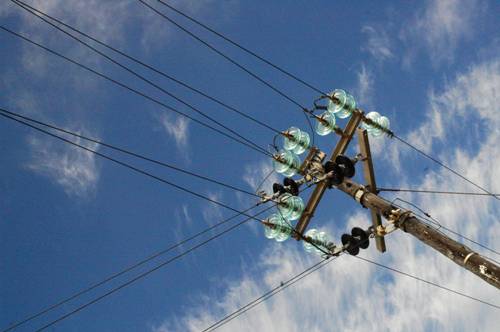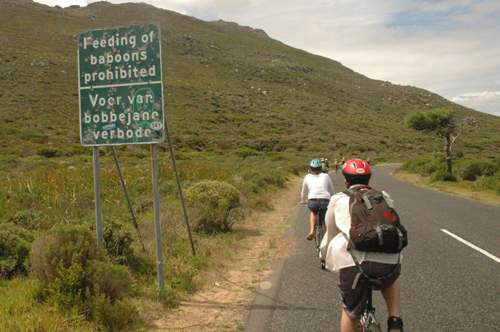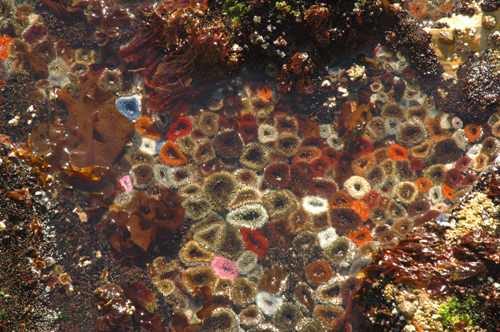 Posted by psy2099 at 06:52 AM
February 14, 2007
Surf's Up, Dude!
Even traveller's need a beach holiday sometimes right? All the emails of snowy old Canada were really getting us down, so we headed to Jeffrey's Bay, surfer's paradise. We no sooner had we deposited our bags in the homey rented flat, and dipped our toes in the ocean, thaan we decided to cancel our further planned immediate destinations & park it here for a while. It was a hard decision in that we've heard such wonderful things about several other places in the area, but on the other hand, it was easy to reconcile ourselves to a beach existence for five days.
A day in the life of Simon and Claire in J-Bay:
7 am - roll over & close the windows to muffle sound of people getting started with their day - snuggle back down in king sized (!) bed - no blankets needed!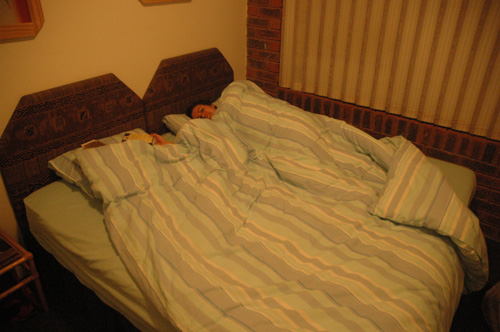 10 am - slowly open eyes & decide that it may finally be an auspicious time to get out of bed. Eat some corn flakes & toast.
11 am - after slathering our already red, splotchy bodies in sunscreen, walk to downtown along beach. Buy a tank top - it's hot & a sarong to serve as a beach towel. Book surf lesson.
12 noon - check internet for love sent digitally & internationally. Send some back & get a post up on the blog - can't keep the fans waiting!
2 pm - walk home via beach. Be fascinated and vaguely unsettled by the bizarre ocean things washed up on the beach. Then be in great pain when small jellyfish gets caught on my toe. Ouch!..for the next several hours!
3 pm - lunch! how 'bout leftover Simon burgers? Mmmmm.
3:30 pm - More mmmmmm...Nap!
4:30 pm - Go grocery shopping. What foods can and can't you get in South Africa? Everything you could need is available--except if you've chosen a recipe with pine nuts, fresh basil and parmesan--Doh!
5:30 pm - Beach! Swim in the smashing waves and afterwards sit in the setting sun, watching the ever impressive surfers. Simon will be this good tomorrow, right?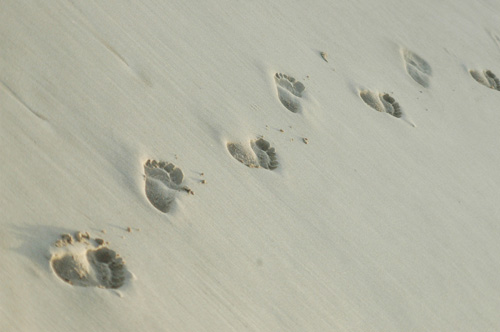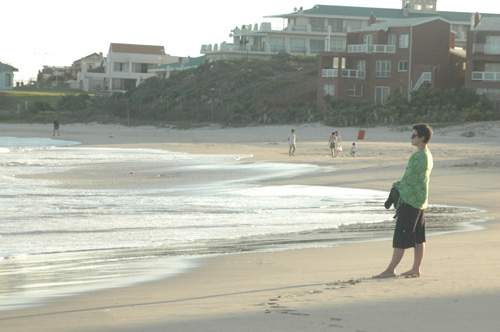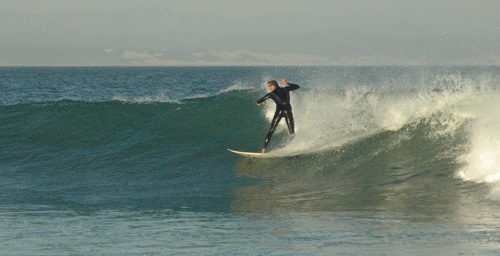 7:30 pm - Decide it's about time to think about dinner. Go our usual pace so that we eat at...
9:00 pm - Simon and Claire Dinner Hour---even abroad!
10:00 pm - Waatch movie on TV--not so safe walking the beach at night...
midnight - Did I mention we have a king size bed?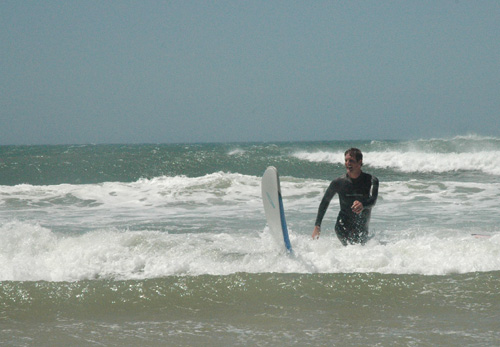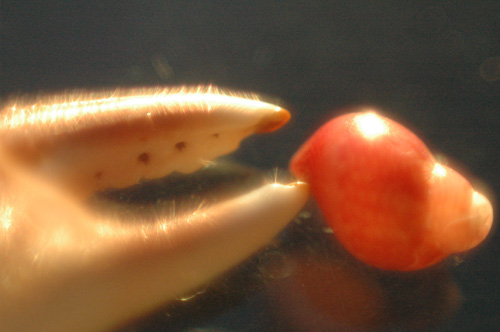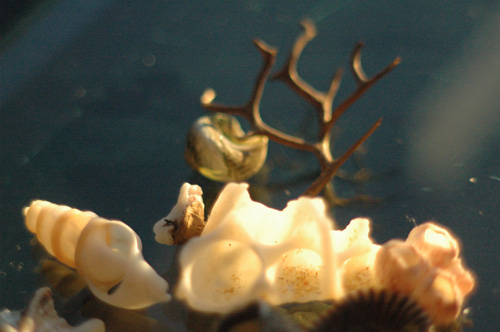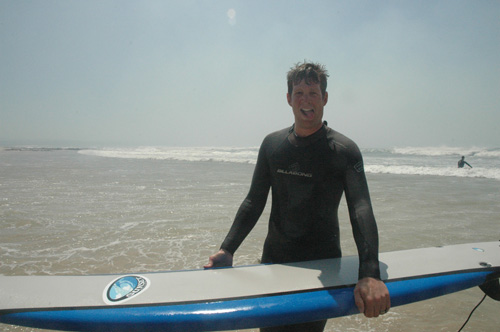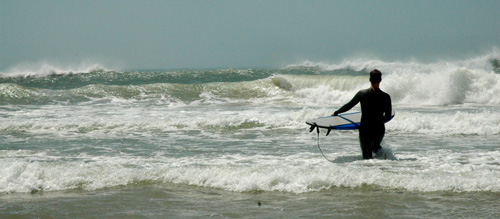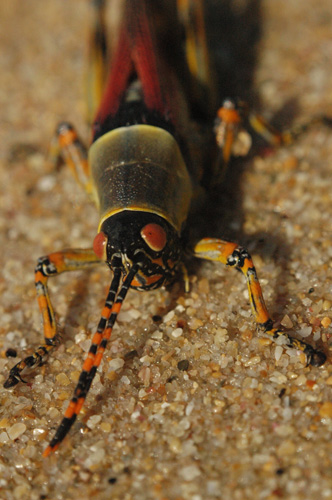 Posted by psy2099 at 07:28 AM
February 09, 2007
South Africaaaahhhh...
Yes Egypt was hard on us, the people there didn't treat us very well, but where one country doesn't provide, another will. This is the advantage of a Round the World trip; an unhappy place must never be endured for very long.
So one over night flight to Kenya via Sudan; and one day spent in the Nairobi airport, followed by yet one more flight, and we arrived in South Africa. Do you hear the choirs singing? The angels heralding our arrival in heaven?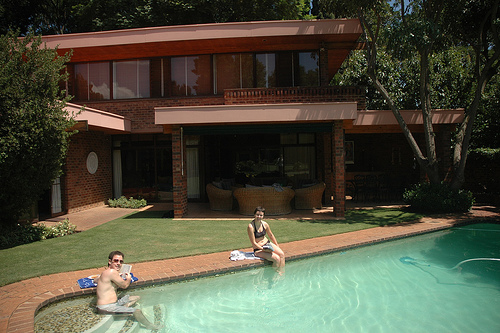 We were picked up at the Johannesburg airport by Muareen Roux, a friend of my Uncle Ted & Aunt Rosanne. Typically, we haven't been contacting the friends of friends around the globe, but we were admittedly a little wary of Jo'burg's reputation for crime. Maureen took us to her gorgeous home (complete with tennis court & swimming pool!) where we were met by the whole family, her husband Andre, son Paul and even her mother-in-law.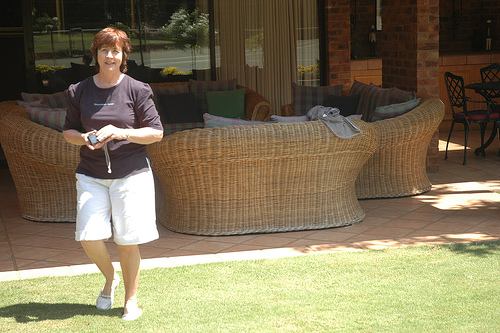 Over the next couple of days we enjoyed this family's generosity and outstanding hospitality. We were well fed & rested, provided with travel suggestions and clean clothes, taken on various outings, and just generally made to feel very at home. We can't thank the Roux's enough & hope to return the favour to their son Paul (who has recently moved to Toronto) when we return to Canada. Many thanks also to Ted & Rosanne for making the connection for us!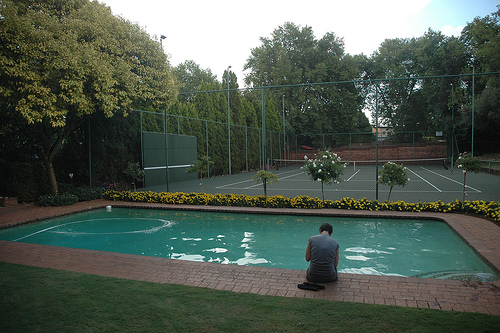 In between all of this relaxing and indulging, we did manage a few tourist activities. We started out with a trip to the Apartheid Museum. As you might imagine, this was a bit of a sobering place. It was made all the more interesting as Maureen accompanied us, and was able to give some context to these events, many of them happening at the very time she chose to emmigrate from Canada to be with S.A. raised Andre.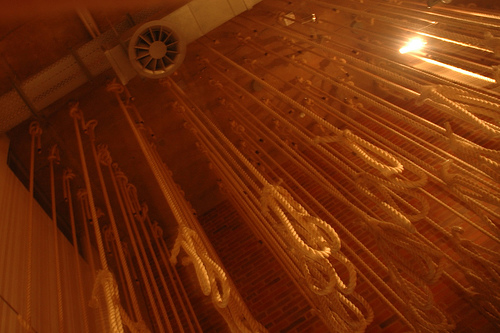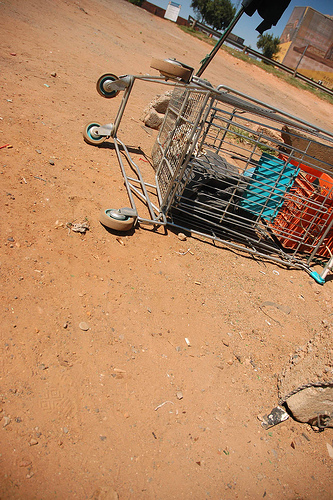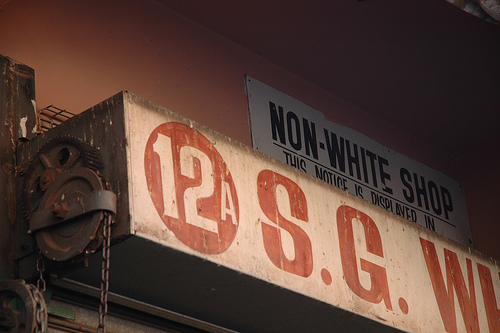 The museum also gave us a good base for our tour of the world's largest "township", Soweto.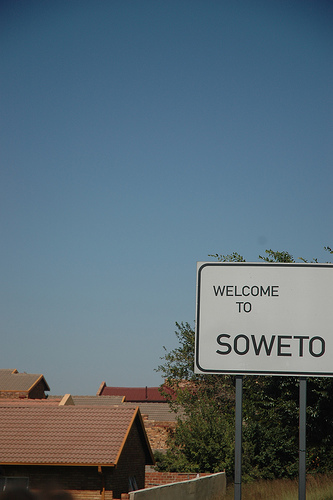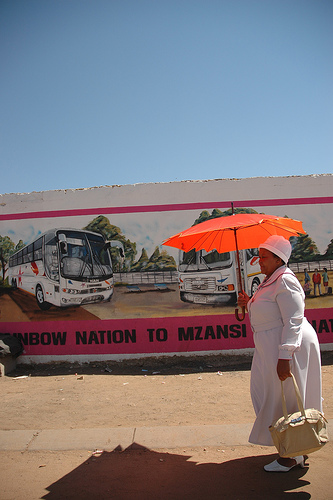 It may seem strange to treat this as a tourist item, but it is important to see how millions of Johannesburgers live & not necessarily a wise idea to wander about there on your own. The tour included a stop @ a great museum, the Hector Pieterson Museum, focusing on the 1970's riots, as well as a stop @ Nelson Mandela's previous house (we even used his loo!).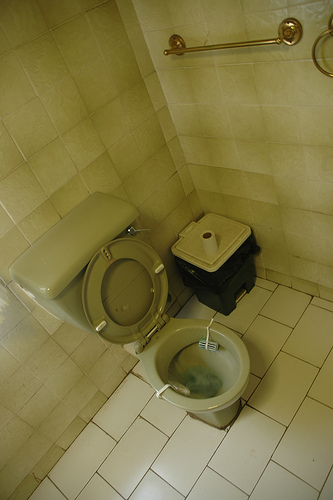 We also stopped in an immigrate squatter's area, where we saw the tiny home of eleven people, where it rained on the poor girl's head in her "bed" in the corner. The kids here were fascinated to see white foreigners & all wanted to touch us, holding our hands until we had to pull ourselves away. A very moving experience.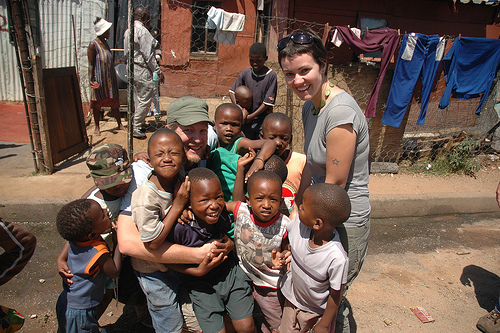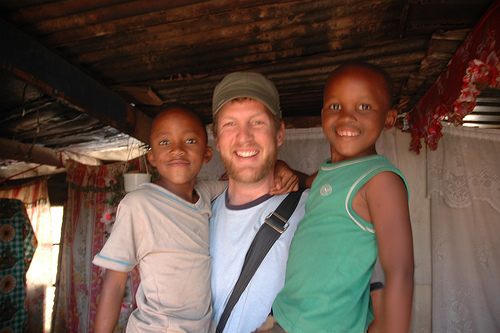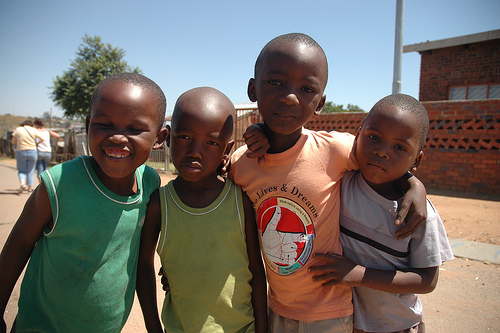 But as welcoming as the Roux's were, we doubted they wanted us to move in permenantly (though it was tempting!) So we pushed on to the south coast.
Posted by psy2099 at 08:33 AM
February 07, 2007
Pyramids - Sans Scam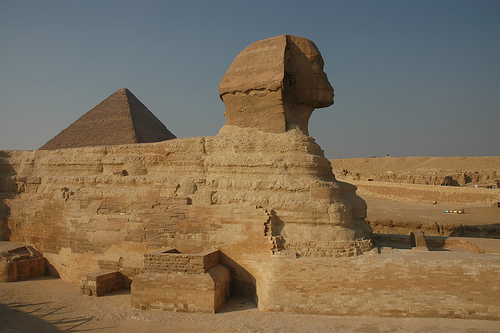 Back in Cairo we rejoiced in a couple of simple things; 1) we finally got our Indian Visas (phewph!) and 2) we met some other backpackers. Adam and Rowan were New Zealanders who were finding themselves as disappointed by Egypt as we were. When we expressed our mild foreboding at having to face the overbearing hassles at the Pyramids on our last day, they suggested we go as a team to better fend off the touts.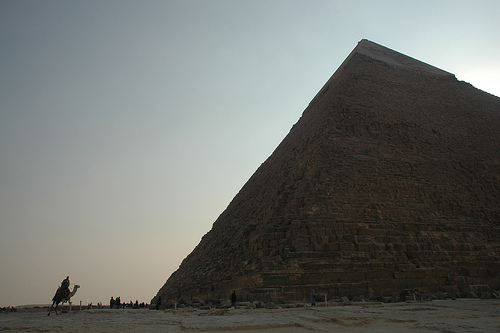 Well I'm not sure that that worked, as Adam explained to the boys that he could not possibly buy the ugly pyramid carvings from everyone who offered & took to announcing that he'd already been on 10 camel/horse rides. But all the same, it was a bright spot of company for us in our otherwise low time in Egypt. As opposed to our previous visit where we'd viewed the pyramids from afar at dusk (actually a very nice way to see them), this time it was up close and personal. We even descended the tiny tunnel to the heart of one - a very stuffy, baren place with a "guard" doing everything he could to get a little "baksheesh" (a huge phenomenon in this country. basically means tip) from anyone entering his lair.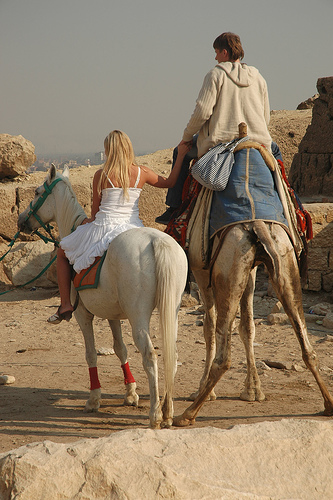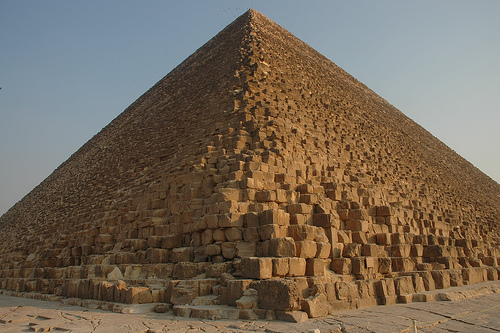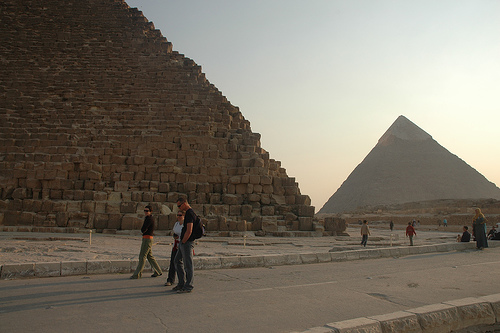 And so concludes Egypt. After a grueling 24hrs of transit we would arrive ing Johannesburg, South Afric-aaaahhhhhh...
As a finale: some crazy things you might see in Egypt...
* overflowing buses - people hanging out the doors, zipping along an expressway.
* same buses not stopping - just slowing - for passengers pick up/drop off.
* people wandering into hutling traffic, calmly crossing a street that sets my heart thumping.
* about a hundred near accidents a day, as vehiles cram six wide on a four "lane" road.
* a humble donkey (which I will be getting for transport when I get home) cart trotting along amidst above traffic.
* men on bicycles carrying 4 x 6 ft platforms full of flatbread on his head - also calmly through above traffic.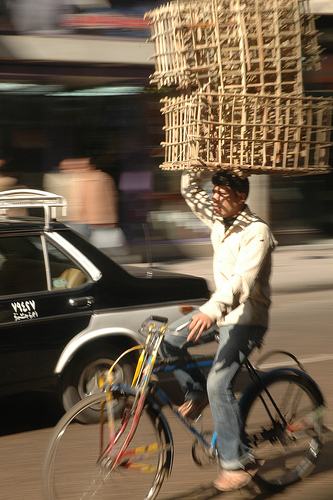 * person placing a toddler on guardrail bordering drop to underpass & rapidly moving cars.
* dead horses on the bank of canal in middle of Cairo.
* pyramids bordered by bustling city.
* smog MUCH worse than Toronto.
* a conglomerate of satellite dishes on every rooftop. No matter how poor people may be, clearly TV is a necessity.
* buildings in mid construction abandoned everywhere. most inhabited ones had been left with rebars sticking straight out the top.
Posted by psy2099 at 06:53 AM
January 31, 2007
We are Two Canadians...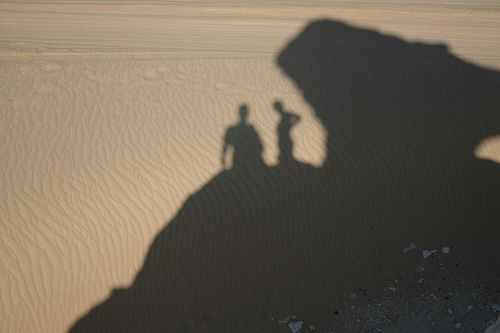 The only problem with heading into the desert is you've got to find your way out again. We waited back at the oasis for our bus which came 3 hrs late & was full. We crammed on, standing in the aisles, with rude, pushy men nabbing whatever seats became available until a kind young man & the conductor came to our rescue & forced people to move so that we could sit (true to our guide's statement that foreigners will always get a seat, even if women and children are standing). To protest is futile.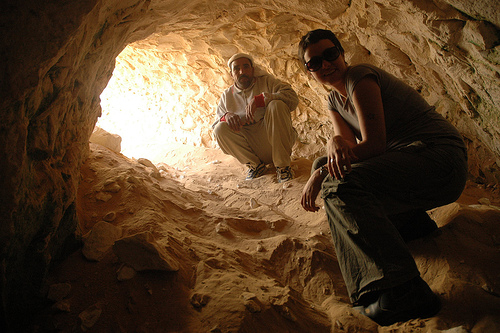 We arrived to the next oasis town in the dark & found a hotel for the night. The next day @ 5 am we were up to catch our next bus. Though we were the only people at the 'station' the ticket seller refused to sell us a ticket, saying we should buy it on the bus instead. So we wait, until the bus shows up, the driver advising us that we have to buy it from the office which now has a full line up of people all purchasing tickets from the same lying ticket vendor for Asuyut, our same destination. Though Simon made it to the front of the line and stood right in front trying to hand him our money, the man ignored him for 15 minutes until he had served everyone else & the bus driver forced him to begrudgingly sell us a ticket.
We boarded the bus last, to find our seats taken & no choice but to cram into the tiny bench seat at the back, Simon trailing his legs into the aisle. We were highly grumpy, frustrated, tired & in pain.
Furthermore, the only toilet we stopped at during the whole ride was the most revolting sight I had ever beheld. For one thing, the locals headed me into the men's loo (foreign women are often considered token men), so that was awkward in itself. But the most disturbing part occurred when I opened the door to the stall. The toilet was thoroughly besmeared, the floor a minefield of turds and puddles. It was my first time to flatly reject a toilet, choosing intestinal discomfort instead. Sadly, I doubt it will be my last of this trip...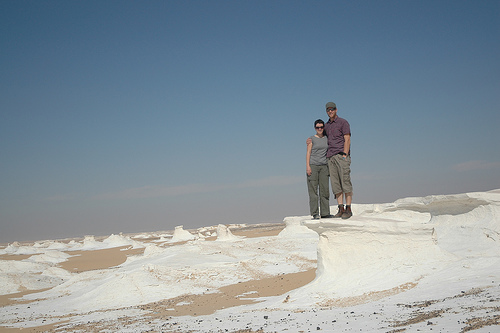 Things finally turned around when Simon made a friend who was fascinated with our India guidebook and a very kind woman gave me a proper seat, dates and proceeded to invite me to her home. But we had more transport still to endure in our day, so we had to refuse. We switched from the bus to the train station at Asyut, enroute to our ultimate destination of Luxor.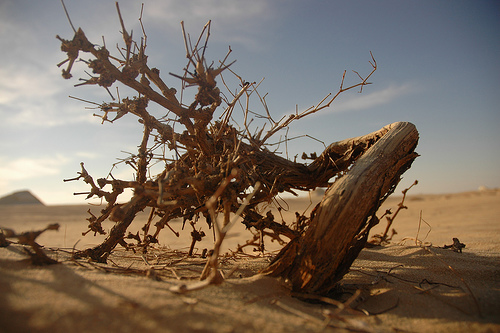 Asyut, though, had some interesting experiences in store for us. Egypt has suffered in the past from some terrible terrorist attacks, affecting both tourists and Egyptians. But these groups are not happily harboured in this already poor country, as it further hurts their economy. So the Egyptian police are everywhere. We have had tourist police outside nearly every hotel we have stayed at and have had to give written statements frequently:
'We are two Canadians. We are spending one night in the desert. We will be back tomorrow. We do not need a police man with us... We are two Canadians. We will go to the bus station at five a.m. tomorrow. We do not need a police man...'
These are the sketchy declarations we have left in the hands of tourist police all over the country, who are unlikely to be able to understand a word of it. The interesting thing is that we were never actually offered a police escort...
Anyhow, since Asyut has been a hot-spot for some of this trouble, the police here are serious about safety and tourists are quickly ushered out. So we were not surprised when a tourist police man assigned himself to us at the train station. He organized our tickets, fetched us food, and even accompanied me to the (also disgusting) men's toilet! Finally, he sat us to wait out the several hours 'til our departure in the cafeteria, standing guard at the doorway all the while.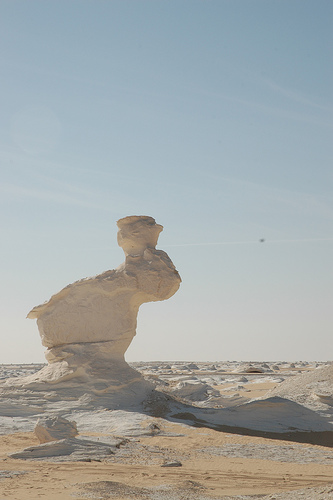 Things were starting to look up, we thought. But Alas, no. What should Simon see but flashing lights, the precursor to his dreaded migraines. With this one he'd have no choice but to tough it out--they certainly wouldn't let us stay over in this city. Fortunately, with the quick administration of the 'Hilary Lawson migraine cocktail' (Yay for Hilary!), the pain was dulled and vomiting was kept at bay. With Simon moving slowly and wincing in the light like a zombie out at day-time, our friendly police man put us on the train and smilingly suggested that we not stop in Asyut on our way back to Cairo.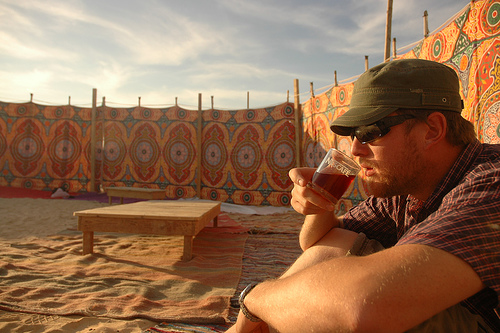 Posted by psy2099 at 10:07 AM
Making a come-back in the Sahara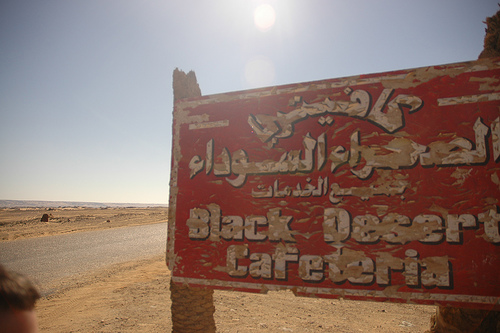 After our depressing couple of days in Cairo, we decided it would be best to seek refuge in an oasis town. So off we went on a long, crowded bus ride, down the only main road that meanders through the desert. The sad little town of Farafra had us quickly doubting this choice, until we found ourselves at the heavenly Al Badawiya hotel. This place, with it's impeccable, but still Egyptian decor, was unlike any other we've found in Africa so far. When we discovered they offered trips into the desert, we immediately signed up.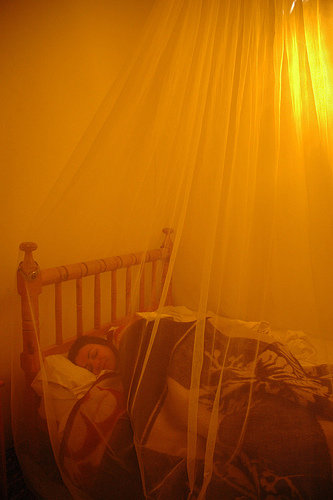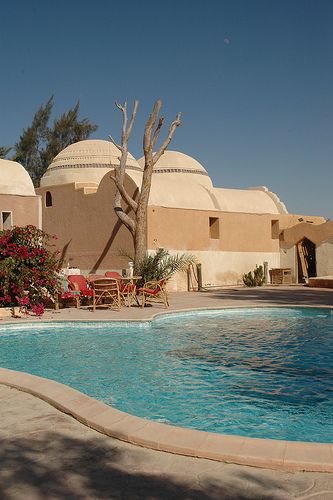 So the next day, we hopped in a jeep & drove straight into the sandy great beyond. This part of the Sahara, known as the White Desert, is so varied & unusual. We drove for most of the day, with many photo stops, and the landscape changed frequently. Finally, we stopped at our camp for the night.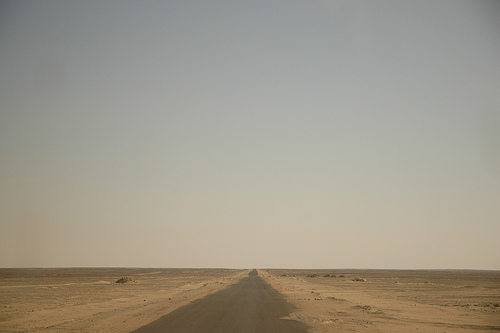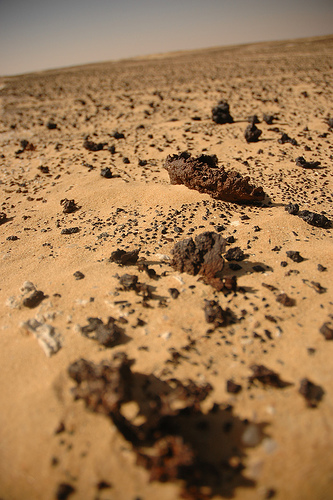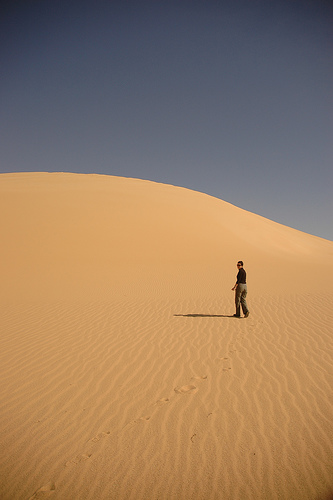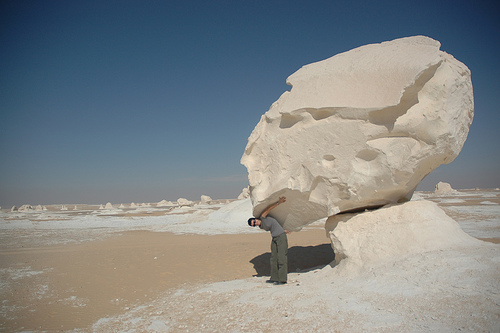 All day, we had been in the company only of our non-english speaking guide. So we were pleased when we discovered an English speaking group at the camp: the hotel owner, his friends from Holland & the hotel architect. This group, wealthy, well travelled & educated, were far from your typical Egyptians, but were entertaining to talk with, none the less. The stars emerged, the temperature plumetted & we enjoyed a camp meal by the fire. We tucked in to our canvas tent after a perfect day, surrounded by the great, wide desert.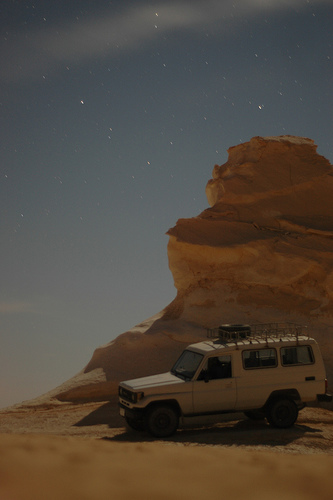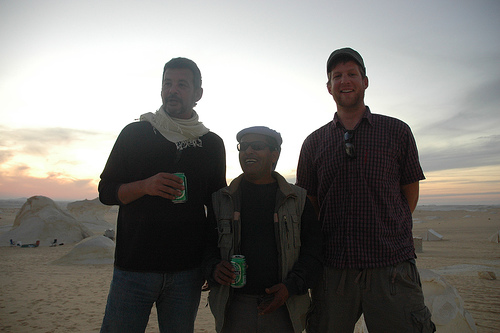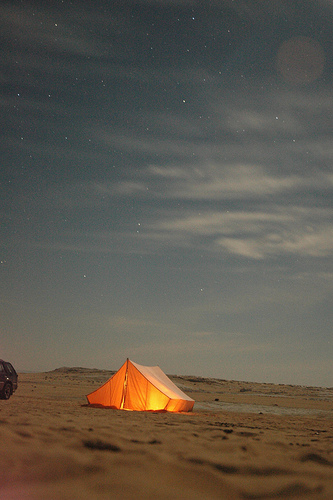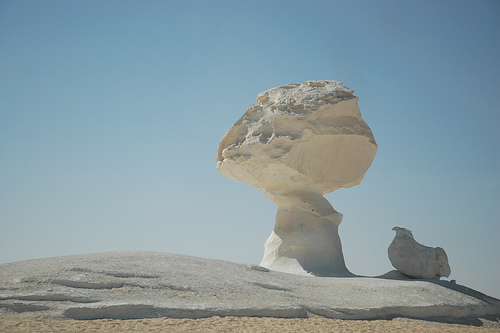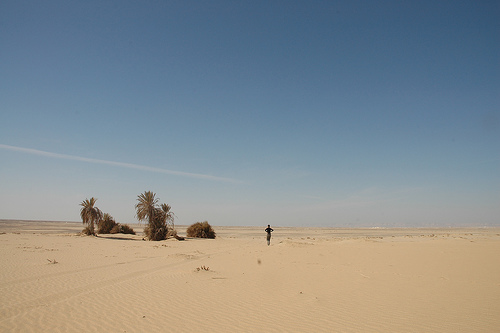 Posted by psy2099 at 09:43 AM
January 29, 2007
The Return of Careful Claire in Cairo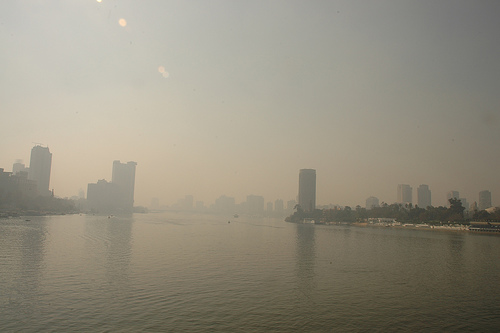 In a counry like Egypt you must be on your guard much of the time. People are friendly, but they always want something from you, so you have to be careful not to get trapped into a situation you're uncomfortable with.
That said, it is possible to be too guarded, as you might miss out on the genuine people. This was our mentality when we met up with Mahamet & Hussan, all of us looking for the bus station. Once we found our desination, Simon & I reserved our tickets for the next day, while our companions bought tickets for that night. They invited us to help them pass the time, which we instantly refused. Upon reflection, though, we wondered if we should relax and live a little - our instincts said that these two were not husslers. They asked if we had been to the pyramids - we had not. So far, far from enjoying ourselves in Cairo, we were finding the pace mad & the hassling tiresome. We were a little low on travel energy & had spent the day trying to track down Indian and Chinese visas - not fun no matter where you are. So we were ready for some unpredictable amusement. We got to talking about horses & how I had never ridden one & it was decided that we should all go to the pyramids, visit their friends and ride around on horses. Which we did.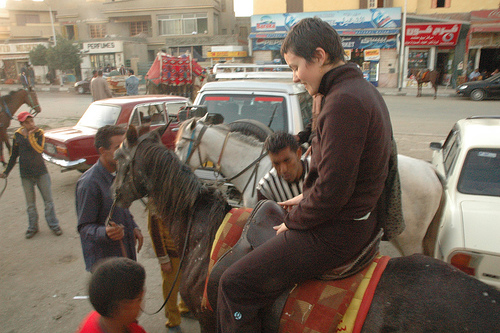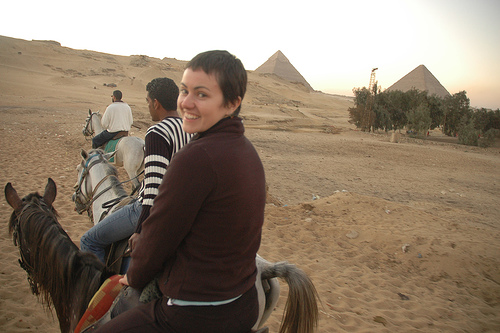 All was fine & good until, hours later, it was time to leave where upon they tried to charge us an astronomical(by egyptian standards) rate for our evening of entertainment.
Fortunately we had less than a third of that in Simon's wallet & we managed to get away with giving them all of this, with our host acting as though he would have to pay for the rest himself. It was all awkward, and we felt stupid & confused & worried that we were stuck on the fringes of Cairo. But in the end, they said "let's be friends" & gave us a lift back.
At home, safe and sound, we discovered from our hostel hosts that what we wound up paying was not far above the expected rate. We expressed our feelings of idiocy & he was vehement that they were bad people. So there we are, lesson learned. Simon & I are generally very cautious by nature & I figure we should quit trying to break out of this. There are some experiences we can leave to the truly adventurous.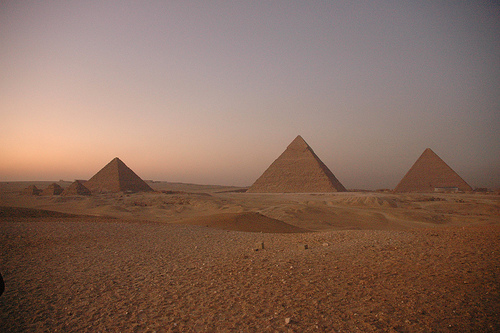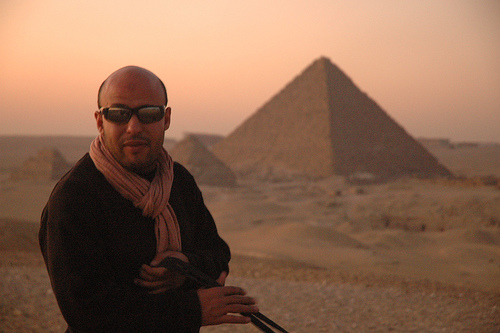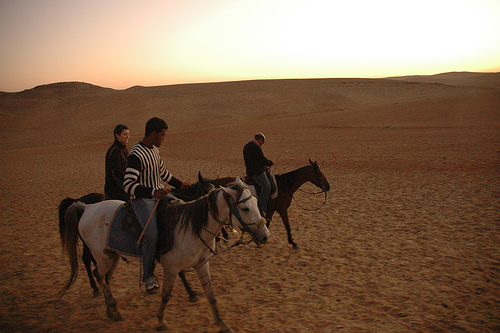 Putting our stressful day in perspective, we realize that we were lucky. Nothing truly terrible happened, except that we spent a little more $ than we would have liked & felt some healthy fear. Moreover, our bad day was topped with the best news of my life. Back in the city we called home to discover that Laura's stage 4 Hodgkins Lymphoma has gone into complete remission after several months of chemotherapy. Her awful six months of treatment are over & we all hope that they will never have to be repeated. BIG Cheers and sighs of relief in Egypt!!! I felt so giddy that I had to hold myself back from telling the telephone operator, who would have been very confused, as his grasp of english was rather limited.
CONGRATULATIONS, LAURA!
lots of love, yer sissy & Sieemon
Posted by psy2099 at 10:41 AM
January 19, 2007
Marrakech - Morocco On It's Way Out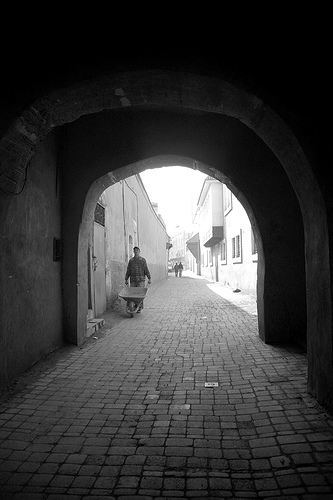 With illness delays & a Chefchaouen detour, we wound up with only 1 1/2 days in Morocco's best known city. Fortunately, to some degree, when you've seen one Medina, you've seen them all. So we did a bit more wandering of the winding streets full of local handicrafts, but gave the rest of our time over to relaxing-Morocco has been tough on us, unfortunately.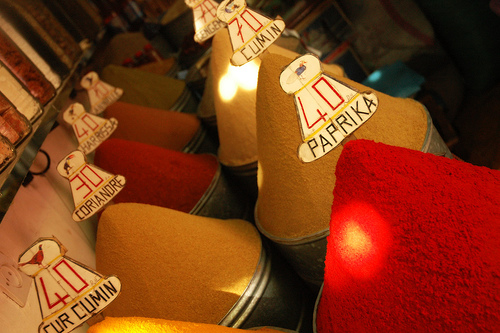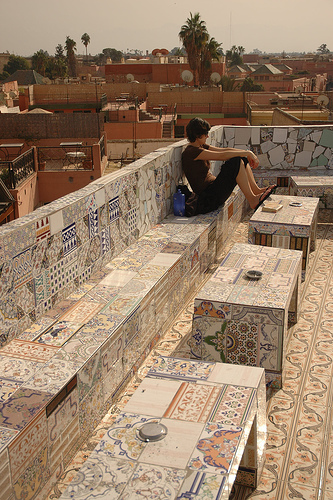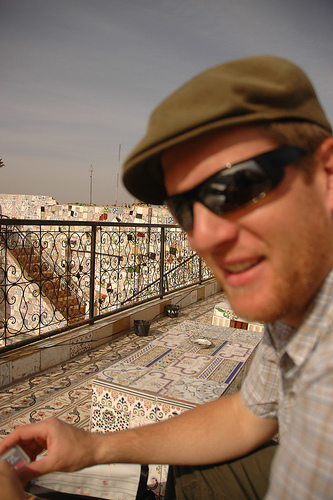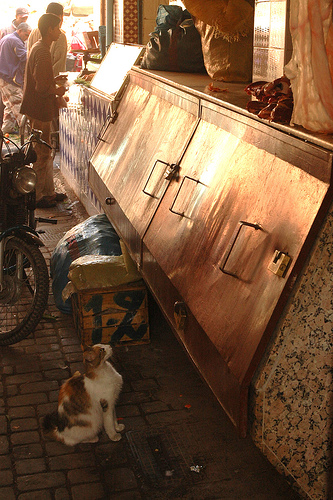 One thing that certainly is unique to Marrakech, is the huge main square & all of it's wild goings on. This is where the action is at night. At sundown, masses of food stalls pour onto the square, like horses out of the gate. After an hour or so of set-up time, the square is filled with dozens of mini restaurants, all with heir own caller to drum up business & lure, cajole, or trap you into eating at their stall.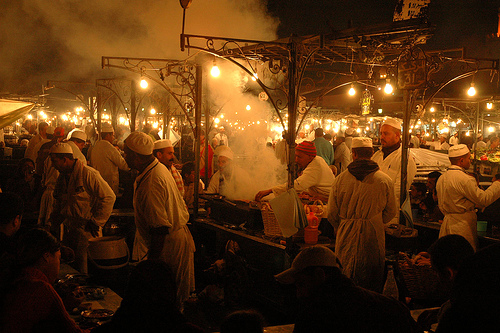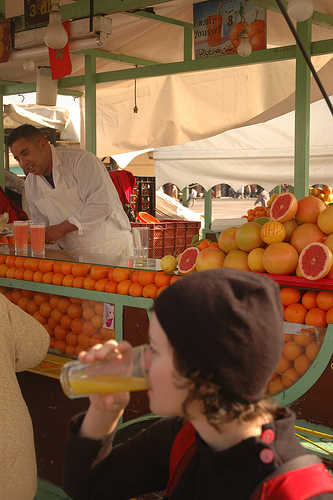 Surrounding this are the groups of musicians, herbalists, and...snake charmers! (Mom, you would not like this!) I've never been a slitherer sympathizer, but it does make you feel for these poor beasties spread out on the pavement, mostly ignored by their handlers, with only curious tourists & an occasional little ditty from the 'snake charmer' to keep it entertained. And of course if you pause at all in this square, you are immediately pounced upon with a request for money. Perhaps for some this whole scene gives them a buzz of being in such a colourful, unique place, but after ten days of travelling in Morocco, I admit that it felt somewhat underwhelming.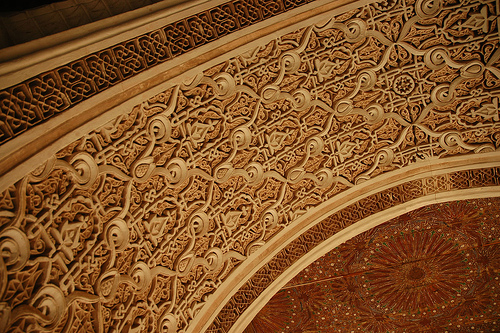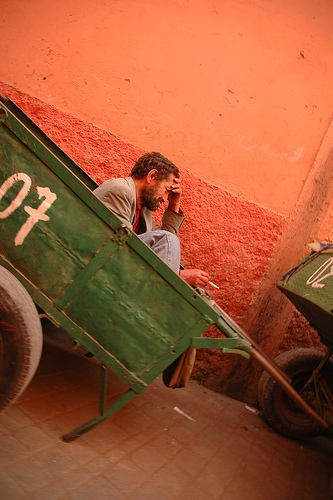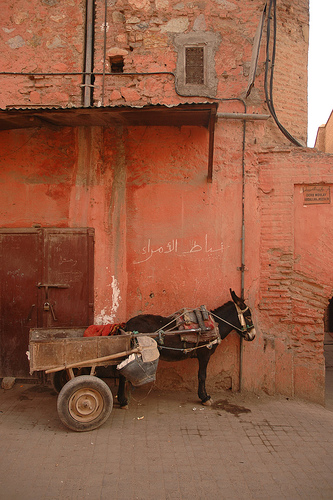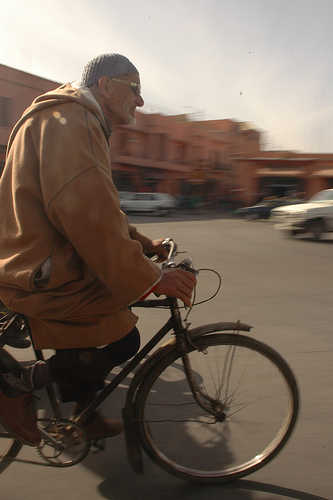 Posted by psy2099 at 01:19 PM
January 16, 2007
Rabat, Morocco's Capital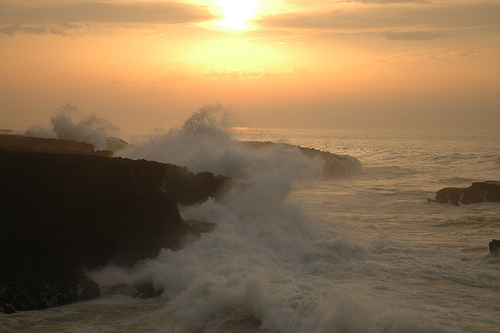 Any information on travelling in Morocco leads one quickly to believe that being invited to a Moroccan home for couscous is an inevitablity. Well perhaps it is.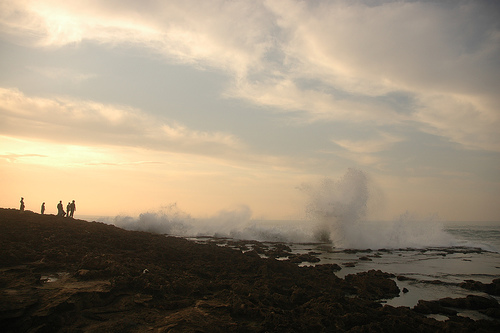 We enjoyed a conversation with a young mother who shared our train compartment. At first, we spoke french, and discussed head scarves (she didn't wear one) and european men & women living in sin (she didn't understand this). But then she asked me to speak in Spanish so that the other woman travelling with us wouldn't understand. She told me how she used to be in love with a spaniard but was not allowed to marry him. So she broke off the relationship & married the first islamic man who admired her on the street and approached her mother. She was 19. Now, 24, with a 3 year old, she does not like her husband, who apparently lies, does not respect her and refuses to help with "her" child. She is thinking of leaving him. Somehow she didn't see the irony of her earlier comments about living in sin. Still, she was very kind & very determined that we should come to her house in Casablanca to have some couscous.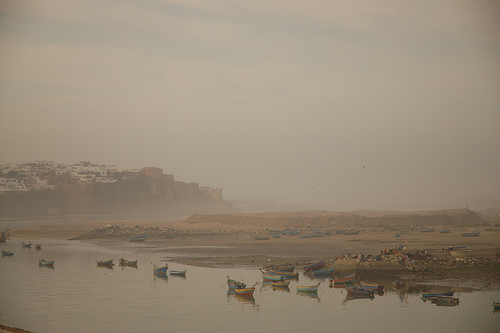 We didn't. Instead, we disembarked at Rabat, as planned, & had a lovely afternoon at the beach. As it as Friday, the Islamic holy day, the coast was littered with Moroccans enjoying some leisure time - surfing (even their king is a surfer!) playing soccer, areobatics, promenading & just generally relaxing.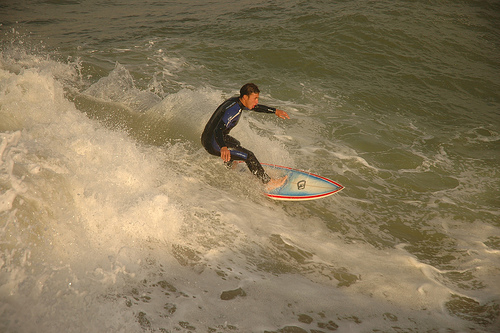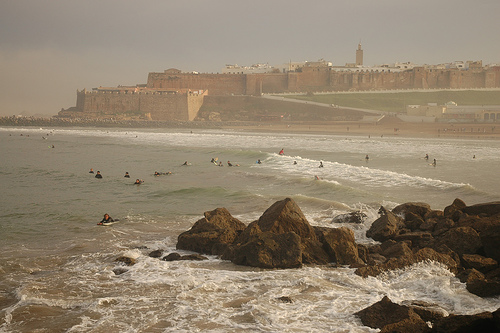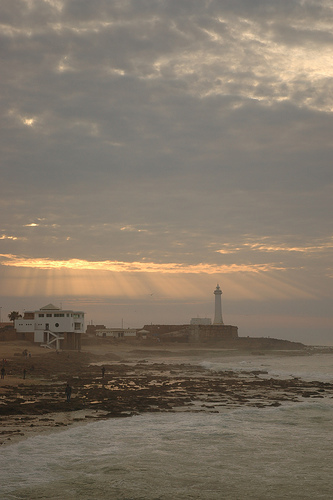 But this blissful day didn't last long enough for me: it was my turn for a bout of illness. Throwing up through the night pretty much did me in for the next day and a half. In the end, we did some half-hearted meandering through the Rabat Medina & saw the half-finished Hassan Mosque and Gardens. In my weaked condition, I suffered from the assault to the senses that is Morocco, but was thankful we were in the country's hassle-free capital. And such was our experience of Rabat.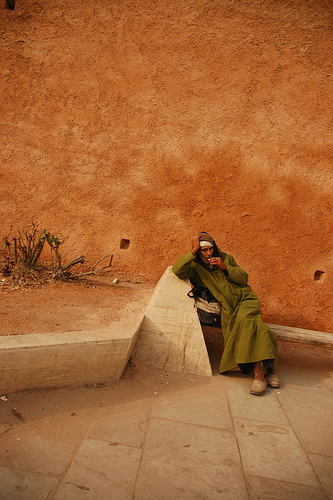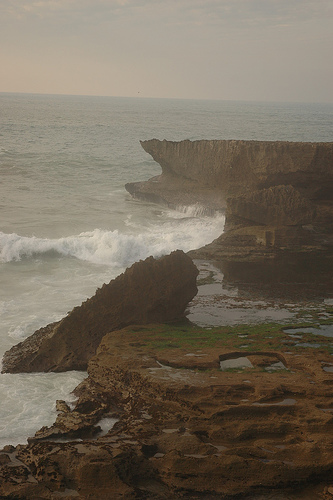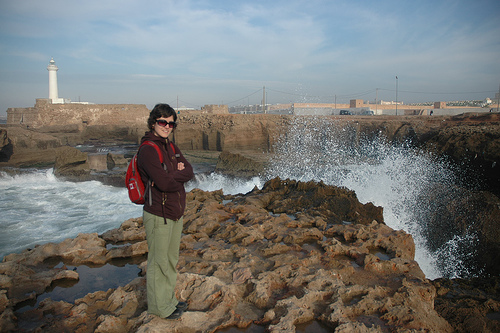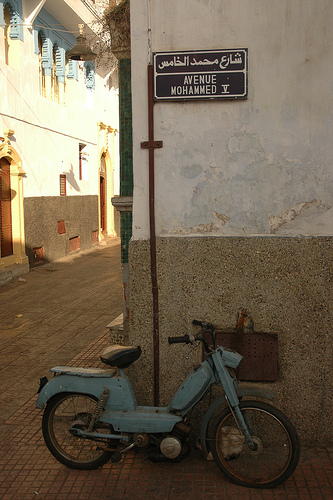 Posted by psy2099 at 04:27 PM
Fez; Bed, Bath(room) & Beyond
As the guidebook said we would, we extricated ourselves from Chefchaouen a few days later than we had planned. We were sad to leave, and even more so when we found ourselves on a long, bumpy bus ride sitting next to a goat.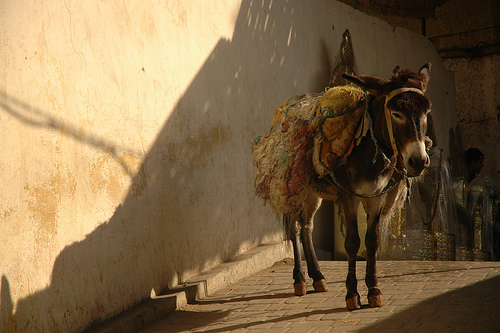 We eventually got to Fes, and all was well until 1am when Simon disappeared to the bathroom for an hour. He finally returned, only to grab more toilet paper and disappear for yet another hour in the loo, this time locking me in the room. I lay there wondering at what point I should climb out the window to check on him. Just as I started concocting morbid scenarios in my head, he re-appears again...only to vomit heartily into the trash bin...Ah, our first bout of fod poisoning on the road!
Once again, Simon seemed to have loked around, and decided that this was about as inhospitable a place as one could hope to be sick in & then went and did just that. While the hostel folks were very kind & full of concern, the rooms felt as though they were refridgerated. The toilets, Simon's place of repose through the night, were no better.
After a day of shivering under covers, Simon showed that Simon strength & pulled himself together for a walking tour of the medina (walled old city). With ten thousand streets and alleys to get lost in, we figured we would get ourselves a guide, as we would otherwise just wind up having to pay some kid to lead us out of there anyway. So off we went with Asdin (not Mohammed!) to see the tanneries,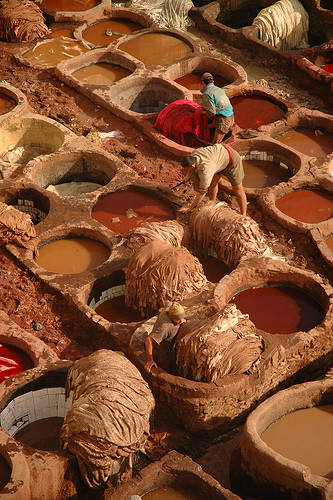 the carpet co-op, the weavers shop,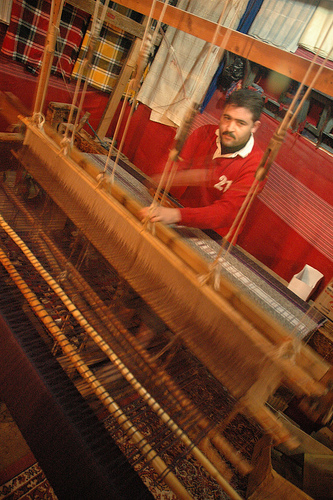 the herbalist, the carver's shops...(if you can't tell already, Morocco is all about the artisans). Alas, the tour came to an abrupt halt when it became clear that we were not big spenders (guides get a commission on anything spent in any location they take their clients). What could he have expected, as he picked us up at the youth hostel???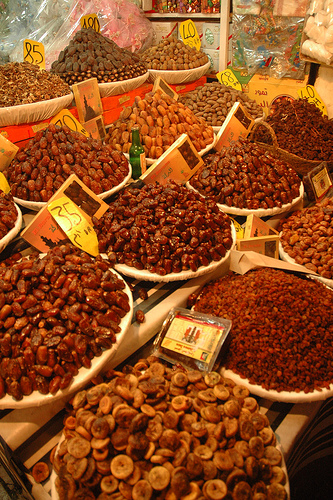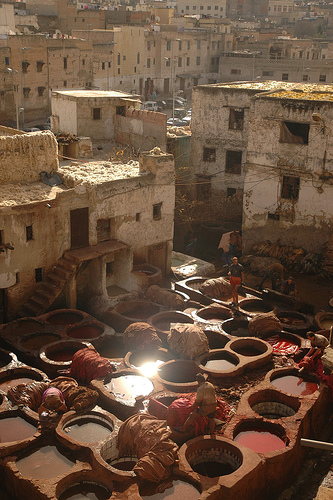 Back in our little ice-box, we discovered that our Canadian troup had caught up with us. With them & an Australian & an American tacked on for good measure, we enjoyed some food, company and cards over the course of the evening. A much-improved finale for Fes.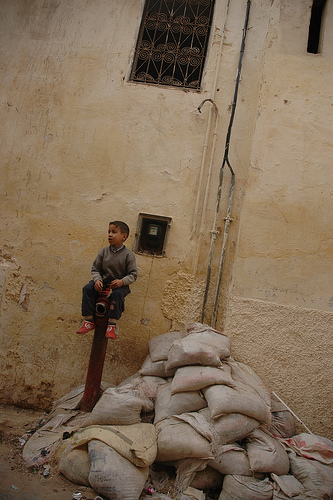 We took the train (I'm pretty sure they don't let goats ride the rails) to Rabat the next day.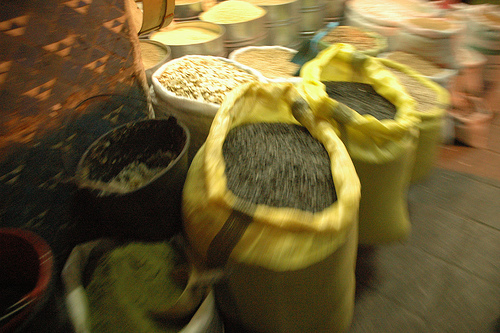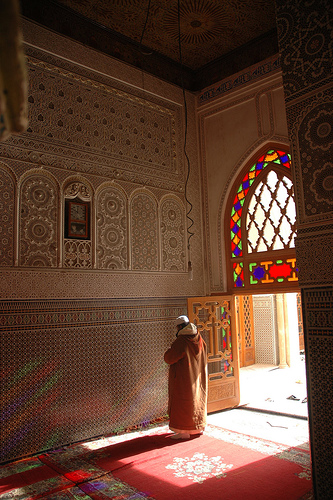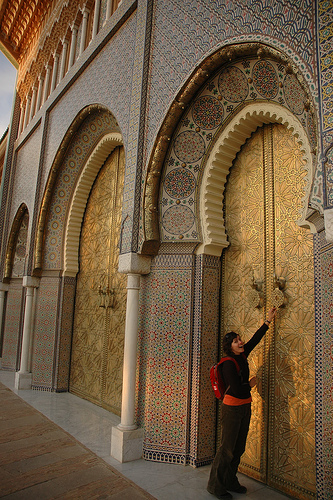 Can the king come out and play?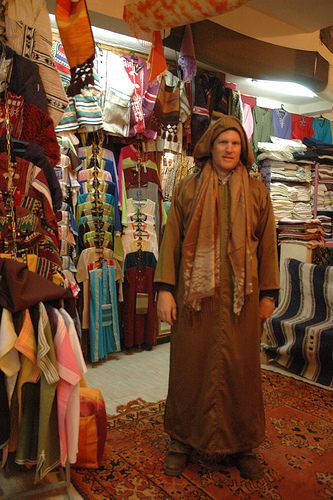 I found my Jedi Cloak, but with no mind tricks what's the use..."these are not the droids you're looking for"...See. No powers.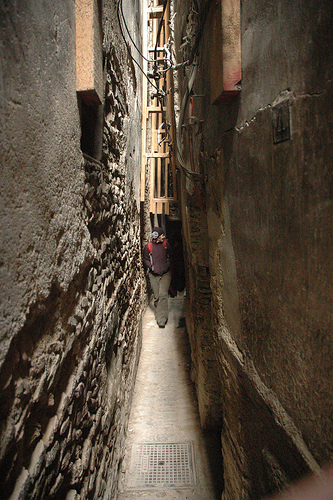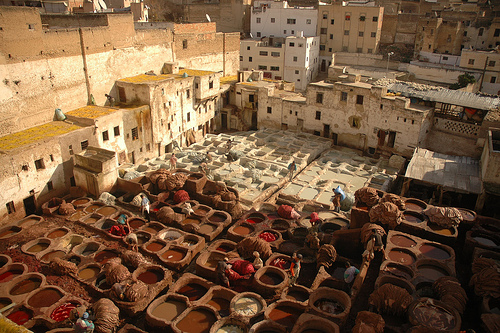 Posted by psy2099 at 12:15 PM
January 14, 2007
Chillin' in Chefchaouen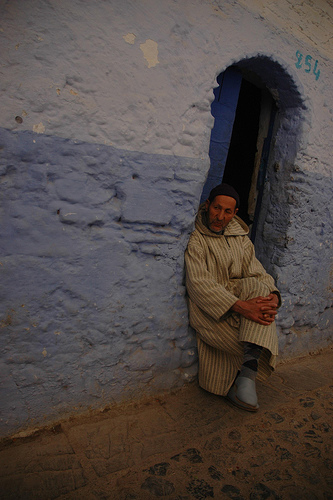 This town was not initially on our itinerary and wound up as our first Moroccan destination mostly due to our desire not to put an end to friendly company so soon. As it turns out, it was a perfect low-key introduction to Morocco. Moreover, it was the only locale we were to visit that wasn't a million+ city. Here we stayed in the open courtyard style, typical Moroccan guesthouse and learned that North Africa gets very cold at night in the winter!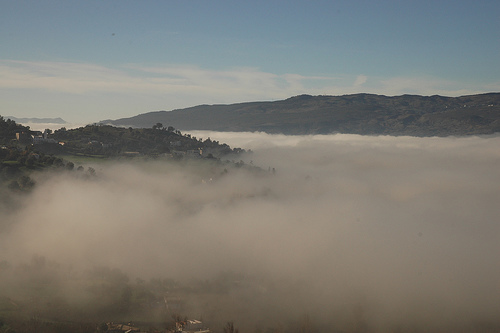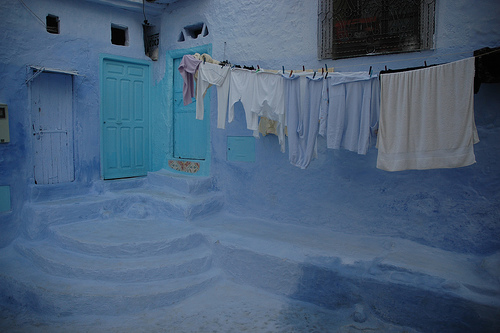 Our first experience here was a horrific one - we all watched a child dart across the choatic roads and get hit by a car. Fortunately he was not so injured that he didn't bounce back up and scramble off the road before collapsing in screaming pain. But he was instantly surrounded by caring locals and we pulled ourselves away from this awful scene.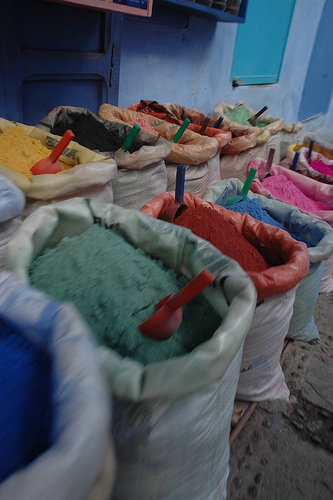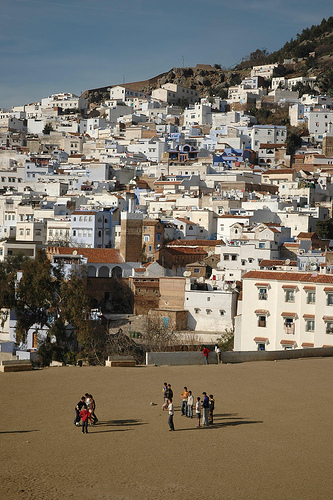 We spent the rest of the day climbing to a hill-top spainish mosque, where we sat in the sun amongst the ruins taking in the day.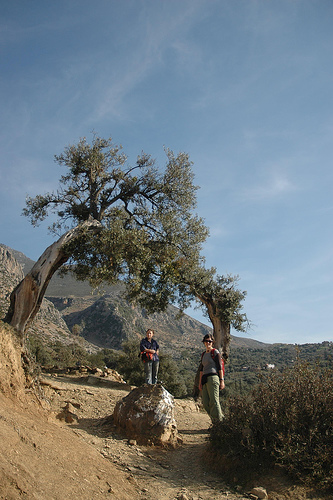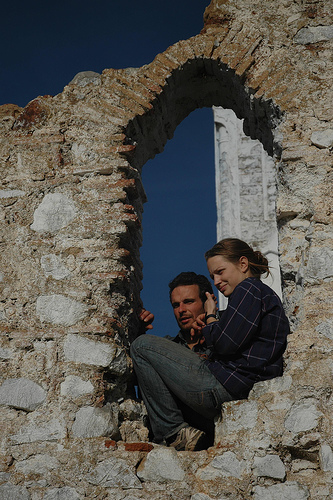 Along the way Ellie tried to take a picture of a very cute little girl but was instantly rebuked by her mother who did not want her child cursed by the evil eye. I later decided that the toddler was one that was lent around the village to every parent, as everywhere we looked there was this charming two year old girl with tight little curls.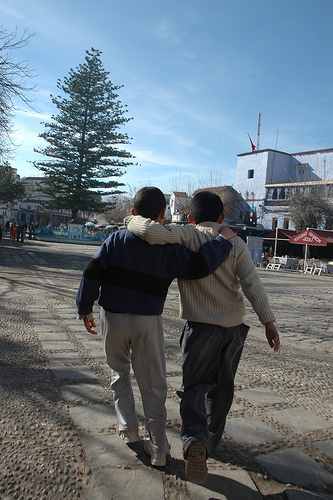 We spent a couple of days here, marvelling at the low cost of living and generally accomplishing very little.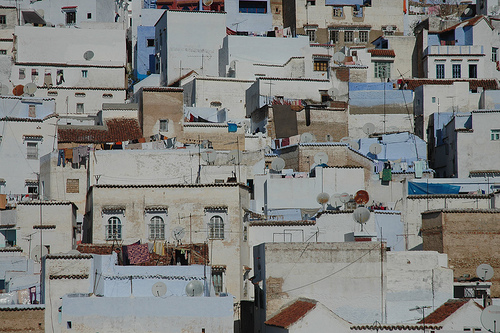 I, Simon, would like to note that this is a Star Wars nerds second home. There seem to be more Jedi here than in Coruscant (the jedi council planet). Mischa was of the opinion that it was a place built just for him. Though we have since found out that Tunisia is the place to go for jedi-junkies (their first home), so Mischa is pushing to go there in a couple of weeks. Through in the end we didn't see any light sabres, and I couldn't find a cloak in my colour! Oh and Obi-wan can't sing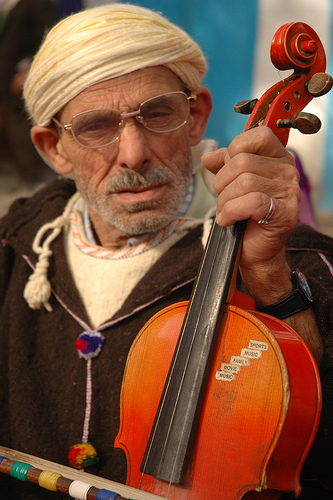 Posted by psy2099 at 11:08 AM