« July 2007 | Main | March 2010 »
August 28, 2007
Home Again, Home Again, Jiggety Jig (Are you still out there?)
Did you think that was the end? Don't you think an English major could write a better conclusion than that?
The world travellers are finally home, and yet still homeless. We were met at Pearson Airport at an awfully early hour by loyal friends Mario and Lauren, and mutual friend Shilpa and her mother (the latter two having surprised and confused L&M by coming through the arrivals gate five minutes before us--they didn't see the need for the cameras at the ready and banner as they'd only been away for a weekend!). We were whisked off to brunch, thank goodness, as Air Canada provided the absolute worst service of any overnight, international flight we have experienced (no food, blankets or pillows unless you have some Canadian funds with you--we didn't!). Thanks to M&L for such a warm (if caffeine-fueled) welcome!
There was no culture shock for us, having come from westernized countries. Being in Toronto and with friends and family felt very natural. Perhaps the only odd feeling was recognizing our surroundings for a change. Aside from that, it's like we never left; our hoboing days have quickly faded to a distant memory.
But while we had no problems adjusting in that respect, we were not so lucky with the jet lag. There were some long sleeps and some no-sleeps. And coming from the southern hemisphere, our insides felt a little upside down for a while--the untouched traveller's sickness pills were contemplated in the comfort of home.
Once we got these issues sorted, though, there was no stopping us. After a week in Toronto we headed to Waterloo for Simon's sister, Jody's big wedding. Then it was off to Sharbot Lake for a few days with my sister, Laura and her family, a few days in Ottawa, a few more at Mom and Dad's cottage in Quebec, another wedding on Rice Lake, and finally a resting spot for three weeks in the lovely beach town of Southampton on Lake Huron. The only problem with hunkering down here is that it is a rather low tech world for us, which means no blog up-dates for you!
But we've pulled ourselves out of our stupor long enough to spend some time with the local library's computer so that you can be promised some kind of proper finale to this adventure. And it WILL come. Hold your horses for another week+ and you will get some staggering statistics, and amazing facts from Simon and Claire's footloose year.
So 'What's now?' you may ask. And you do. This seems to be the most repeated question of late. Or perhaps it just seems like that as we have no simple answer to the question. We are playing it by ear for the time being, much as we did in our travels.
This fall will bring a few weeks in Toronto to catch up with friends, followed by some time in Ottawa. October will find us holding court chez Ma and Pa Baldwin's, taking advantage of their trip to South Africa by renovating their kitchen (up to our old tricks already!). At some point we will hopefully muster up jobs and a residence of our own, most probably in Montreal. And who knows? Maybe we'll even use that last leg of our Round The World ticket to fly on back to the UK for a holiday. There's always room for more adventure...we hope!
Stay tuned for one last post; you can do it---you've already lasted the whole year with us!
(Sorry there are no pics from our Nikon Superstar. He has his computer set up which means a place to download pictures, which means he doesn't have to carry them with him anymore. We promise some in the next post!)

Posted by psy2099 at 03:11 PM
August 01, 2007
Fa'a - A Long, Long Way to Run

Fa'a is the "Samoan Way of Life" and is a hugely popular concept on the Island of 'Upolo, Western Samoa. For the huge and friendly Samoan people Fa'a has to do with the respect and communal ideas that their society is based on. The Samoan way meant a lot of relaxation and very little activity of any kind. We spent 5 days in a fale - a traditional, open hut on the beach. Our's was modified from the columns and roof style that defines all structures but the latrines here, to include some latice and a lockable door; It may be being poor sports but we were unwilling to submit to the local "your-property-is-my-property" concept. We were happy, though, to experience other small aspects of Samoan culture at "fia-fia" night. This is the islands festive fire dancing, which is often paired with traditional song and dance. Simon joined in to a group dance but I decided I lacked the grace for the elegant hand movements and chose to watch instead.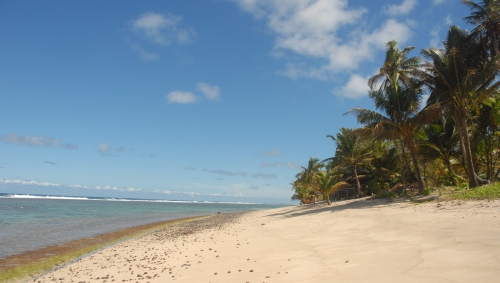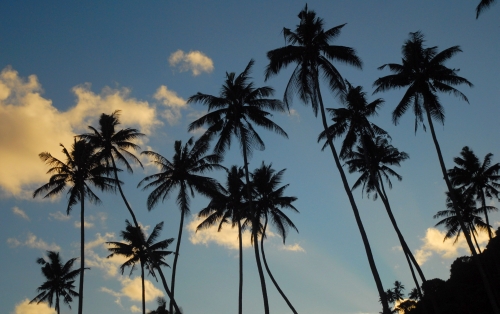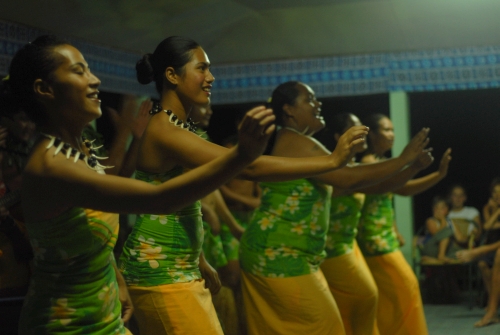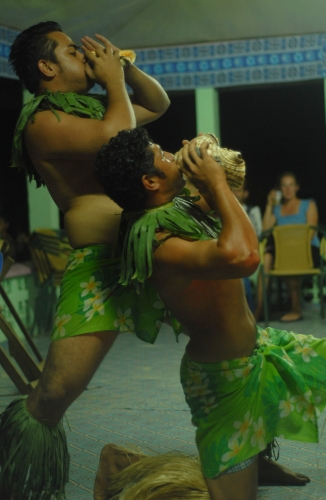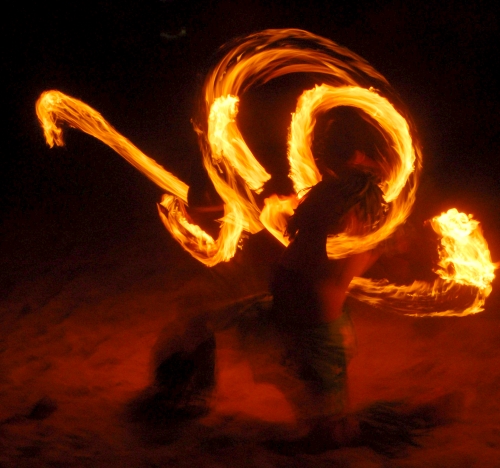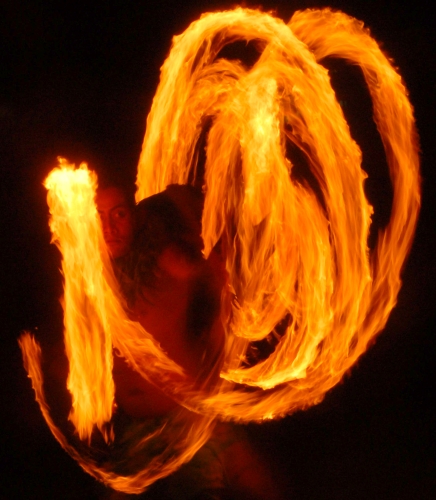 Aside from this one outing, however, our five days on the island held very little activity. We read on the beach, collected some shells, lazed in the shallow water and let our heartbeats slow to a reptilian rhythm.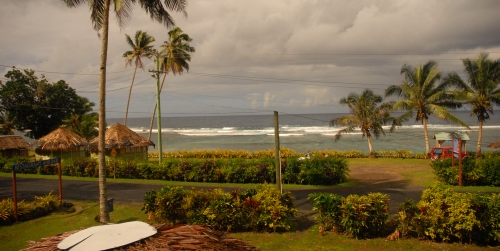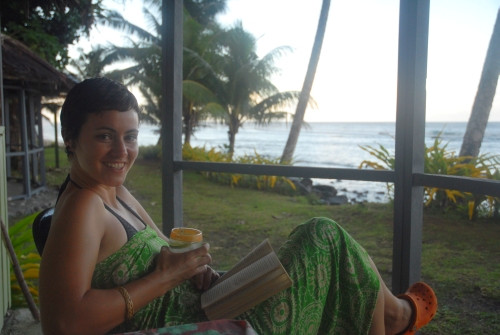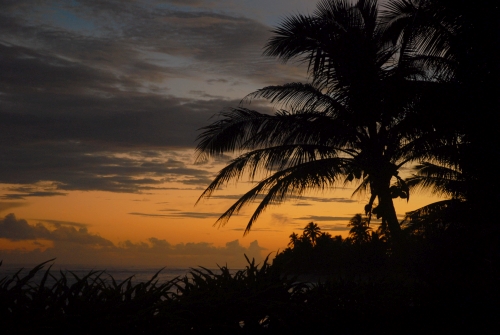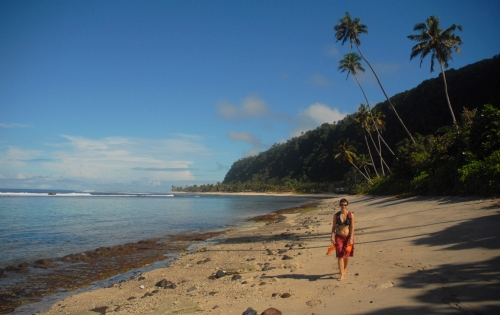 As we rarely ventured far from our accomodations, we were fortunate to have good company there in Mary and Chester, two septegenarian New Zealanders. These generous folk provided us with coconuts, inspiring conversation and even an offer of a ride home from our fia-fia experience until their car broke down.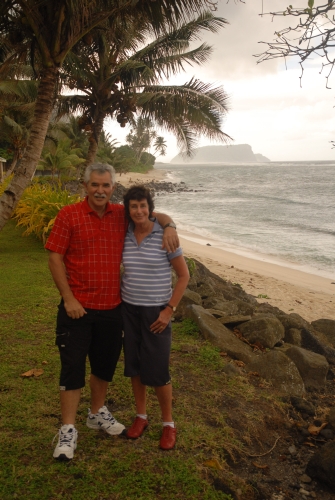 Alas, all good times must come to an end and so our trip has come full circle. Two overnight flights and an 8 hr lay-over would takes us from island, through L.A. and finally, home.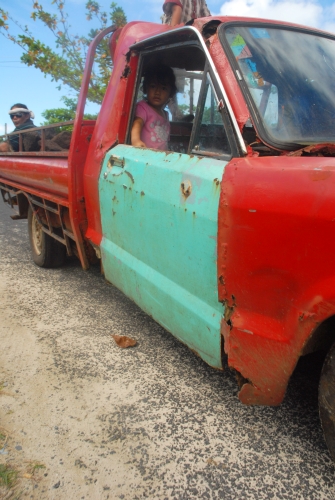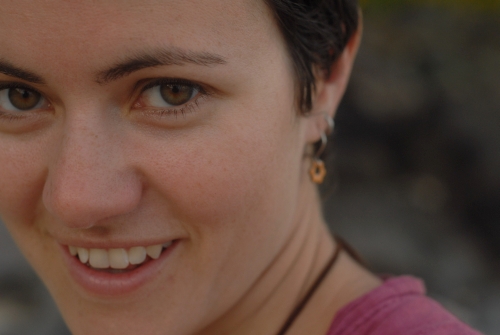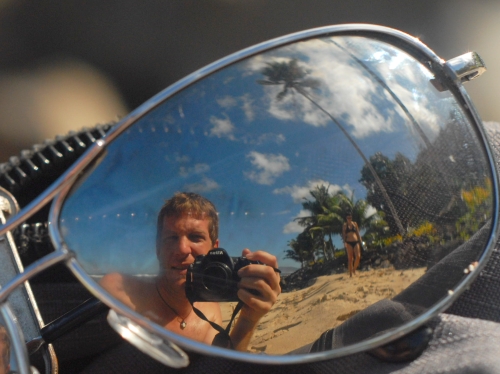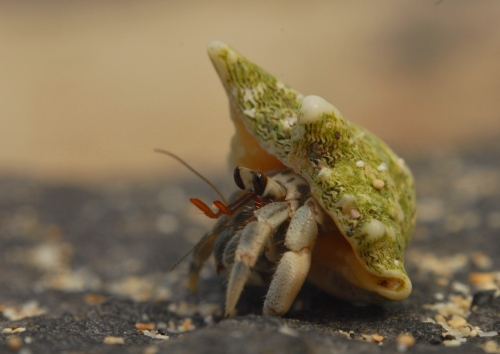 Posted by psy2099 at 02:28 PM