« March 2007 | Main | May 2007 »
April 28, 2007
The Birthday Girl Gets the Best Gift of all --- Lucky!
Not in that way - Get your mind out of the gutter! This is all about the border crossing and the trip to Hanoi that should never have been. But first we have to get there and we last left you on an overcrowded bus on the way to Phonsavan. We headed there to see the Plains of Jars. Everyone's heard of those right? OK, we hadn't either. Somehow, out of all the huge, imported, mysterious rock legacies, Stonehenge gets all the attention. But the fact remains that Laos has one of these ancient unsolved mysteries set in its glorious countryside. Instead of slabs of rock, though, they have huge urns. Whether these were used as massive funerary jars, or storage for food and lao lao whisky, no one can say for sure. In any case, the jars are interesting, if not awe-inspiring, and the setting is beautiful and calming.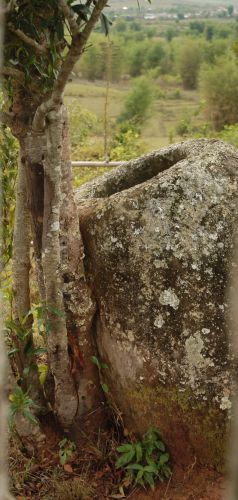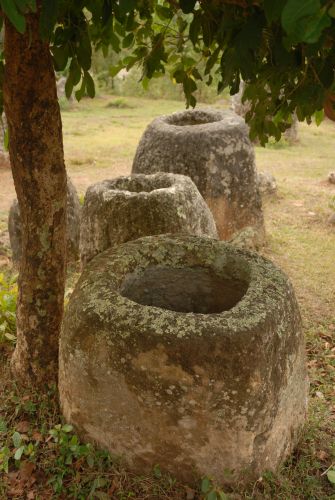 There is some sad irony in this: Amongst the scenery lurks tens of thousands of unexploded bombs. The only reason we can visit these jar sites is because they have been meticulously cleared by an NGO of these unexploded ordinances (UXOs). "Why is this tranquil setting marred by so much danger?" you ask (or maybe you don't. Maybe you know all this already, in which case please skip the short history lesson to follow). For the simple and sad reason that, although illegal by the Geneva convention and despite the USA's acclaimed ignorance at what it's military was up to, they led what is called the "Secret War" upon Laos at the time of the Vietnam War (or American War on this side of the pond). In an effort to stop the flow of Vietnamese into Laos, and often just because they needed a dumping ground for the live bombs that they were not able to drop on the Vietnamese side of the border, the US devastated this country. In fact, Laos is the most bombed country in history: a map recording the drops is appalling to look at - a sea of red dots.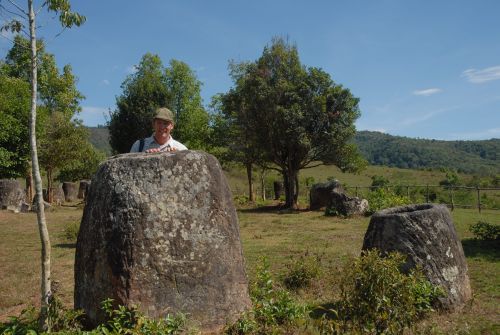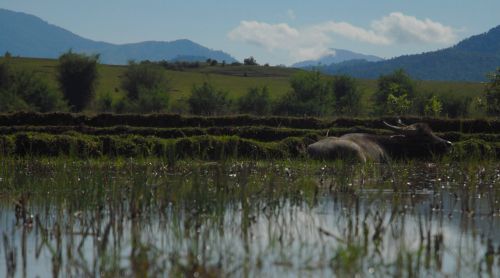 Though the massive craters decorating the countryside are sobering enough, the true horror lies in the war-time souvenirs that can't be seen. Many of the bombs never exploded and need only to be hit with a hoe, or tossed about by a curious child to fulfill their deadly purpose. Though there are some 3000 lbers out there, most are cluster bombs - "bombies" as they are known. These are the size of a tennis ball and fell by the hundreds from each larger bomb cannister, amounting to millions in total. Many failed to detonate then but are just as powerful if they do so today - these are designed to kill, not maim, as in the Cambodian land mines.
Where they don't kill, though, bombs of all kinds are collected and used in a variety of innovative ways. This stuff of warfare is an everyday sight, repurposed as fence posts, house stilts, planters, lamps, and otherwise melted down to make tools. It is a slightly surreal experience to find a pinapple bomb in your guestroom, let me tell you.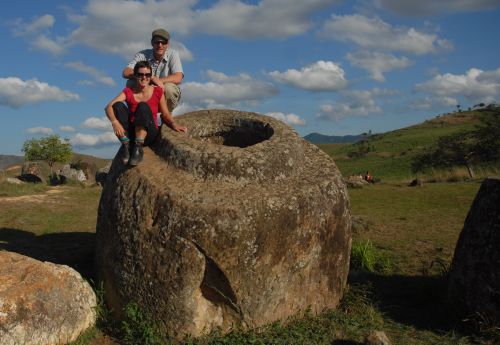 But let's move on to cheerier things...like my birthday!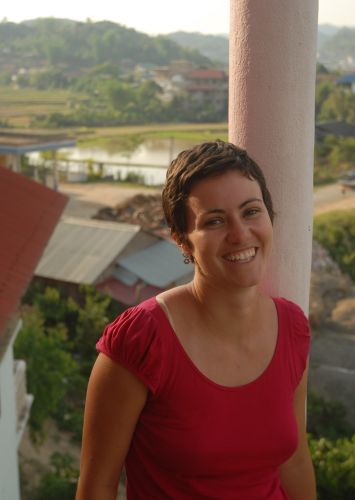 By all rights this should have been a terrible day. We'd chosen to take a direct route east from where we were into Vietnam, across to Hanoi. It made the most sense to us. The only problem is, that this border crossing opened to tourists only a year ago, so while the guards are not yet corrupted into intimidating and demanding money, there is the downside that there is no transportation infrastructure to Hanoi yet. But from what we'd read, it sounded like there were options in the way of minibuses and shared tuk tuks, just a little on the infrequent side.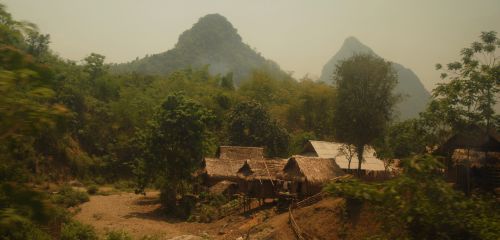 Fortunately, we were not forced to find out just how infrequent that was. Upon arriving at the border, we asked the only other foreigner in sight where he was going and how he intended to get there. John, as it turned out, is a vintage car rally race organizer, and had arranged a minivan to Hanoi. And yes, he did have two extra seets, and no, he wouldn't take any payment for them. As we exited the Vietnam side, we walked into a deserted parking lot, save for said van. It was hours before we saw any kind of public transport, and a full eight hours to get throught the mountains the seemingly short distance to Hanoi. Clearly, our plan was insanely optimistic, and my birthday would have been spent in some tiny middle-of-nowhere town, had it not been for a huge dose of serendipity and our kindly good samaritan. We landed in Hanoi in time for another fantastic French dinner (Brutal rulers in these parts, but sure left behind their fine influence in the way of food!).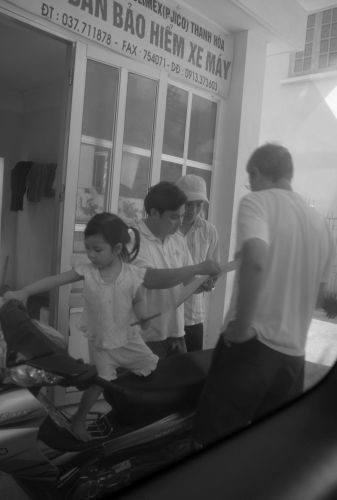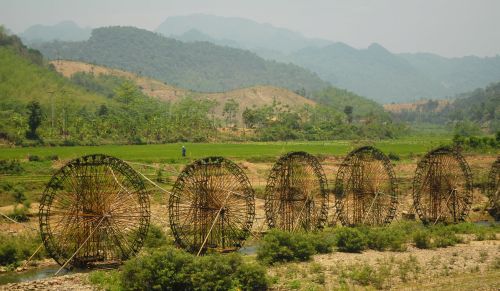 So 31 begins with the very reassuring feeling that someone, somewhere is looking out for me.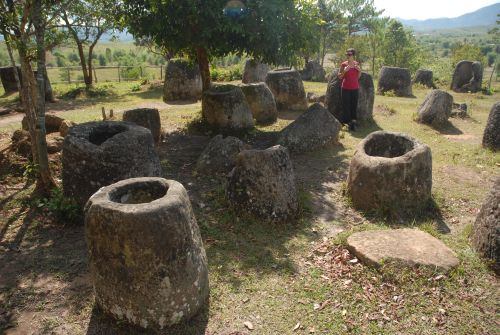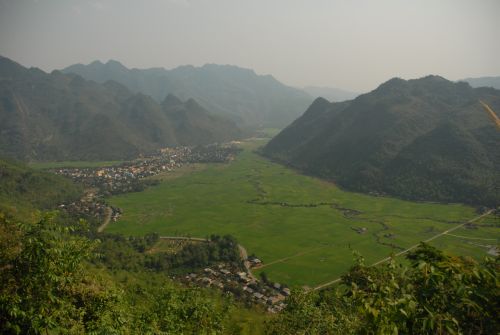 Posted by psy2099 at 08:07 AM
More photos from Luang Prabang...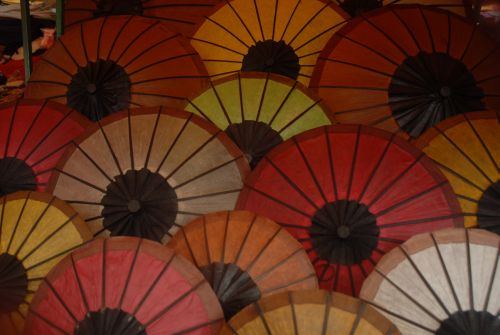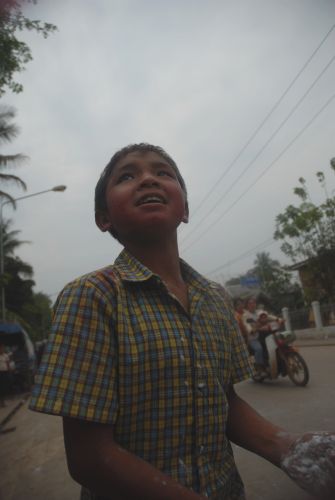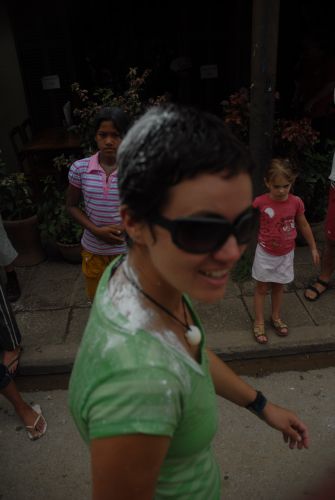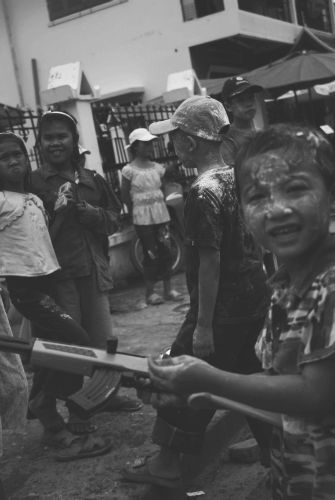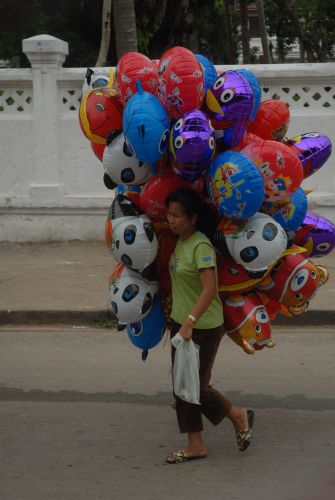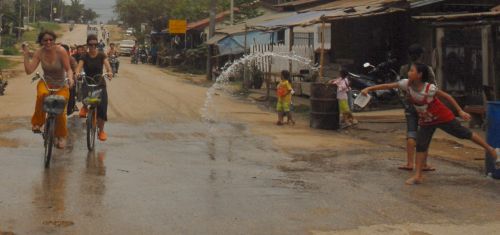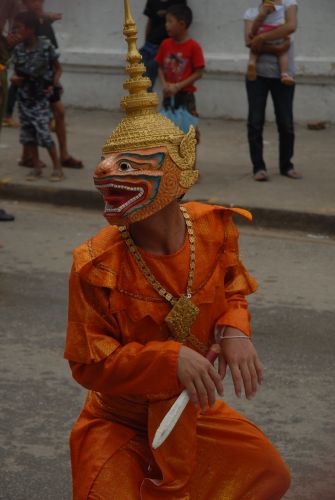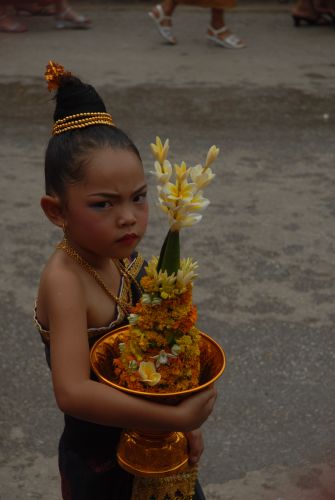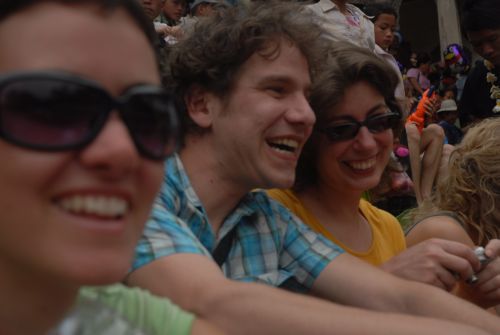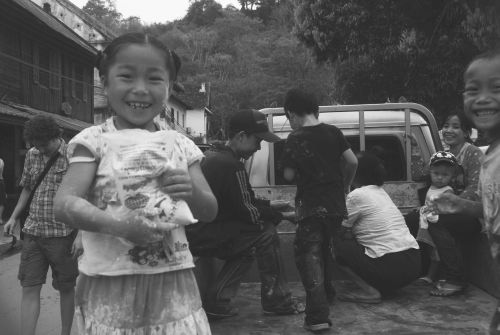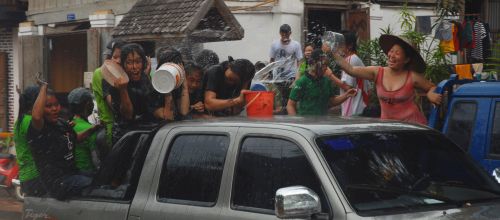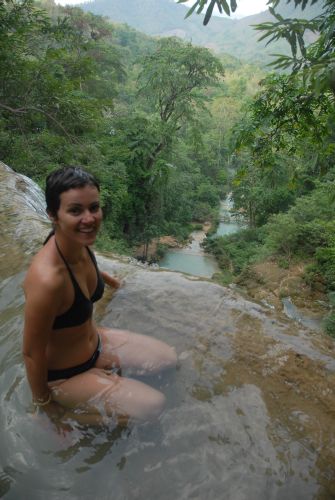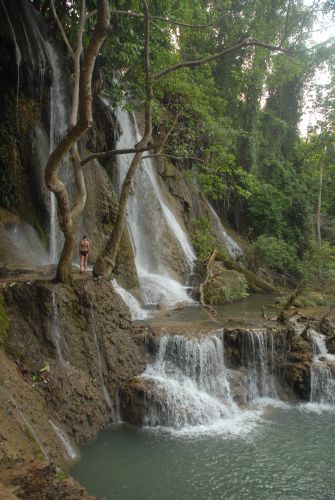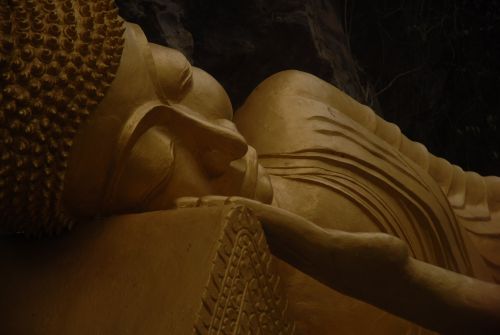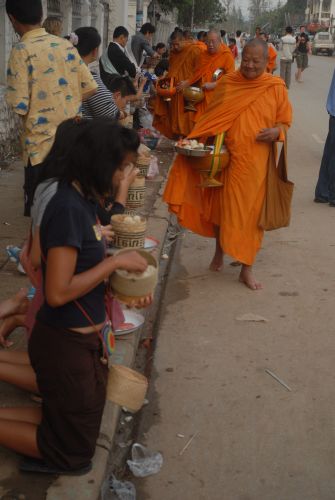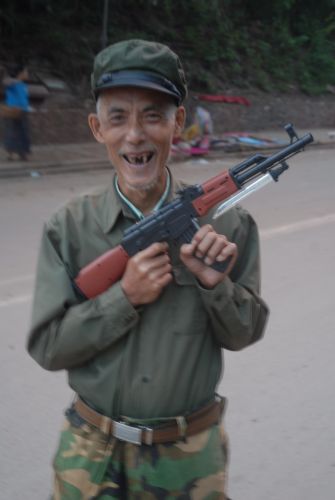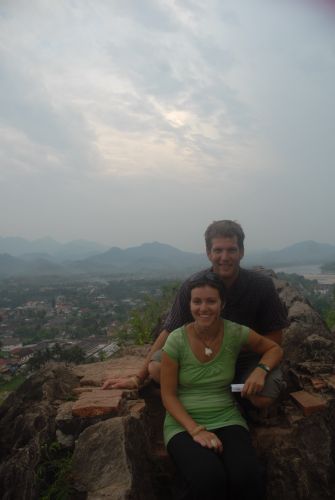 Posted by psy2099 at 07:29 AM
April 25, 2007
"It's January Month!"
This was the reply to my querry about the sudden, abrupt (and seemingly unnecessary) attempt of the police to clear a road in Chaing Mai. Puzzled at first, we eventually recognized that this translated to New Year's. The only place in this region that this festival does not seem to be celebrated is on a slow boat up the Mekong River in Laos. Thank goodness for that, as two long days of 100 people on a sparse wooden boat with small hard benches is challenge enough to the inner meditative calm of a most un-monklike group of young tourists. That is not to say that the trip was unbearable. The scenery was attractive, the mood languid and the company friendly. When not dozing, reading or watching the countryside pass by to the soundtrack of our ipods, we were making fast friends of a Dutch couple, Mariel and John Patrick. When the boat finally docked at Luang Prabang, we stuck with these two as the rest of the boat load scattered about the town, making for the unusual experience of us having acquintances all over town.
By now New Year's was in full swing. We didn't even make it from the dock to guesthouse without a pail dumped on our heads. This is how it went for three days - wet, damp, wet, damp, wet, damp...Hmm I wonder why I have a nasty cough now! With all this festiveness, we got an unusual experience in this normally sleepy town, but it did make it a bit tricky to see any of the sights. We did manage, however, to climb to a hilltop Wat (temple), Mariel and I dodging the home-made lao-lao wiskey offered up on the way, Simon and John-Patrick feeling not so good after consuming some of this local treat along with some grilled pieces of bone. Yum! But we saw the fine buddha's at the top, along with one of his footprints (if size is any indication, Buddha was a Yeti). We also rented bikes and cruised around the area, only to discover that this made us excellent targets for water tossers. And yet we got no discount for giving the bikes a good wash!
As the festival went on, the water guns started coming out later and later as revellers paid the price for their partying. This meant that mornings were usually safe for a bit of dry strolling around. We even pulled ourselves from our beds before 6 one morning to see the monks collecting alms, a lovely citrus coloured sight in a town with hundreds in robes.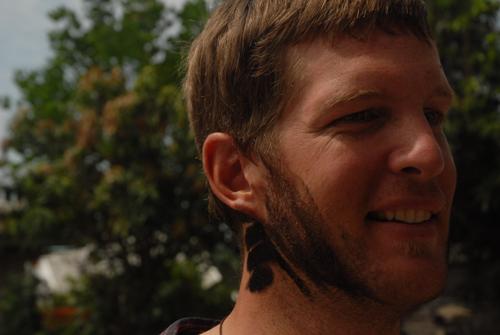 On our last day in town, there was only the odd water gun to be seen, and apparently we missed these waterworks, because the four of us decided to go to the nearby waterfalls. This turned out to be a fairly busy, but stunningly beautiful spot - hands down the most gorgeous place I have ever swam. It was as if someone had requested a hollywood set of a tropical waterfall paradise.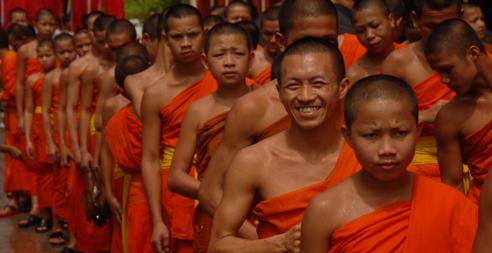 It will sound silly, no doubt, but for us, one of the highlights of Luang Prabang was the food. With a strong French influence, bread and cheese were available to us (& delicious) for the first time in ages. We wound up eating almost all of our meals at a bakery/cafe that did wonderful salads and sandwiches etc.. This may not sound terribly exciting to you in the land of such goodies, but months of rice and noodles and curries are adding up by now and I've pretty much had my fill. We even splurged and treated ourselves to a $35 french dinner with wine! (about 10x the price of an asian meal, but worth every darn U.S. dollar!)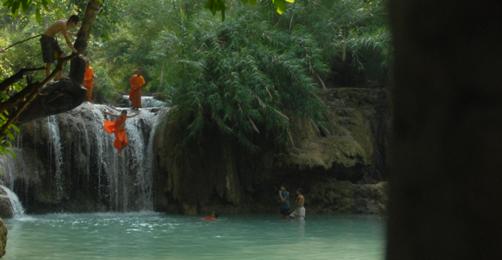 Life sounds pretty perfect in Luang Prabang, doesn't it? We certainly though so. Friends, food, festivity. What more could a person want? It was a blissful stop in our wild year. If we had had the luxury to stay longer, I wonder if the contented, relaxed feeling would ever dissipate. Perhaps we'll have to come back some day and put it to the test. For now, we had places to go and things to see. So with reluctant goodbyes to our friends and the town, we headed east by bus - fortunately we were not the lucky people on plastic stools in the aisle for the 10 hour journey!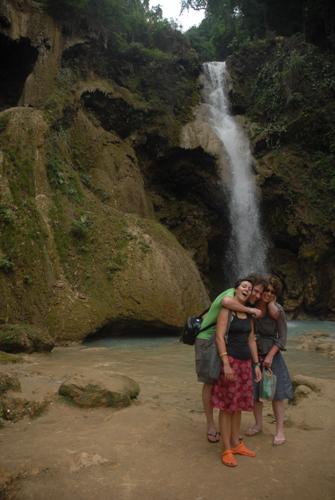 Posted by psy2099 at 09:41 AM
April 22, 2007
...And They're Off!!!
It's a bird, it's a plane, it's...backpackers! If you thought we were moving quickly before, hold on to your hats folks! The rest of Southeast Asia is going to come fast and furious. Of course this might mean less frequent posts, but we'll do what we can!
The general plan has been copied from a backpacker's travel company, with suggestions made by Dara, a fellow traveller way back in Namibia. To be fair to us, we're not insane for doing this so quickly as this company also runs the Indochine loop in 30 days. Our route will take us through Laos, Vietnam and Cambodia, before depositing us back in Bangkok.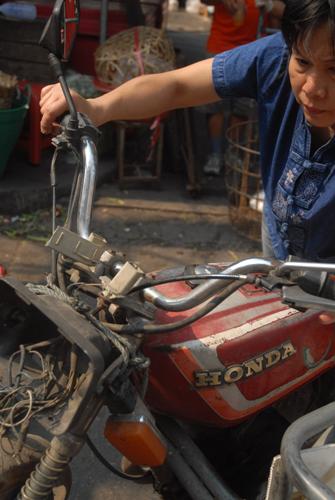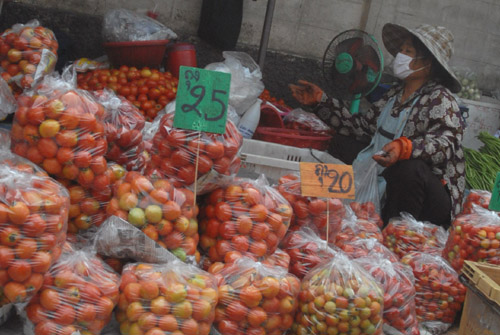 We started out with 3 days in Chaing Mai, a good sized city in the north of Thailand. It has an old fortress town at the heart of it, surrounded by a moat. This is most important at this time of year: The Buddhist New Year, Songkran, also kown as the water festival. Though the moat looked like no water I'd like to swim in, many people did just that. The rest loaded their buckets and water guns with this murky agua and proceeded to let loose on locals and farang alike. We spent several days soggily thanks to this, the biggest festival in this part of the world, without realizing the worst was yet to come - they go even wilder in Laos!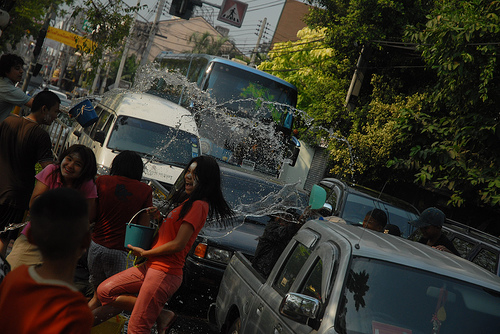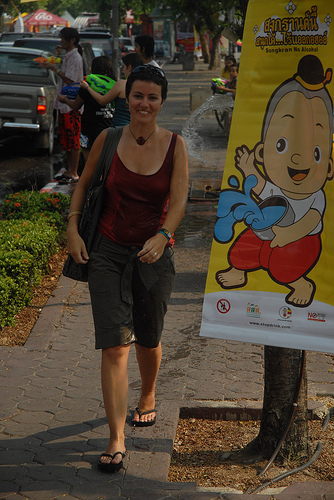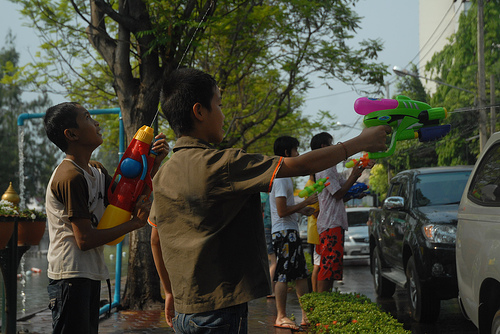 But we did manage to stay dry long enough for some good tourist activity. Off we went one afternoon to the nearby umbrella town of Bo Sang. We were in search of photos not parasols, but we still managed to find something to spend our money on: woven lanterns! SO simple, so beautiful, so cheap! This one stall left me with the dream of opening a shop of these in Canada. It would be absolutelyterrible if it required business trips back here! Between that and the very affordable night bazaar in Chaing Mai, we've wound up send yet another box home.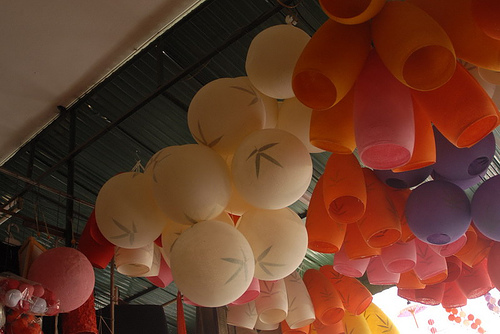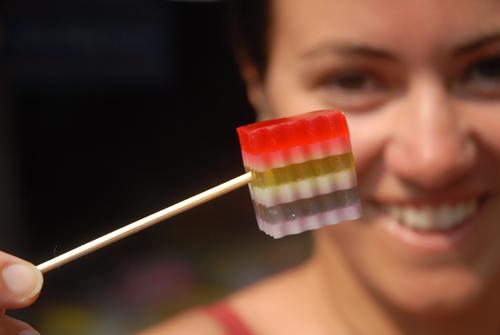 But if the shop doesn't work out, perhaps we can become thai chefs instead. We took a one day cooking class where we mastered six dishes including curry paste, spring rolls, cashew chicken, pad thai and bananas in syrup. If I do say so myself, they all turned out deliciously. We enjoyed our creations, with Tom and Kristen from Portland, for several days to come.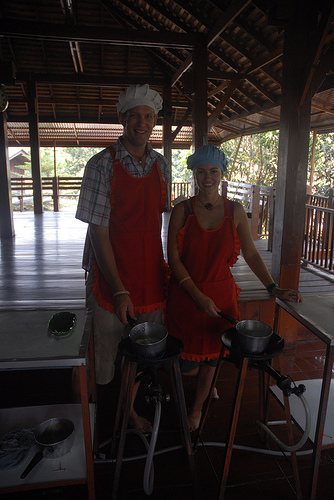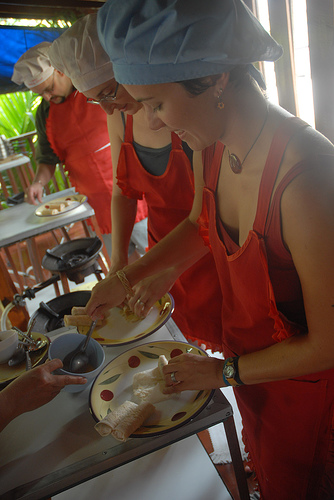 So now we have got two good job ideas. But why stop there? Let's see what 2 days on a boat up the Mekong in Laos can do for us...

Posted by psy2099 at 11:06 AM
April 16, 2007
Familiar Faces & Relaxing Places
We have implemented a new policy in our lives: when friends (especially ones who live far, far away) propose to meet us somewhere in the world & it is reasonably feasible to do so, plans will be rejigged and we will do it. This is how our beach holiday with Kevin and Varnya on Palau Tioman came to be. As is predictable; unpredictability proved fruitful - not only did we get a lovely visit with friends, but we also got to explore the beautiful and surprising country of Malaysia and intriguing Singapore to boot!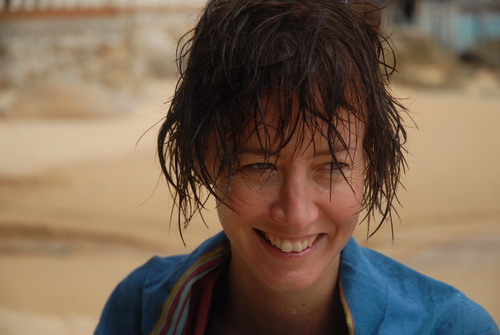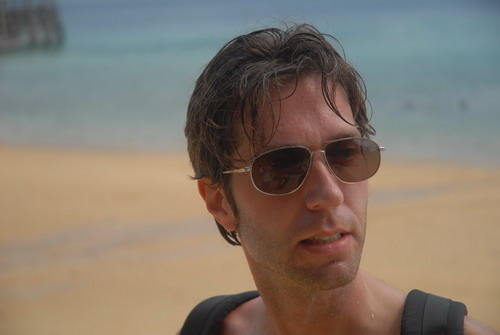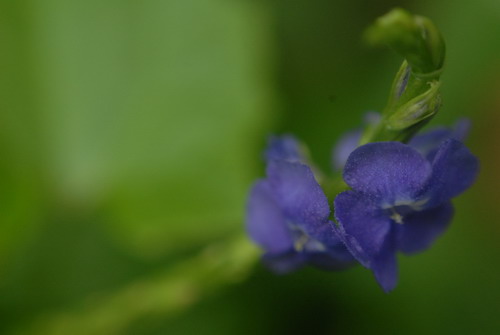 Palau Tioman is a relatively low-key tourist centre off the eastern coast of mainland Malaysia. It has very few locals, whose only industry is to make life grand for the holidayers. et this is all done quite tastefully in the villages dotting the coastline, consisting of family run cabanas and restaurants. The only way between these centres is by boat or the odd footpath. We knew none of this before K&V suggested we meet them there.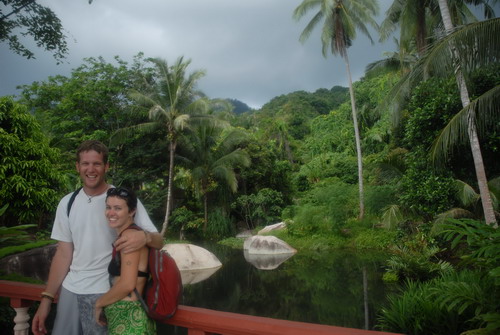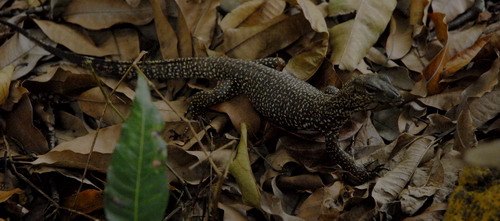 To be honest, we were surprised that our Austrailia - dwelling friends would be looking for a Southeast Asian beach holiday. True, they are snorkelling fanatics & Malaysia has plenty to offer in that department, but we suspected there must be more to it. So we were delighted but not surprised when Varnya announced that she had a "crumb in the oven". A crumb, indeed! - at three months the lanky V's belly didn't hold a candle to mine! But we are very excited for them & look forward to yet one more "cool parents" example to bring us around on the issue.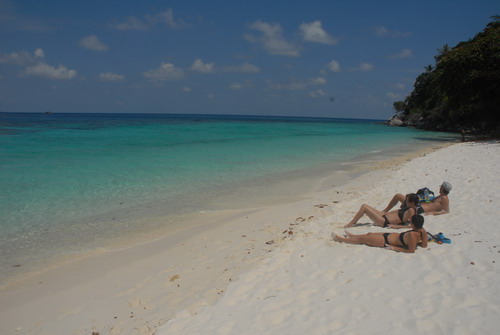 With the help of these two cool cats, we relaxed in good company. There were the usual beach, swim and feasting activities but there was also some fascinating encounters with creatures under the sea. We were first treated to the sight of a cuttlefish - a bizarre creatyure with a body like a frilly ottoman and a tentacled face like Davey Jones from Pirates of the Carribean II. We also found amusing the huge, blue fish with a large lump on it's head - the Napolean fish. But the most exciting and for me, unnerving were the 'harmless' Blacktipped Reef Sharks we saw. I knew they were in the area and my heart sank when the group before us reported seeing some. As my father can attest to, I am entralled but uncomfortable with snorelling and tend to stick VERY close to my companions. I was virtually on top of Simon when he pointed into the depths at the fluid motion of that familiar form. But I was buoyed to realize (thus allowing Simon a breath) it was only about three feet long and felt immensely reassured until Kevin and Varnya reported seeing a pair twice that length. Fortunately I was out of the water by that point.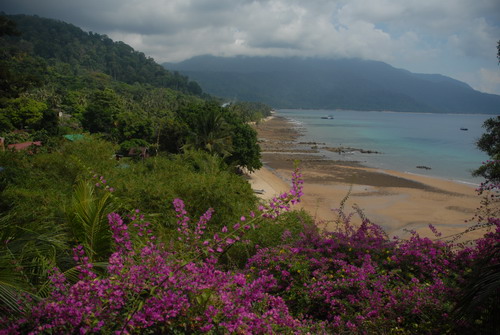 But a premature end was put to this fun by the hard-working Singaporeans, invading the island & filling every guesthouse for the Easter Long Weekend. So off we went, parting ways with K&V, to the island city of Singapore. We were greeted at the border by a sign warning against jaywalking. We were also extra careful not to inadvertantly litter for fear of incurring the hefty fines of jail time. But we did see signs of Singapore loosening is famously tight laces - one can now even possess small amounts of chewing gum!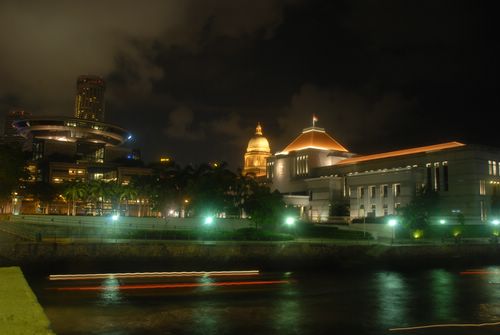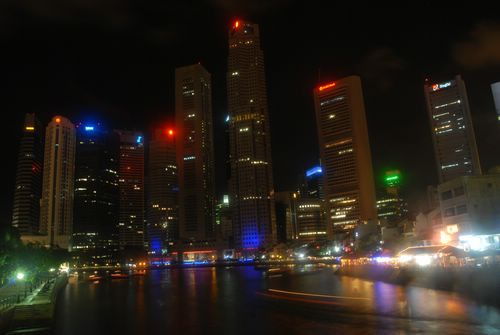 We spent a quick two days in this beautiful, lush city, enjoying it's permanent tropical climate, it's shiny shopping malls (that foster the city's main activity), it's excellent and varied gastronomic offerings (we're tiring of noodles & rice) and it's fabulously green vistas. We even had time to take in the unique night safari (read nocturnal zoo). Highlight: seeing the lion roaring - a sound familiar from our visit to Etosha in Namibia, but which formerly lacked the impressive visual of the dropped jaw and shaking mane.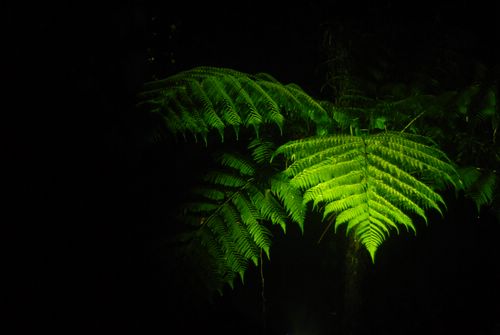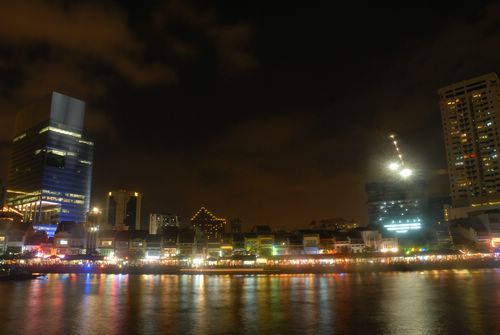 And just like that, we were headed north again, flying to the Thai city of Chaing Mai.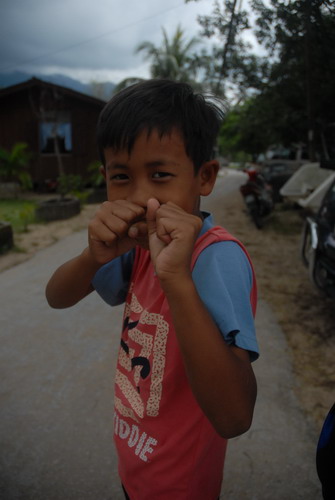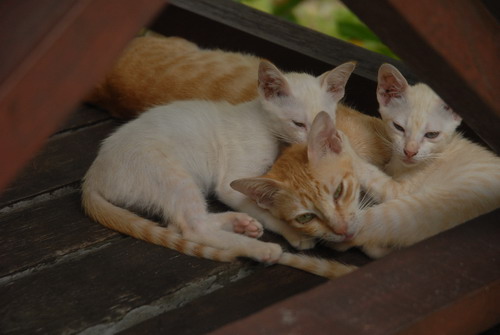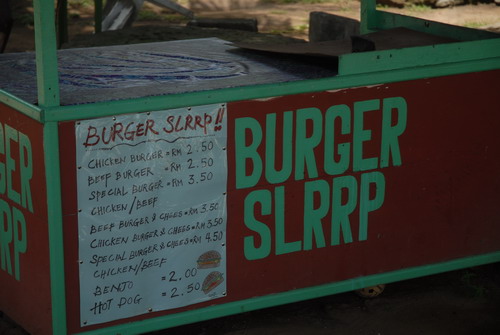 Posted by psy2099 at 06:47 AM
April 10, 2007
The Real Jungle Experience...
A warning right off the bat: this post may be boring in comparison to it's predecessor.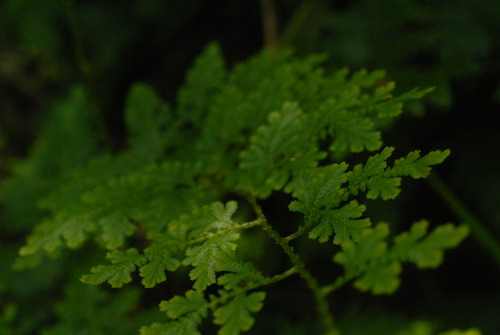 The reaction to our April Fool's post has made me realize that perhaps a little de-mystification is in order. I'm sure it is easy to romanticize our travels when faced with 9-5 jobs, but our 'adventures' are actually quite tame in the grand scheme of travelling. We do not take risks or stray far from the Lonely Planet beaten path. Maybe this is sensible, maybe it is missing out, but regardless, it is our nature. I hope that this hasn't crushed anyone's fancies, but more curbed the potential for worry.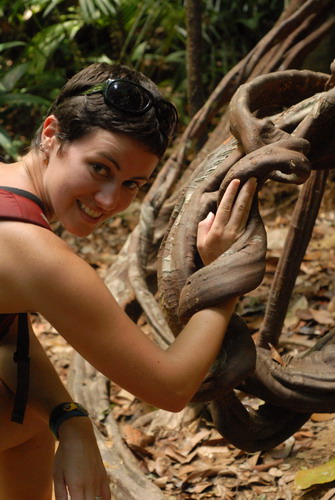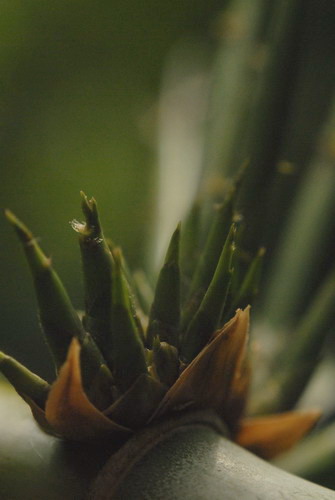 Now that that caveat is out of the way, let me tell you the plain facts of our experience in the jungle. First off, we arrived in Taman Negara via a bus from Kuala Lumpur. We'd flown to KL from Phuket rather than trained it due to a) time limitations & b) disturbing terrorist activities in Thailand's muslim south (when asked if they would travel through the region, four fresh young tourism trainees vigorously shook their heads with wide eyes and chorused "Oh No!") - See? No risks! -
But we did actually travel the 3 hrs upstream into the park in the primitive riverboat. This was not so much dangerous as uncomfortable - lacking the yoga training, Simon cannot sustain a crosslegged sitting buddha pose for long, if at all. Though our guesthouse's comments book logged such experiences as finding a 7 ft Dog-Toothed Cat snake (don't ask me!?) on their porch, we saw nothing of the kind. A few monkeys, bats and wild boars pretty much sums it up. Still we had some fun times all the same. We...
-walked 40m of the ground in a series of suspended walkways among the forest canopy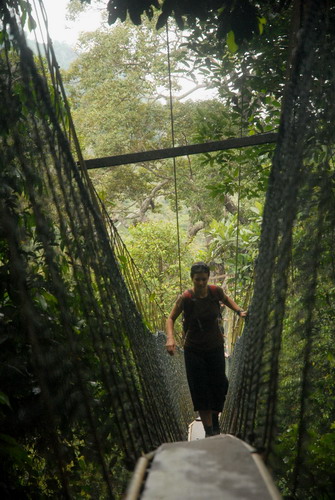 -scambled around a cave full of guano and bats. This was an experience with a repetitive sound track eminating from yours truly: "I don't like this! Did I mention I don't like this?"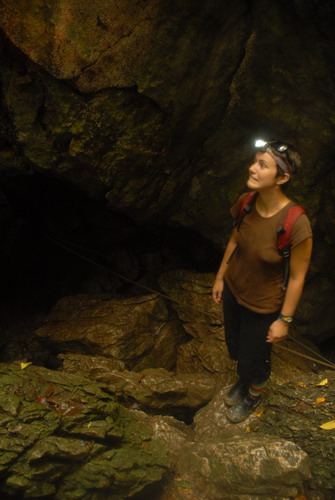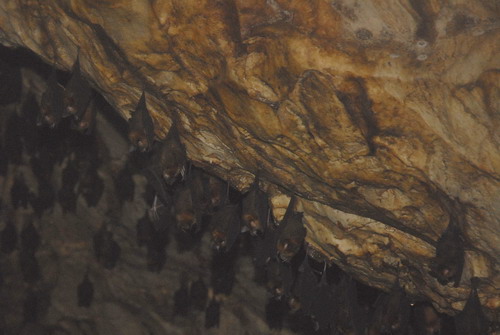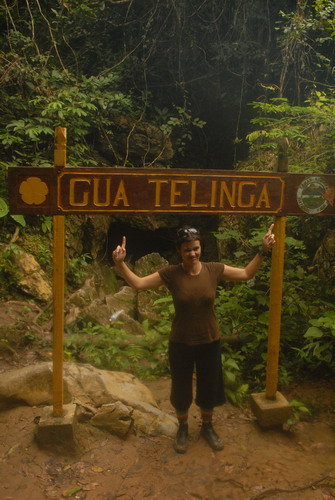 -snikering at the Japanese shaking and inapecting their shoes and socks for leeches (very common in the rain forest), only to sheepishly find that we had several frantically traversing our boot/sock region onto bare legs.
-hiked and sweated and hiked and sweated. Really I don't think I've ever been so moist in my life.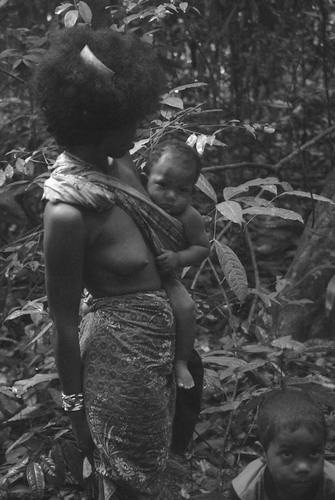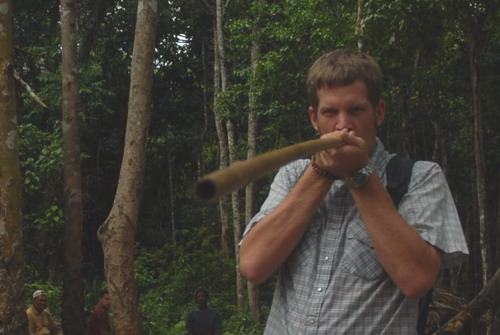 And that pretty much sums it up folks. I admit that I was a little disappointed - not that we didn't encounter tigers and pythons, but that this rainforest looked, for the most part, like most forest familiar to Canadians. In retrospect, it's easy, I suppose to see how our last jungle post seemed so credible - the word jungle certainly sets the imagination working.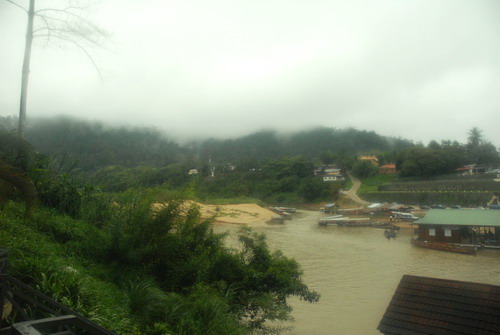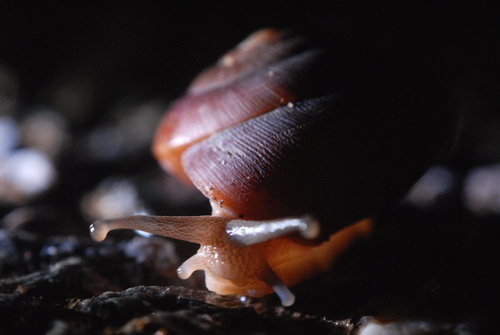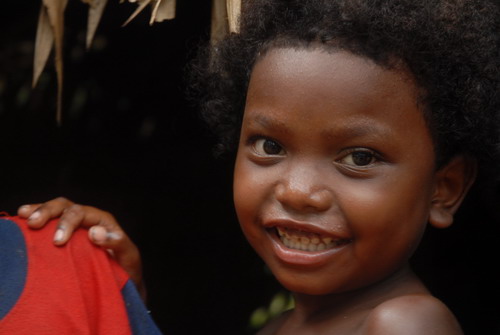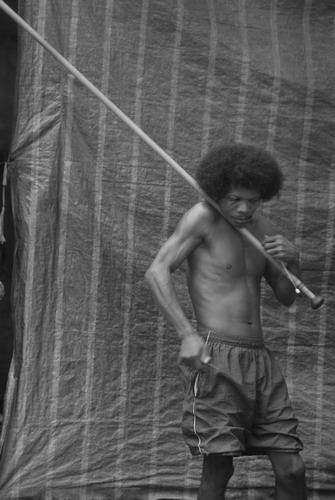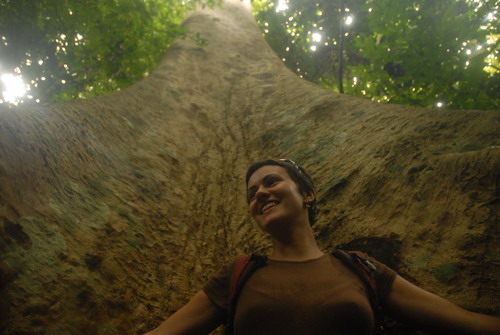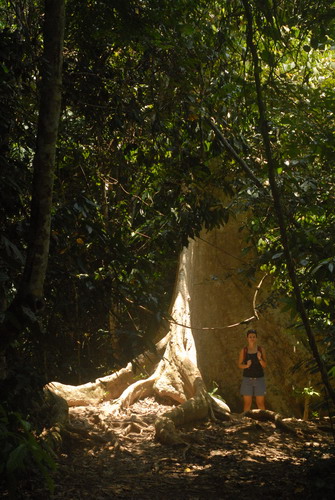 Posted by psy2099 at 06:27 AM
April 09, 2007
The Facts!
I suppose that you may be interested in what we really have been up to; facts as opposed to a load of fibs!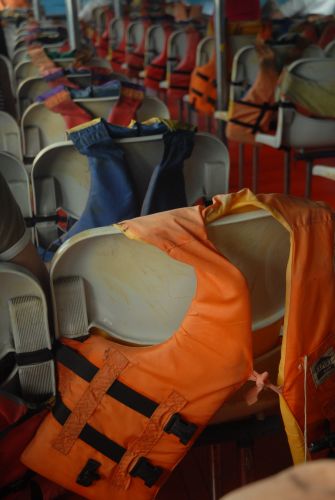 Going back a ways now, we left Bangkok for Koh Phi Phi via Phuket. You probably know these names from the 2004 Tsunami news reports - the area was one of the worst hit. Tonsei village on Phi Phi lost half of it's 5000 residents. We were immediately faced with this tragic history when the cab driver from the airport produced gruesome, shocking photos of a sea of floating bodies. Despite this, there is little evidence remaining of the event; we saw no memorials, only one tsunami warning sign and high water mark and the area is mostly re-constructed and the trees are re-growing. The island's visitors are not troubled by a tragic mood - if anything, the re-build is even more resort-y than the original. This is the spot for all young travellers looking for sun, sand, sea and no doubt, sin.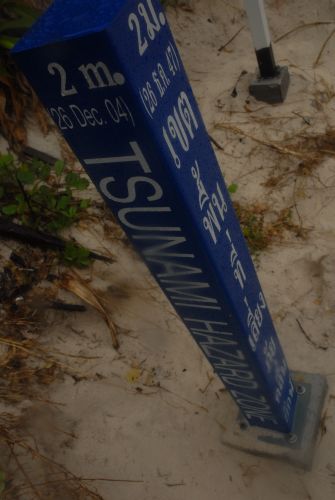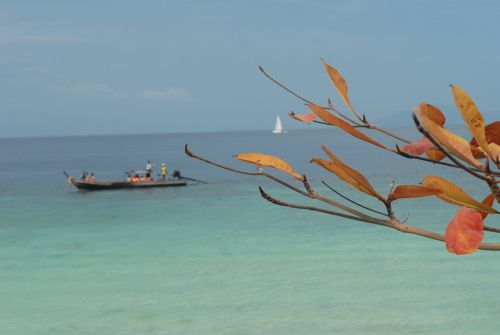 At the ripe old age of 30, Simon and I admit to having little stamina or interest in the party aspect of these islands, so we removed ourselves to a remote beach cabana, accessible only by long tail boat. This is the chosen form of H2O transport in Thailand - a boat of planks, propelled by a re-jigged car engine with a long drive-shaft extending into the water behind the vessel.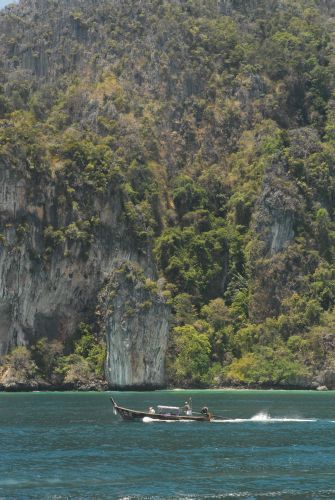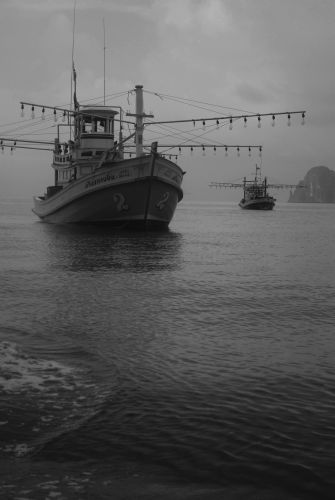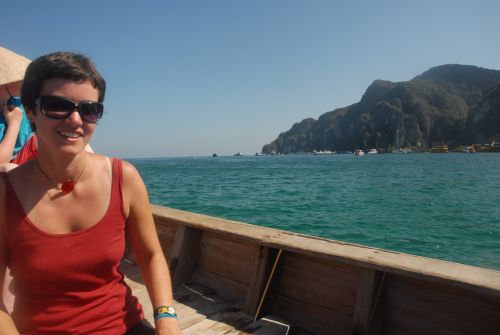 Here we got plenty of sunshine and swimming, a little snokelling, one very hot hike to a viewpoint (why do we feel the need to climb high!?!), much eating, reading, sleeping, and, well, you get the idea, a whole lot of non-taxing activity.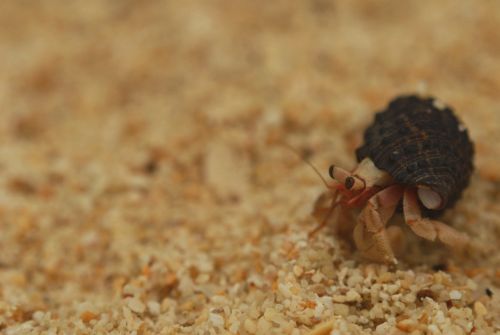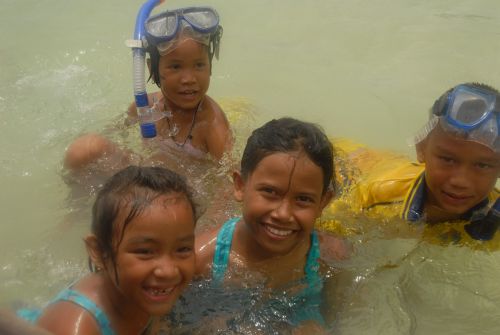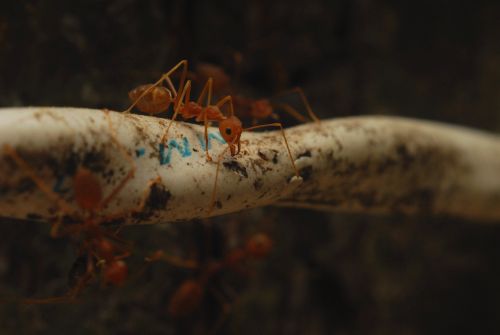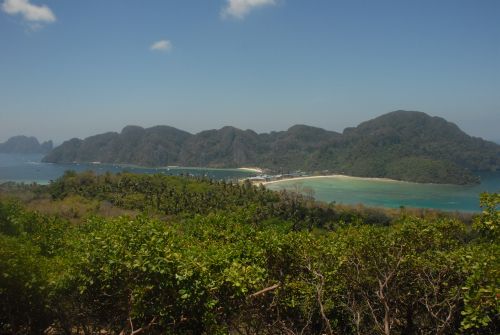 Yes Thailand's islands are clearly an indulgent, vacation spot, but it wasn't quite our perfect paradise, so we decided to check out a Malaysian Island. On the way, we really did stop in the jungle...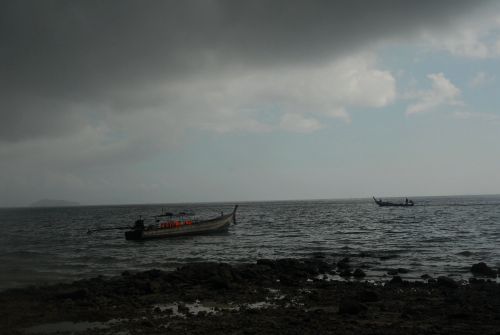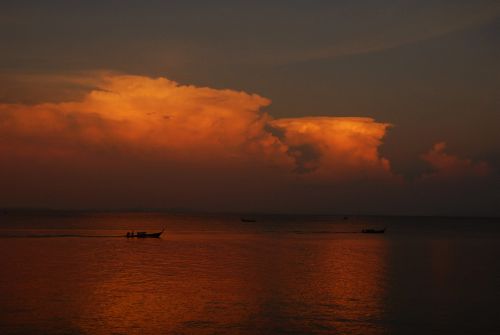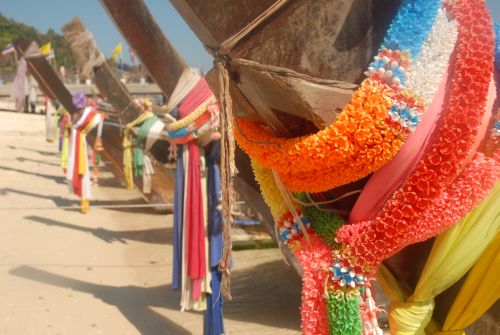 Posted by psy2099 at 05:16 AM
April 05, 2007
And the prize goes to...
Miss Lauren Cruikshank and Ron and Toos Reid who all have a healthy level of skepticism ...
So umm yes, with our tails firmly between our legs, we are offically admitting to be boys crying about wolves....April Fool's!
Thank you for the outpouring of support, but everything went fine in the jungle and we boated in with no problems. It would be a rare traveller, indeed, who managed to come accross tigers and pythons in the jungle. The scariest we had were leeches and bats. We fancied that the story was so fantastical that everyone would be sure to cotton on to the joke, before even getting to the telling last line. so, um, "GOTCHA"... We are sorry (now) that we didn't write the truth earlier and left so many people hanging, but we are on a tiny island with expensive and slow internet. We never imagined such hulabaloo back home! Are April Fool's pranks a thing of the past? Are we all becoming too complacent to the trickery of the day? We were well in the spirit of the day and even still fell for Google's Paper Archive prank for a minute or two---did anyone else catch that one?
So many appologies for causing you any concern...we realize we haven't the history of such pranks, but these days we are footloose and fancy-free and have nothing but time to stir up trouble, it seems! Hope there are no hard feelings!
A repentent but mischievous Simon and Claire
Posted by psy2099 at 06:23 AM
April 01, 2007
Wild Times in the Wilderness
What a turn of events we have had, dear readers. I suppose this is the kind of adventure that makes for memorable travel, but it is not the kind we would choose to repeat. Thankfully, though, we are both safe.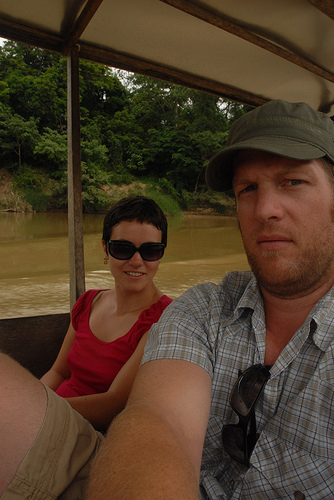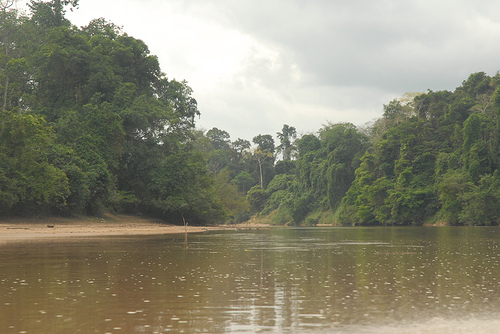 We decided that on our way to our beach vacation with our dear friends Kevin & Varnya, we would see what the Malaysian Jungle had to offer. We headed by bus to the nearest town, where we and fifteen tourists boarded a river boat for the 3 hr ride to Taman Negara Park. If you're thinking that this boat doesn't look study enough for all this weight, you're thinking the same thing I was.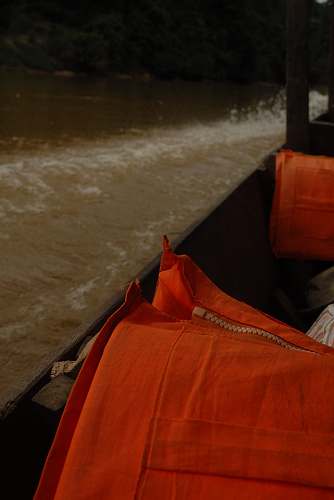 But who knows it might have been alright, had we not hit that log...
The force of the impact was enough to capsize the boat and fracture apart the boards and tar to boot. Down went our luggage while we frantically grappled for life jackets and valuables. It was not wet from the river; Simon shed some tears as he said goodbye to camera #2 - it was soaked through.
The last shot...how prophetic!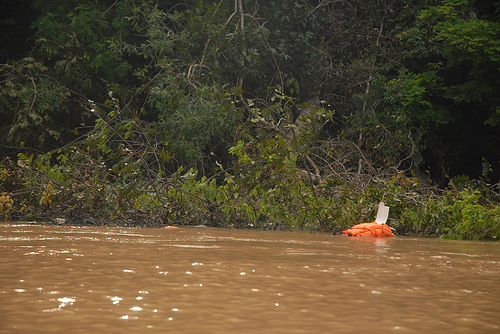 Fortunately, the river was not terribly deep & everyone made it to shore safely. We decided to wade in after our bags. This was not the easiest process as already heavy backpacks become extremely so when water-logged! Moreover, some of the bags had scattered in the swift flowing river and it was too muddy to locate anything visually. My pack never did turn up. It was during this exercise that the concept of being in the jungle dawned on me in a nasty way. Though I was wearing my crocs (I was very glad I had them!) I stepped on something large. Something moving. Out of the water in a flash came a large snake head and lunged at the American girl standing beside me. Somehow she managed to avoid getting bitten, but we were all out of the water instantly and I was shaking uncontrollably. We watched as a massive python ("reticulated"-we were later told by out boat driver) pulled itself from the river and made it's way into the forest. Now that I was fully aware of the kind of company we were in, you can imagine how I felt when the boat driver announced that his mobile was also water-logged and we were about a full days walk from civilization. This was around 7 pm with the sun going down and a light drizzle falling.
We decided our best bet would be to cobble together some kind of make-shift camp and stay put for the night. It is either a testament to the MEC water-resistant packs, or due to the extremely tight packing job that is required to fit all of our stuff into said pack that we found a few mostly dry items of clothing in the middle of Simon's pack. We gratefully changed into these and passed a few others around. We shared a depressing meal of bits of food people had with them and curled up on the palm fronds we'd laid out, trying to ignore the tickle of insects in the dark. You can imagine how well we slept.
Alas insects were not all we had to worry about. We spent the night listening to movement in the bushes around us. The thick foliage did not allow the almost full moon's light to let us see what was so curious about us. We tried to imagine that they were harmless monkeys for a while until we heard the unmistakable rumblings of a large cat. Yes, there are tigers in these parts. I never did see them, but from the tracks we found the next morning we figured that we'd been investigated by at least a pair of these beasts.
The next morning, dear reader, for the second time this trip, I ate fish - fortuantely our boat driver proved to be more able at fishing and fire making than at navigating. I was hungry enough to abandon my usual squeamishness and wolf it down. I was not the only one to whom the smell of the fish on the fire appealed, we were visited by precocious monkeys at our breakfast. Let me tell you 'cheeky monkey' is not just a figure of speech! These little guys helped themselves to part of a fishbefore we managed to chase them away. How quickly they can go from "cute" to terrifyingly teeth-barring!
After waiting by the shore for a couple of hours we were able to hail down the morning boat which took us, sodden and hungry, but relieved, back to the jetty. This was more jungle than any of us had bargained for.
Let me tell you, dear readers, April 1st, 2007 is not a day we will soon forget...
Posted by psy2099 at 09:10 PM