« February 2007 | Main | April 2007 »
March 28, 2007
A-OK in BKK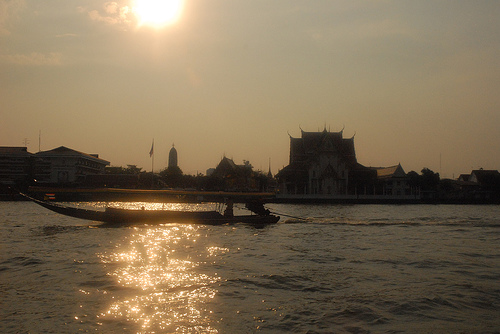 What's not to like about Bankok? I couldn't tell ya---we loved the place! From the cheap rooms to the dirty Chao Phraya, plied with river boats, to the sparkling skytrain, affording beautiful night vistas...This city could charm the pants off even the most reluctant urbanite. Within hours of arriving I was urging Simon to apply for an advertised photographer's assistant position. We quickly came to our senses, though--who needs work when we have money for at least one more care-free month?!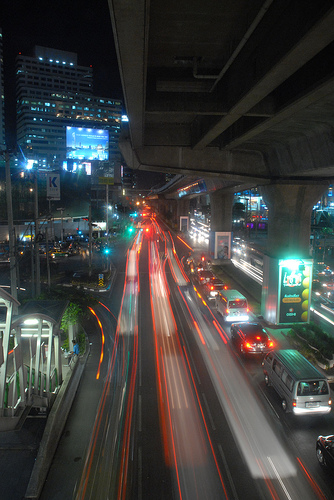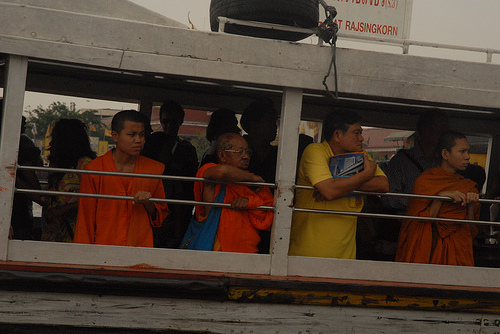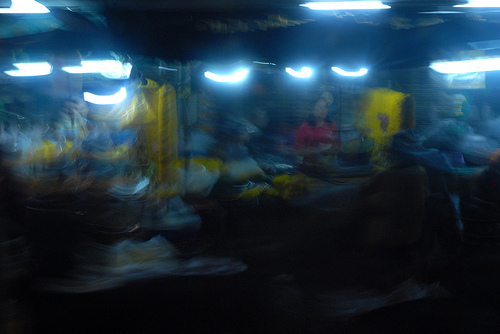 Actually, to be honest, our time here was mostly work as it was. Being the biggest hub that we would hit for a while, we took the opportunity to organize several up-coming visas. We also spent much time pouring over our Lonely Planet and the internet, attempting to form some sort of plan for our time in South East Asia. In countries rife with tourist scams and corrupt, tricky border crossings, not to mention a few terrorist hot spots, we decided we may want to be relying less on the seats of our pantalones than we typically have been.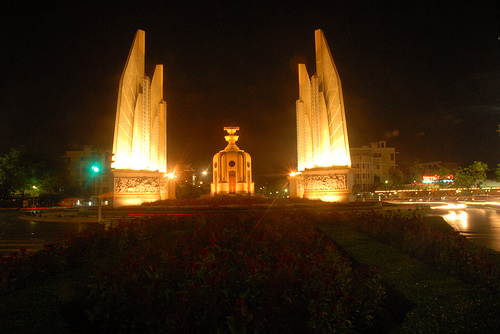 In fact, we proved to be such efficient little planners, and so content in our environment, that we planned away days from China, Japan and Australia in order to have and extra two weeks in this part of the world. This would not only stretch out our rapidly depleting budget, but would also afford us time to visit Malaysia with our favourite Aussie/Canadian couple.
But don't think that there was no play for us in this fair city. We ate well (surprise!) especially at the dirt cheap but immaculately clean and superbly delicious street vendors.
We also visited the gloriously golden Grand Palace and Temple of the Emerald Buddha.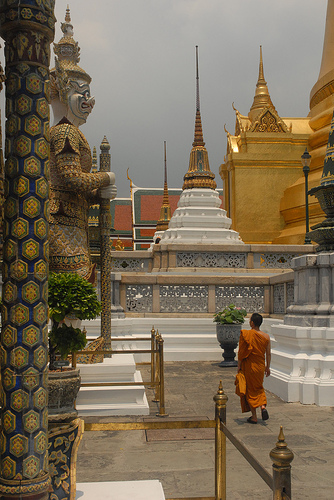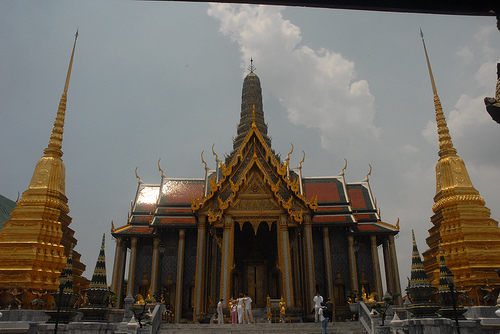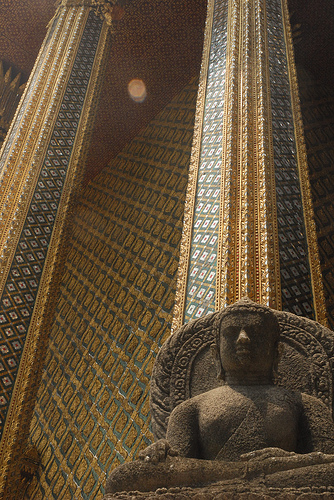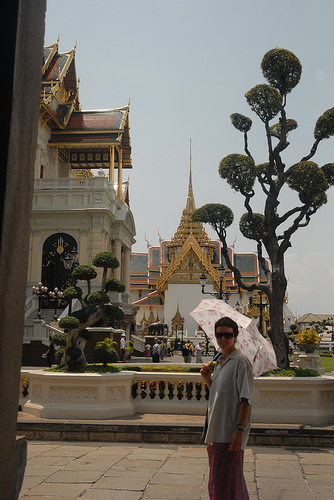 And finally...we shopped! Though we may not typically consider ourselves mall rats, we sure do love a good deal--and there are plenty of those to be had in Bankok! As the Lonely Planet says, this is not the place for a recovering shop-o-holic. Your favourite six-foot-five-amateur-photographer is now in the posession of a 4Gig memory card (on top of his other three cards!). He has been warned never to complain that he is running out of space.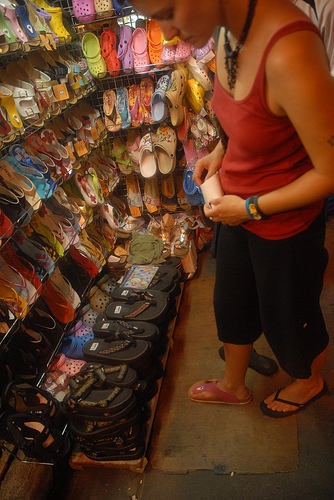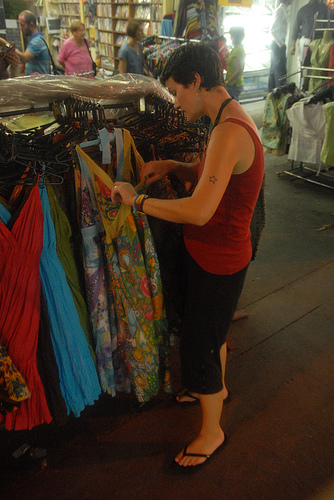 Having blown through our budget and then some in just a few short days, we decided it was time to sequester ourselves on an isolated beach where there would be no temptation to spend spend spend. So naturally we bought a flight to Phi Phi Island (well it WAS a budget airline!). We blew kisses to beloved Bangkok as the plane took us south, our only consolation that we would be back in two months time, this time to fly to China.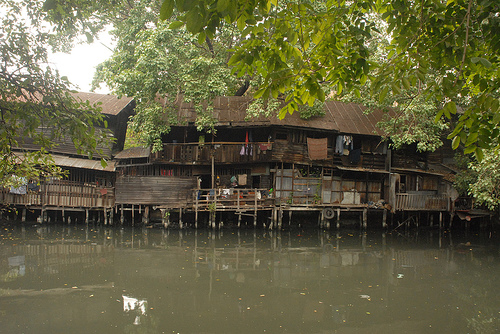 Posted by psy2099 at 09:01 AM
March 21, 2007
Delhi/Agra - in which the backpackers are WELL looked after
Now that our time in India is just about up, we have one last thing to see before we can leave...the Taj Mahal. And fancy this bit of luck - my parents tour group will be there the very same day. My folks generously arranged that we should join them, not only to the sights but for the meals and in the delightfully swanky hotel, as well. Thanks to this arrangement, we turned over all of our usual concerns to the travel company the minute we arrived in Delhi. We are met in the airport with tickets for the train later that day and a car to take us to some local sights in the meantime. Thus, we visit a hindu temple, the Ghandi Memorial Museum (where we were herded through bizarre high-tech displays by over-eager guides - what would Ghandi think?) and finally the fantastic Humayan's Tomb - a mini Taj Mahal.
A ride on the train to Agra - oohh proper seats in an AC car! - and we are met once more and transported to the hotel where my parents have just arrived. I am so excited that Simon complains about keeping up with me dispite my heavy pack. A reunion - Yay!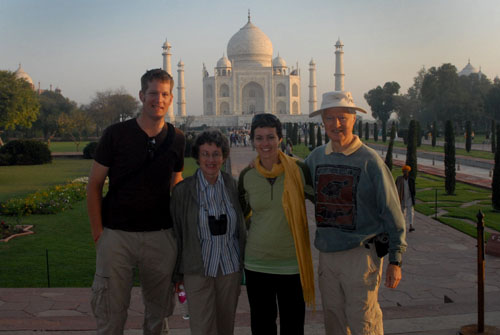 We spend the next day visiting as much as possible, eating some fantastic food, seeing a marble works, the red fort and let's not forget, the fantastic Taj. Ohh La La ain't life grand!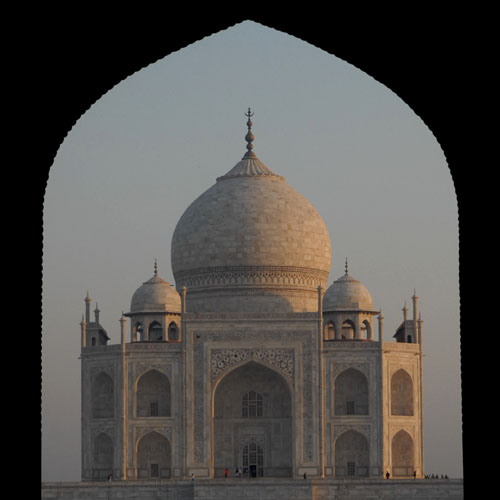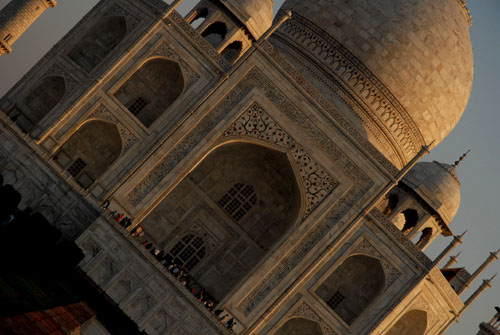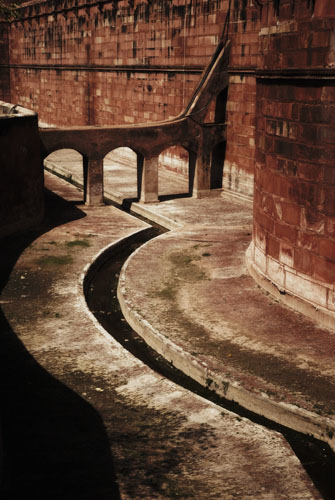 Part 2 - Claire and Simon and the no good, awful, very bad day!
But boo hiss all this fun must come to an end. The following day sees us say goodbye to my folks for another 4 months:(. We have a few hours to kill in Agra before our train back to Dehli so we head to the internet (I know, I know, you didn't even get a post out of it!). We fly to Bangkok this night so maybe it's time to do some research. Aha - reassuring news It seems due to several bombings in the past few months, and the anticipation of more, many countries advise against non-essential travel to Thailand at the moment. We further intimidated ourselves by reading about the corruption & border crossing extorsion/intimidation nightmares between Laos and Vietnam. A grey cloud is starting to descend. My belly is acting up so we try to track down some food, an impossibility in this area it seems, so we settle for soup at the hotel. But aieee! it ain't cheap! We hand over our remaining rupees that were supposed to last us the day and agonize a bit about the implications of this - no tip money in a situation and society that demands it!
Dropping my watch (only $20 Walmart but so perfectly simple and with indiglo!) on the swish marble hotle floor seems to be the last straw, the petty downers have added up to too much for this away from home homebody. I experience some traveller's blues of the "I want to go home" variety. I do manage to collect myself by the time we are met to head for the train, but it seems that the day is not done with me. Our train is 2.5 hours late and once we board it progress is slowed even further. Each station involves an hour long wait. We eventually find out that there has been a derailment, but by this time our 3.5 hour journey has turned into seven hours and unless our airplane taxis to the station to fetch us, we have missed our flight.
It is midnight and we are defeated. But the travel gods haven't abandonned us, it seems, or at least my parents travel company hasn't! Kumar (don't know about Harold or White Castle?) meets us at the station. He has a hotle lined up for us and has talked to Thai Airways about our flight. Over the next 24 hrs, he deals with all of our issues as we enjoy a metro ride and wander around Dehli. Some backpackers may eschew the organized travel, but we are thoroughly sold on it. But, Darn it, the budget certainly doesn't allow for this luxury and the next night we are on the flight to Bangkok and on our own again.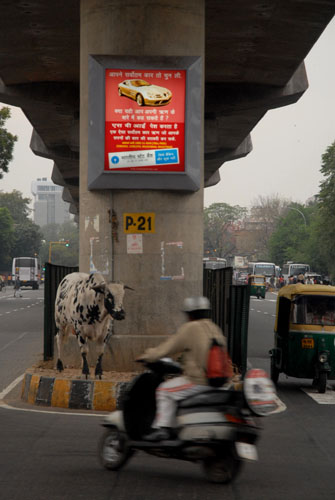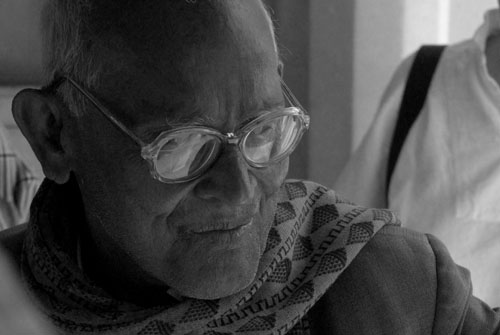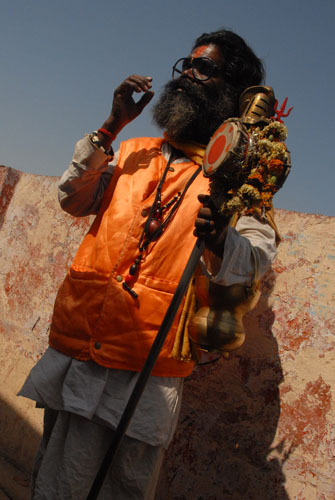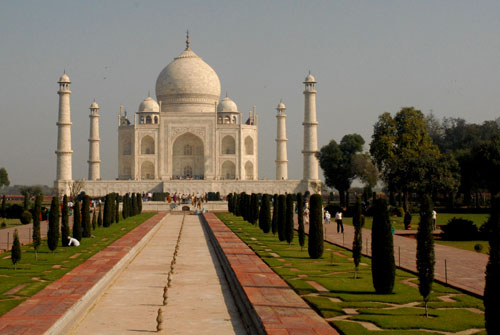 Posted by psy2099 at 11:12 AM
March 17, 2007
The Only Thing Scarier than Indian Roads are the Mosquitos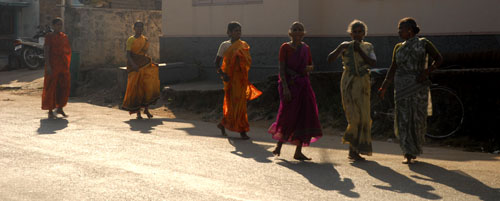 Though it was tempting to cancel the rest of the trip and stay in Varkala, visiting only beaches is perhaps missing the "Indian" experience. So we moved on just a little further up the coast to the backwater town of Kollam. This area of Kerala is famous for it's man-made and natural canals and salt-water lakes...which we saw from the relative comfort of a traditional canoe. We also saw some of the local industry - coir rope, boat making, coconut & cashew processing and prawn farming. Or rather, we saw where these activities take place. As it was the day after a local festival, much of the local population was quietly nursing their hangovers - inducing jealousy from Simon who can't seem to get a beer anywhere! (he hasn't yet learned the trick of ordering a "special tea")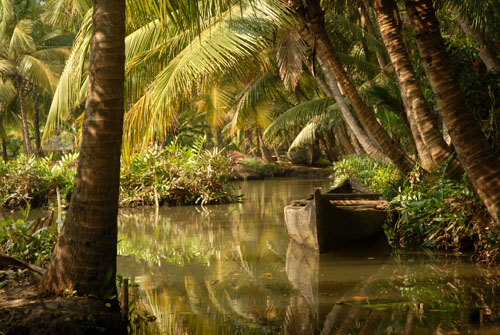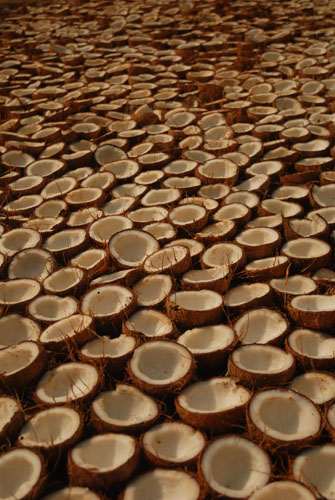 Moving on again, we tested the Indian travel system with several hours on a train, followed by several more on a bus. We found the former to be about what you would expect, bench seats & cockroaches, though comfortable enough with seats to ourselves. The latter was a much more trying experience. Imagine an old ('60s) city bus with no windows & seamingly 2 people benches intended and used to hold 3 (Indians are a LOT smaller than us!) Don't forget the intense heat (the air buffeting you from open sides is still stiffling!). Now imagine this bus driven by a teen-aged video game enthusiast - lines on the road mean nothing, passing on blind cornersis the norm and the name of the game is speed.
Finally, imagine four hours of bracing yourself to stay on your tiny portion of bench (so as not to squash the tiny Indian next to you) as
you mount and descend mountain switch-backs at this frantic pace. The only thing that can save you from a terrible accident is the driver's best friend, the ear-drum popping horn - used with NO reservations.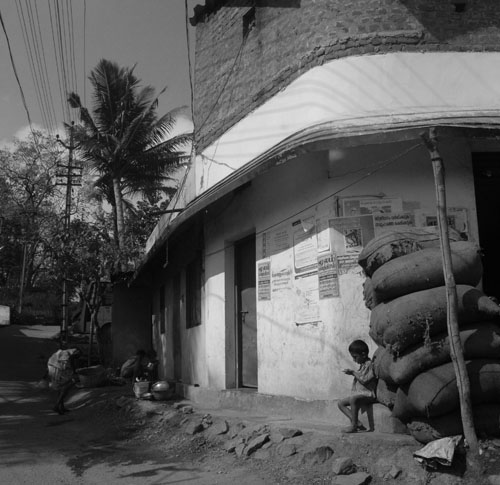 All this was endured in order to get to the town of Kumily in the Periyar Wildlife Preserve. There we took a tour of a tea factory and plantation, a flower garden and local spice garden.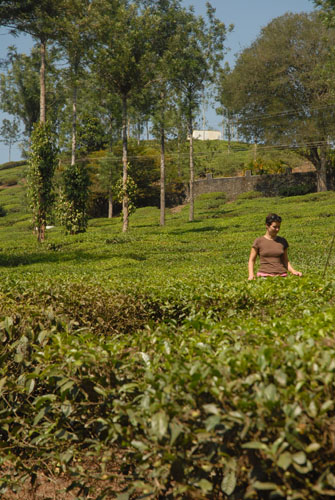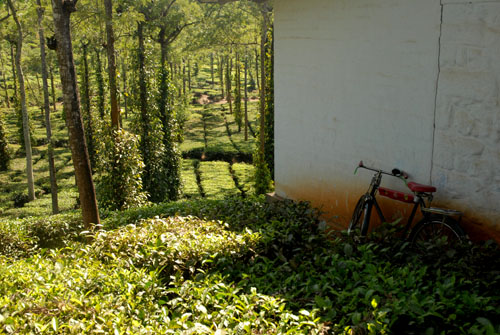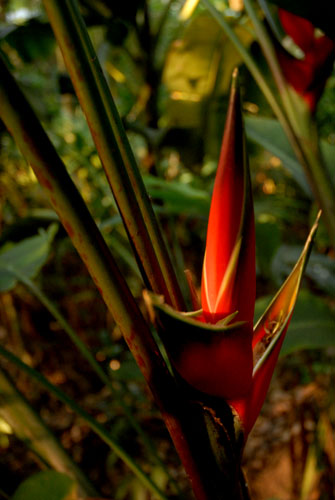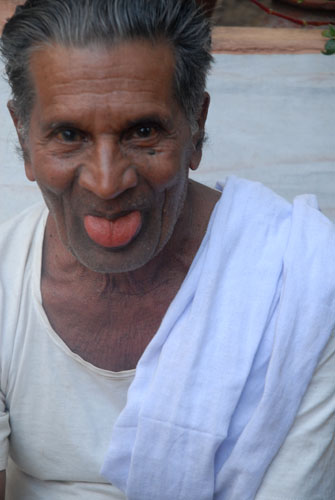 We also spent a day hiking through the jungle and cruising down a beautiful fresh water lake on a bamboo raft. Though we lunched with some elephants and sighted some boars and bison, we only saw tracks of the elusive tiger & leopard.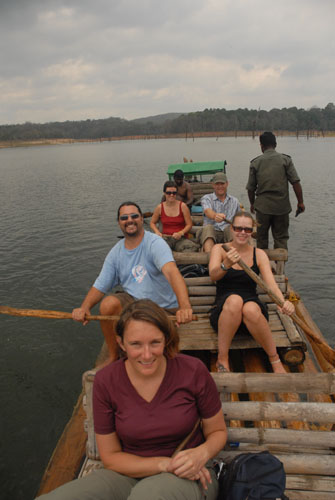 As far as other wildlife goes, though it is generally cooler here in teh mountains than by the coast, there is still a plethora of mosquitos. Despite the nets we hung over our beds (thanks, Tom and Jenni!) Simon still wound up with 72 bites on his foo where it pressed against the mesh - Yikes!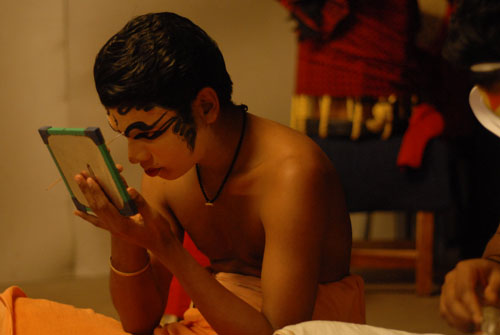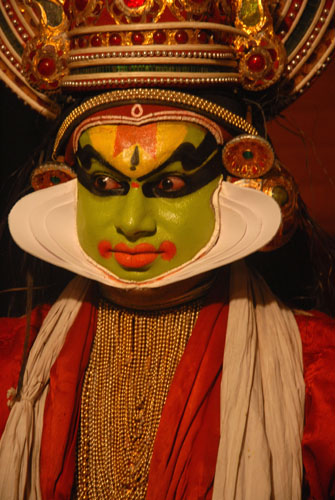 With these and a few more souvenirs, we packed it up and did the bus/train trip in reverse, heading for Trivandrum, where a super-low budget flight awaits to take us to Dehli - cross your fingers we get off the ground (and that Simon fits on the plane!)
Posted by psy2099 at 06:44 AM
March 12, 2007
Just the Two of Us...We Can Travel India If We Try...
After bidding my folks farewell, we decided we'd better come up with a plan of our own. Ok, well there was a little more forethought to it then that, but just barely. So we hopped a kingfisher (the King of Beers - life is good on a brewery airline!) flight to the city of Trivandrum in the southern state of Kerela. Evidently we had decided that starting out the summer season in anything other than the southern most part of India would be foolish. I must be suffering from heat-induced delusions, because my body looks the same, but I could swear to you that I am a puddle...
Back to Budget accomodations again, we lost all sense of perspective and somehow found ourselves agreeing to stay in a mouldy, filthy hotelroom where I offered up my body to the mosquito gods and crossed my fingers that my anti-malarials were working.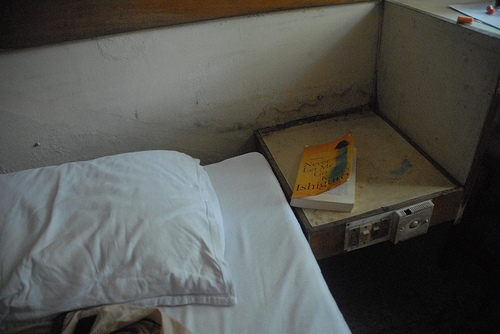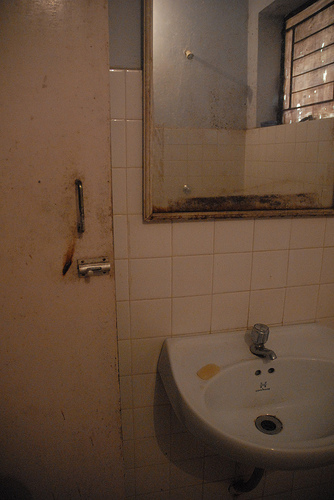 Escaping this homey atmosphere, we managed to take in a visit to the local zoo and the nearby beach of Kovalam. We endured 2 nights in Trivandrum before eagrly hopping a train to Varkala.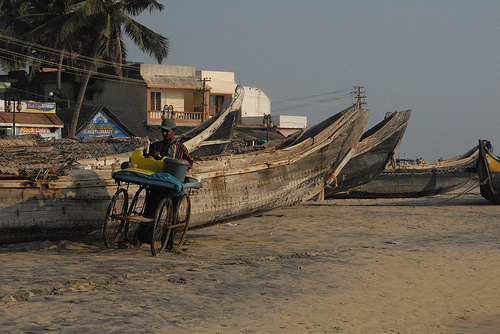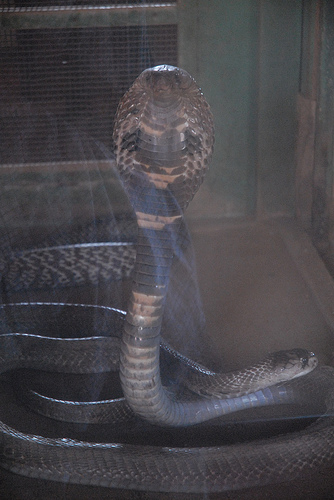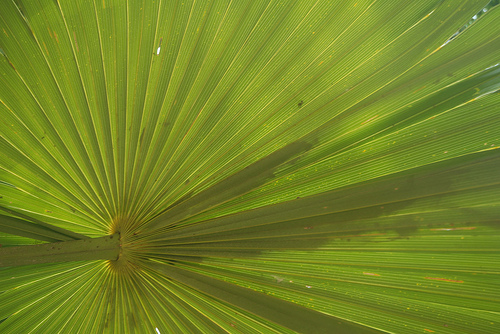 If Goa is THE hot spot for middle-aged British holidayers, Varkala is the Indian beach destination for international wandering youth. Though still dominated by tourists, it has the advantage of a fabulous setting on a beachside cliff, and a slightly less glossy atmosphere then Goa, thanks to the comparatively limited funds of the backpacker brand of traveller.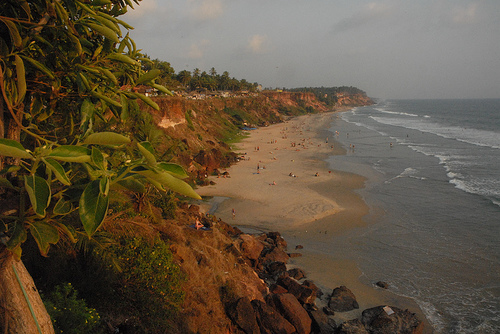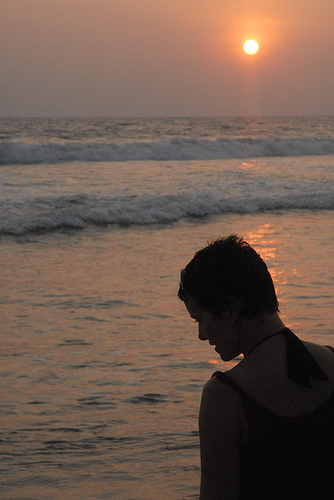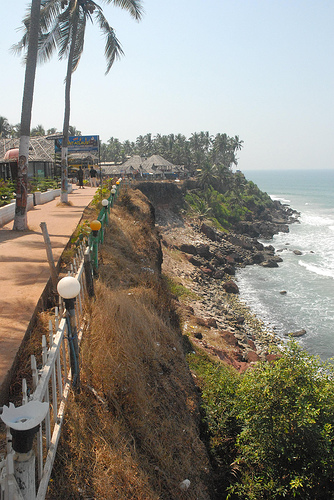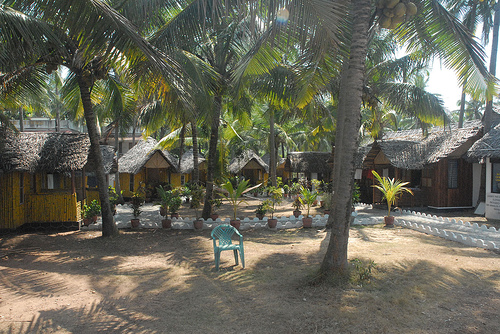 After waiting, in hammocks, for our cliff-side hut to be ready, we were contemplating the merits of staying here forever, beaching, swimming and doing yoga. The only downside to this plan is that the sea here is known to be dangerous, frequently carrying swimmers out to sea with powerful rip-tides. So in a life-time of doing dips here, with this as our only life line...our number might evenutally come up...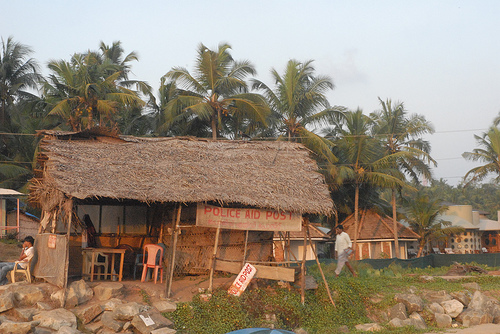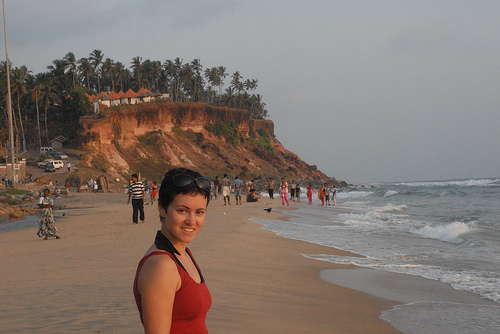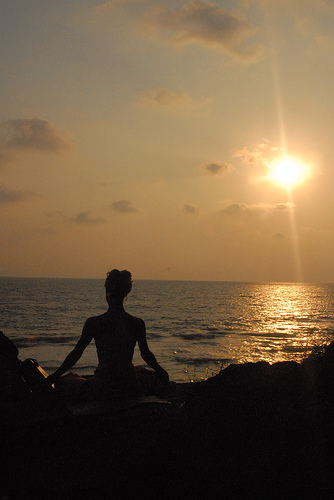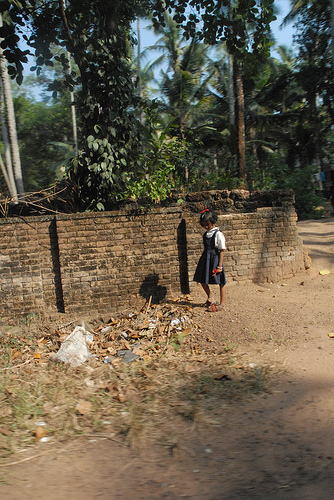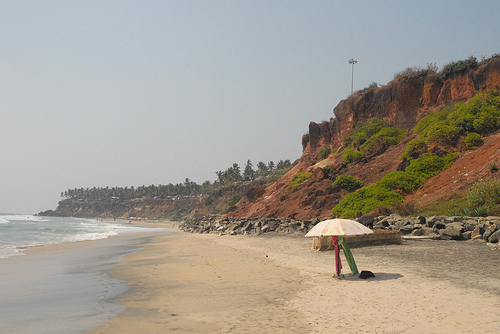 mt-static/images
Posted by psy2099 at 09:50 AM
March 07, 2007
Goa, the new comers are hit hard!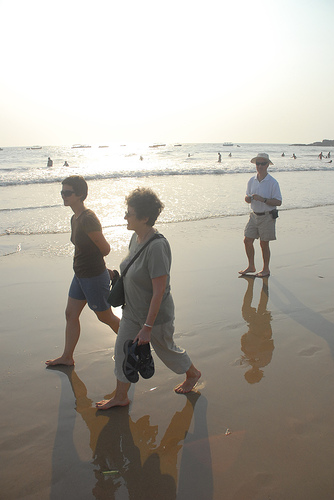 According to the Lonely Planet , 30-70% of travellers to India will experience the dreaded Traveller's Sickness within their first 2 weeks in the country. Nevermind that that statistic has some committment issues, we are proving it to be conservative. Mom spent her first night in Goa being violently ill, while Dad couldn't stray far from the loo on his last day here. In between we did manage some beach, swimming - pool and ocean - the latter far less appealing after discovering a monstrous, bloated dead rat awash in the surf!, fine dining, sight-seeing and a little R&R.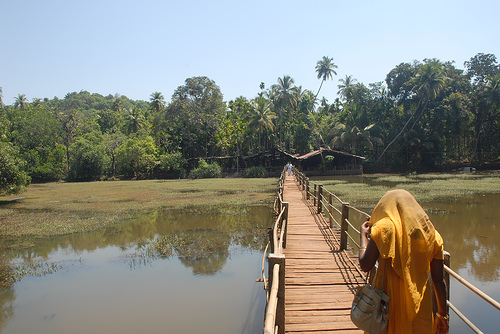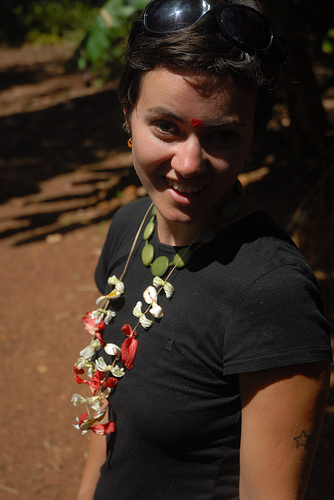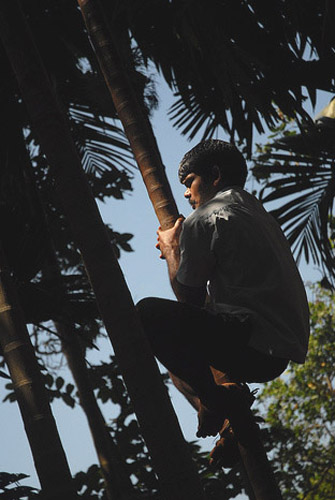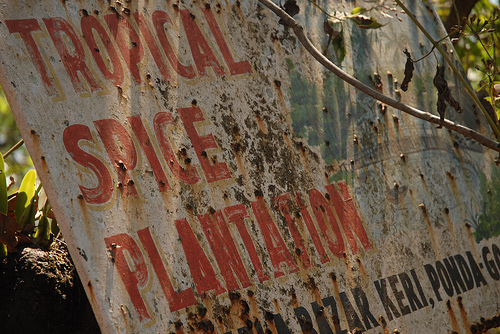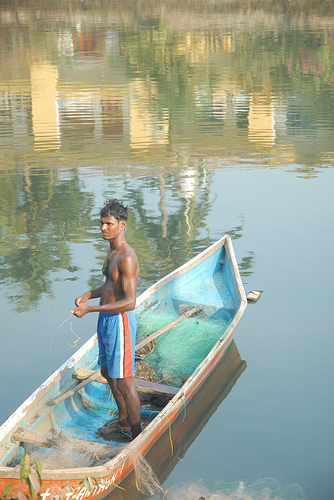 Though we had been warned that this part of the country was not India at all, but more a spot to sight portly, pink British vacationers, we found nothing of the sort - the beach was absolutely packed with Indians enjoying the sun and surf in their briefs (men) and saris (women). Still there were enough foreign tourists about that I didn't feel out of place in my bikini!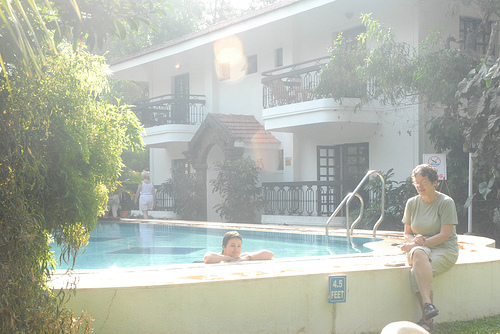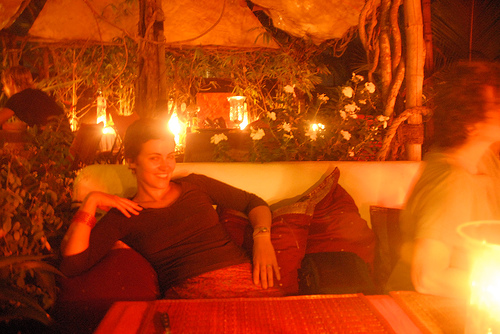 The reason for all this Indian revelry could have been the fact that they were celebrating Holi, one of their biggest national festivals. Apart from some worshipping at the temples, this seemed to consist mainly of smearing everybody in sight with colourful dyes. As these can stain skin and clothes, Mom, Dad, and I abstained from this activity - Simon was not so lucky.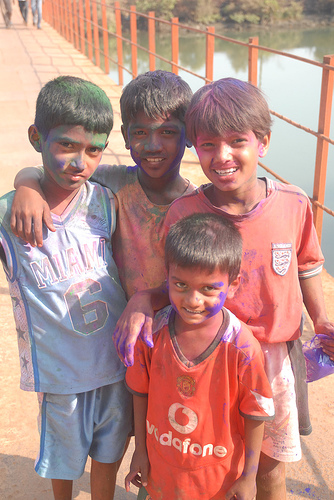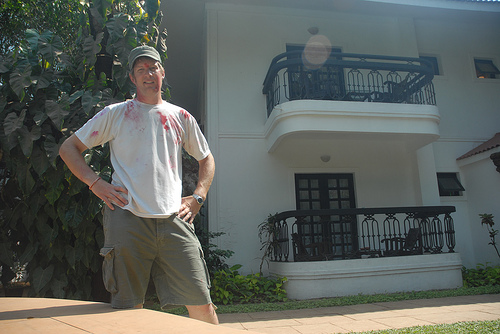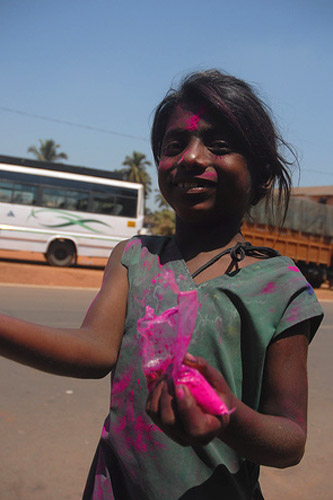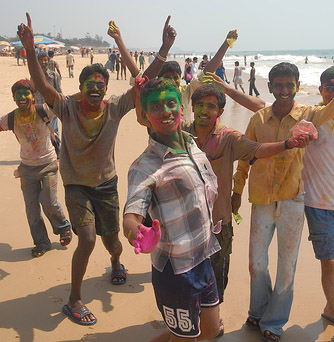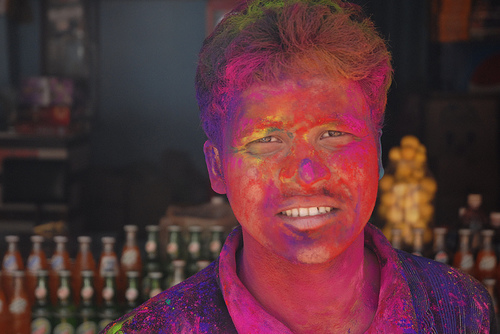 But of course, the good times are gone in the blink of an eye and too soo we had to bid our farewells to my Mom and Dad. We were heading south to the state of Kerala and they were off to Dehli to join their small tour group for and exciting 3 wks in northern India. But as luck would have it, our paths will cross again on this continent - at the Taj Mahal in 2 weeks!
Posted by psy2099 at 10:14 AM
India - The Lap of Luxury? (alternative title : I'm Back!!!)
Well the lap of luxury might be a bit of an exageration. But since meeting my Mom & Dad at the Mumbai airport we have enjoyed the bliss of pre-arranged travel. There certainly is something to be said for having all rides, hotels and sight-seeing booked for you. We revelled in the relaxation of having nothing to worry about beyond how much to tip someone.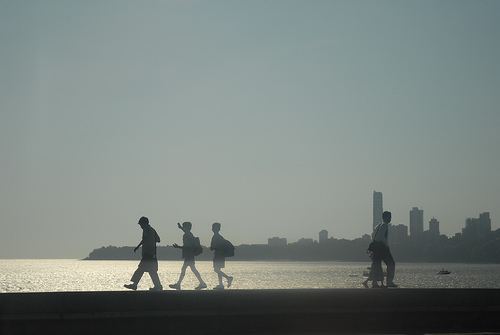 The the invite has been open to any and all to meet us anywhere in the world, my folk s are the only ones to have taken us up on the offer so far (unless you count us crashing Kevin & Lucinda's honeymoon numero deux in Mallorca!) I guess it helps to be retired avid travellers! But we certainly do appreciate the effort and expense they've put in to brighten our trip at it's halfway point. Moreover, it made our introduction to India a smoother experience than we had expected.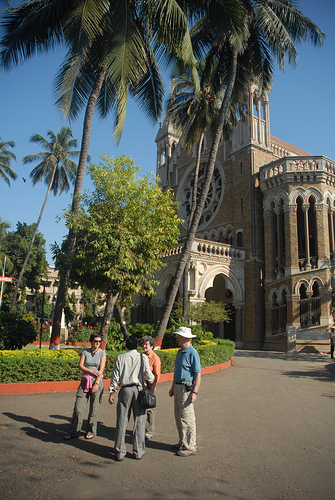 That being said, I'd no sooner had stepped off the plane into India then I experienced the notorious Traveller's Illness! While I recovered from a night spent in the loo, my folks hit the town for a tour and Simon raced around looking for a deal on a camera. He got the latter, though mot much of the former. It seems that high-end photography equipment is the one thing you can't negotiate for in India. Still, he was grinning like a fool to have his buddy back in his hands again.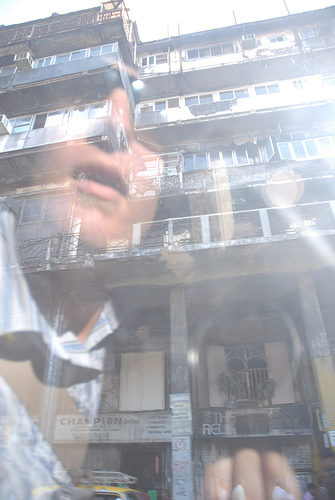 By early afternoon, I felt sufficiently recovered to join the tour of Mumbai an dSimon was keen to put his new tool to use. So we met my folks and our guide and took in some Bombay highlights, including Ghaandi's house, a Jain temple, the Dhobi Ghat, where thousands of men beat clothes into a supposed state of cleanliness. After a fabulous (though admittedly non-indian, Mumbai is very modern) dinner that night, my illness was just a distant memory and we were quite impressed, i think, with our first day in India.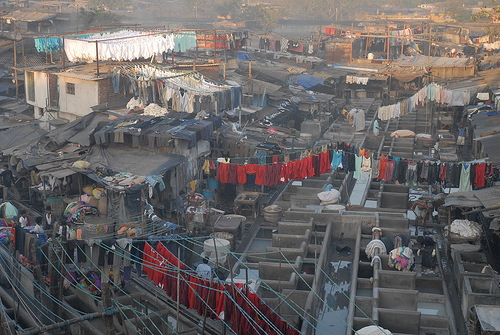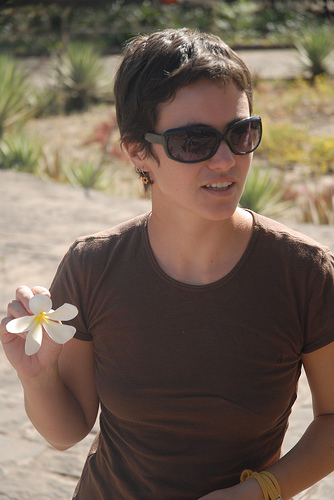 The one downfall, I suppose, of organized travel is the necessity of setting an alarm (something we are not used to lately!) and rising much to early for our tastes! But, Oh! the things you can accomplish when you do this! We flew to Aurangabad and were immediately collected by another guide, who took us to one of the city's attractions - Daulatabad Fort.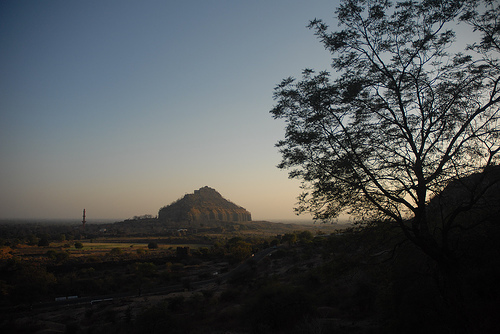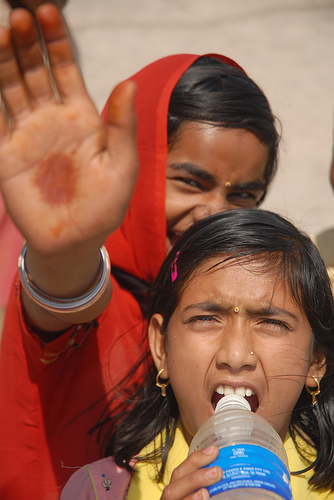 This is the remainder of what was once meant to be the capital city. It's first ruler even went so far as to march the entire population of Dehli the 2000+kms to populate it before discovering that there was a severe shortage of water. Fortunately, we were better perpared in this respect, as we dragged my parents through the heat and bat filled halls, up to the fort's lookout. By this time we were throughly exhausted and spent the rest of the day napping and gorging ourselves on Indian food.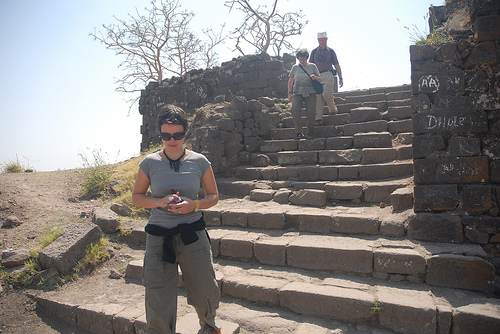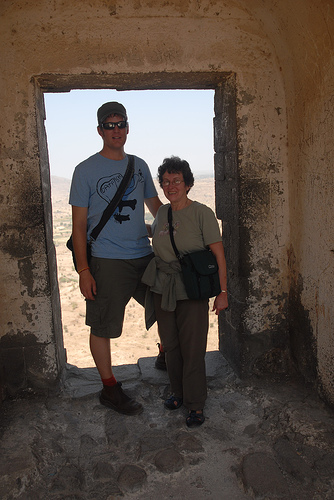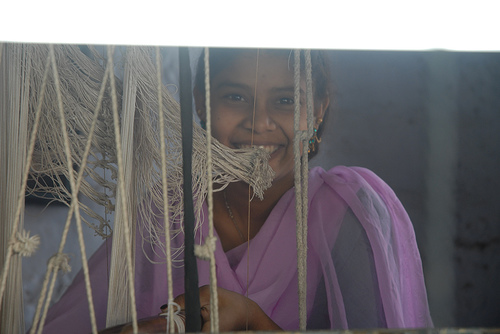 Up early again the next day (could explain why Simon and Mom are suffering from colds) we had some even more ambitios sightseeing plans. We spent the morning at the Ajanta caves - Fantastically ornate hollows in a canyon wall, built for Buddhists beginning in 200BC.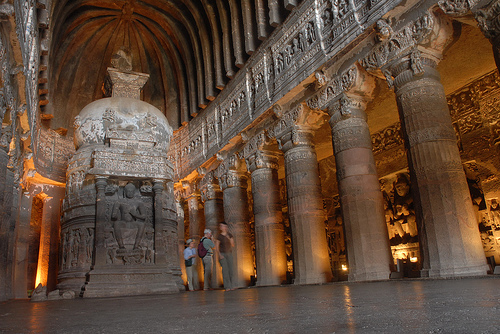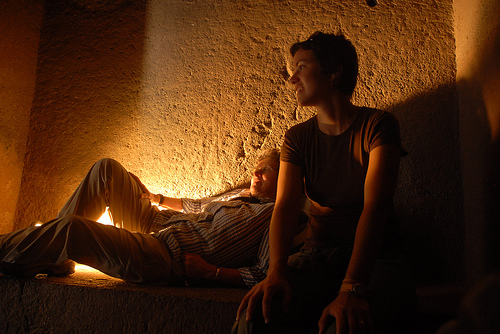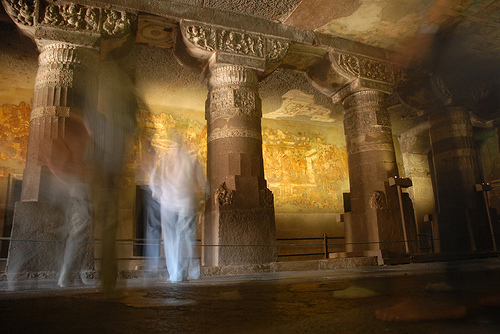 The afternoon was dedicated to the Ellora caves, similar constructions that date after Christ, and were temples for not only Buddhists, but Hindus and Jains as well. Perhaps the most impressive aspect of this place was the Kailasa temple - the world's largest monolythic sculpture. It took 150 yrs and 7000 workers to complete. Hopefully it wasn't the same bunch the whole time...;)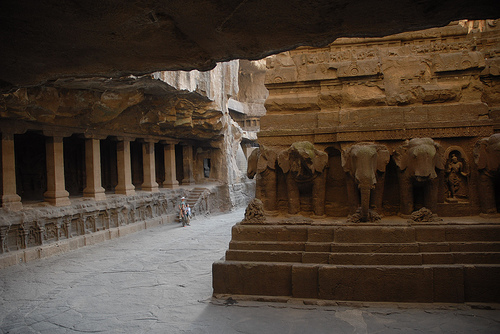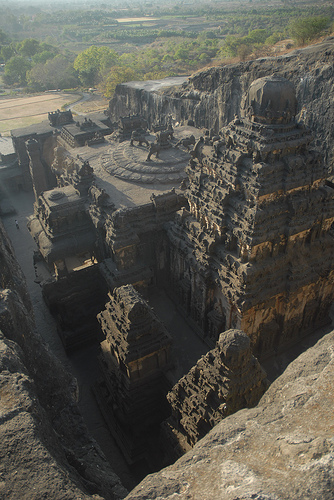 Now that we are so learned and cultured (our guide had multiple master's degrees in archaeology and history and imparted to us more than we could ever possibly absorb) time for another side of India...the famous beaches of Goa!
Posted by psy2099 at 09:11 AM