« January 2007 | Main | March 2007 »
February 25, 2007
Désastre! (on a small scale): Technical Difficulties in Namibia
We're going on an African Safari! YAY! This is the break the budget, but worth every penny splurge: three days in Etosha National Park. We got up early, met with the group, boarded the bus from Windhoek, the capital, to the north of the country. A little lunch break, a few insect photos later and....what's this? The camera isnèt working! Strangely, poking and jostling do nothing to correct the issue & Simon's head looks like it's about to pop off. Many attempts to correct the problem & a lot of gritted teeth are invested before we face facts: Simon's darling has failed him at the most crucial point in our trip! Oh the penance one pays for deeply loving fickle technology!
One of the final shots: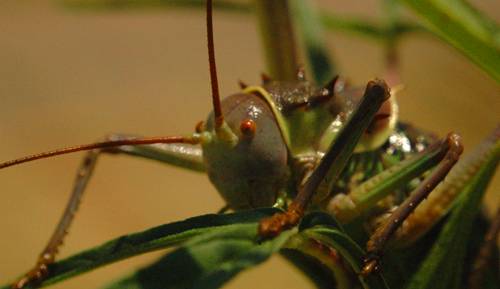 It took a few pep talks from C#3 (camera #1, computer#2) before our star photographer eased slowly out of his funk. But we were in terrific company & had great things instore for us.
Slowly melting with us in the African heat were: Nicola, Georgie & Dara - two British and an Irish - Lively gals who had just came from an incredible volunteer experience at a Namibian Wildlife Reserve. I long to someday cuddle a cheetah as they did.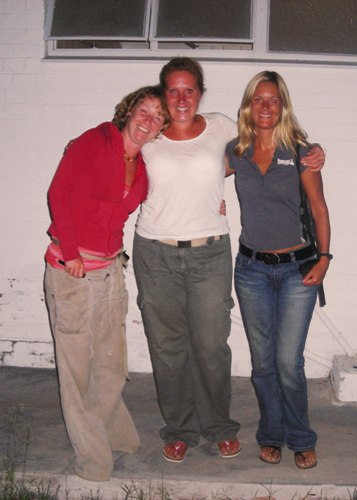 Also bumping along in the not-so-comfy bus were Catherine and her Mom and Dad, Joan and Keith, Al - a well travelled employee of the Stratford Festival, and Toshi - a very quiet Japanese.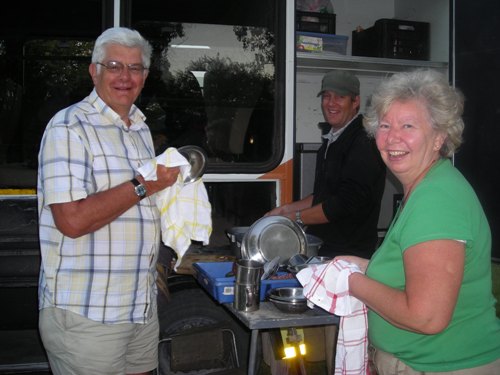 This group nutured us back to good humour & not only generously shared their camera with us, but often forced their little digital's upon a very willing Simon. All photos on this post are coutesy of them. Ièm sure you share our gratitude at not missing out on these pretty pictures.
Our personal bad luck must have absorbed it all, because as soon as we entered the park we had a lucky sighting: a lioness, some hyenas & jackals mowing down on a zebra carcass. I was shocked to find, as I would continue to be, that these animals we not way off in the distance, but within clear view from the road.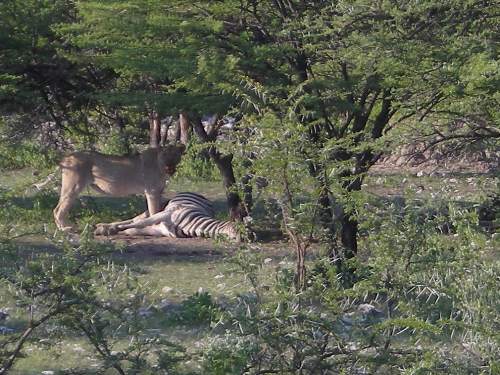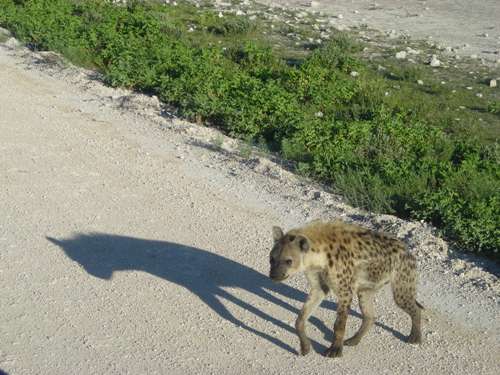 Our good luck held on through the next few days with sightings of Black & White Rhinos, a male lion, tonnes of zebras & giraffes, elephants, ostriches, baboons, hyens and so many more mysterious and delightful members of the African Menagerie.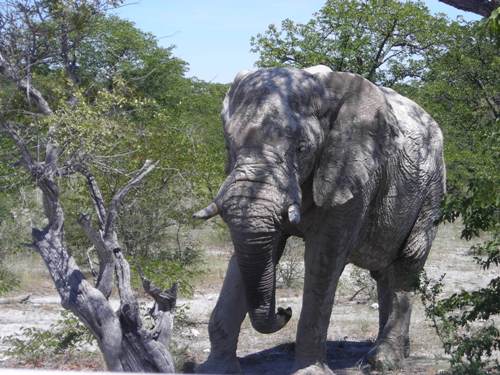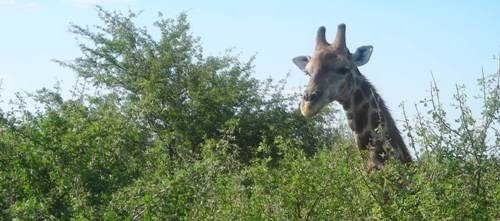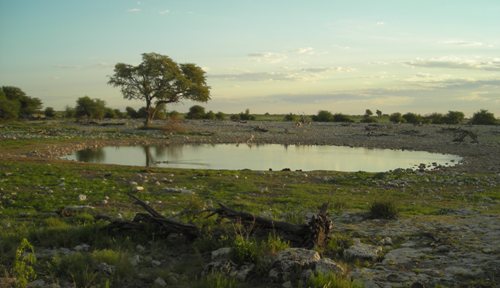 Winning the prize for most breath-taking experience, however, was an evening spent sitting by the floodlit water hole, watching pack after pack of elephants (including a tiny baby) drink from the spring. They dwarfed the lone, skittish rhino.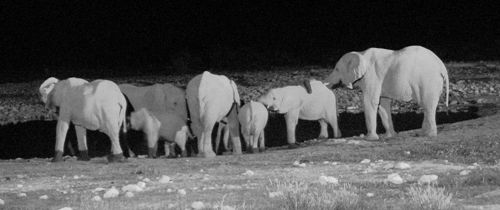 This adventure was better than we could have imagined. That says a lot given our camera calamity. We were sad to be dropped off back in Windhoek, though enjoyed a few more days in the company of Dara, Georgie and Nicola @ the Chameleon Backpackers Lodge.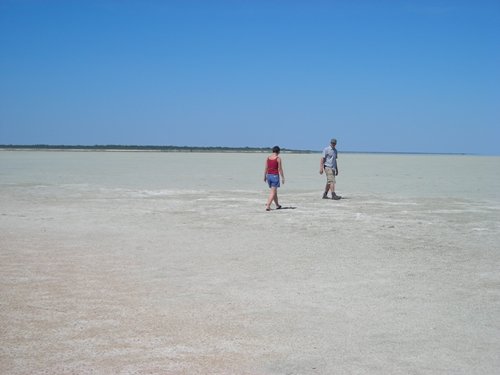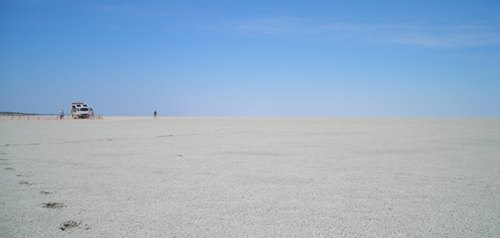 With a 24 hour bus ride to Jo'burg in our near future we had to make a decision about how to best spend the 1 1/2 days remaining in Namibia. High on our list was seeing the fabulous Namib desert dunes, perhaps a little sandboarding, and some sight seeing along the Skeleton Coast. Besides the wildlife safaris, this is why tourists come to Namibia & we'd been keenly looking forward to these sights since the conception of this trip. But with awkward bus schedules and a broken camera on our hands, we decided a whirlwind trip would not only be tricky but frustrating as well. So we made a decision that we would remain put in Windhoek and plan to come back here some day. Despite the unsettling crime warnings, we haved loved this part of the world & clearly there is more to see.
With that we boarded the bus back to Jo'burg where Fr. Ray Fortin, a friend of many in Simon's Minden Catholic Church Community, kindly offered to protect us from the "dangerous city". He has been a missionary with the White Fathers of Africa since 1956, working primarily in Zambia but is now offically retired, and still very busy in the Jo'burg area. He took us around to Alexandra, a really improvrished township that doesn't get the attention of the world like Soweto. We also went to the Tuscan Monte Casino which was modelled on a Tuscanny town all under one roof. Very over the top...
And to Pretoria, Jo'burg's "happier" northern neighbour.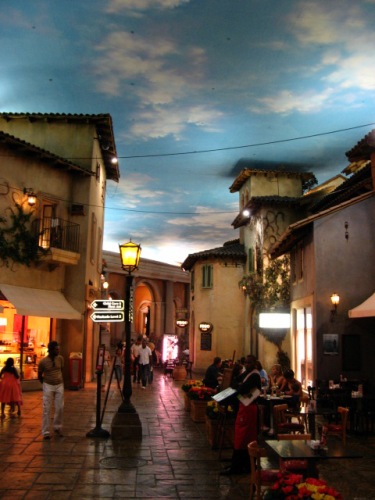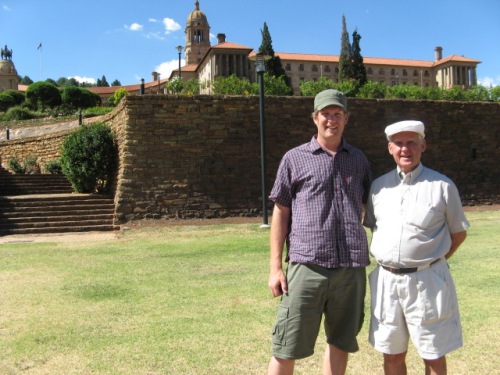 So, dear blog-readers, I'm sure you are wondering about the future of your favourite travel blog & time waster. As it seems that our dear little Nikon must make a trip back to it's manufacturers, we have made a plan that will make you & Simon happy once more. We fly to India on Monday, meeting my parents at the Mumbai airport. With any luck, we will find a good deal on a brand new camera companion and our broken baby will head home in the care of my folks.
So fear not: the show will go on!
Posted by psy2099 at 09:19 AM
February 17, 2007
Cape Town - Low on the Map, High on Comfort
Note from Nerd: Dial-uppers prepare yourself for a doozy! More pictures in the extended entry...

Taking advantage of the 'friends of friends' connection once more, we were warmly welcomed by Pete & Heather, their sweet girls, Maxine & Kate & their love-of-a-dog, Kobe. (Many thanks to Heather Bell for setting us up!)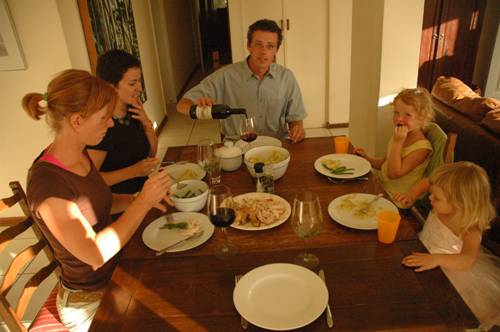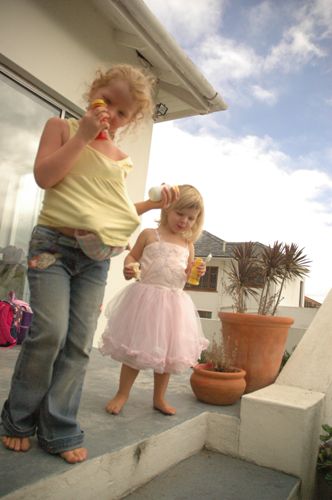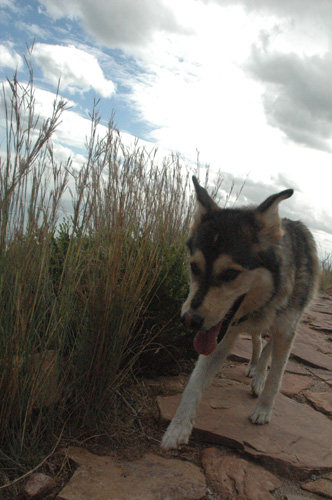 These generous folk gave us a comfy flatlet, many a fine meal, & some great company for four days - despite the fact that they move to Salt Lake City in three weeks! We're filled with gratitude for these hospitality super-heroes.
So what did we get up to besides invading the Turner household? Mostly enough hiking & biking to wear our legs plum out. As I write this, I am sitting on an overnight bus, on the top floor, which necessitates hobbling down stairs at every stop. May the twenty hour bus ride heal the pain.
Day one in Cape Town started with a hike up Lion's Head Mountain with Heather & Kobe. With a little excercise out of the way, we joined a walking tour of Cape Town, led by Toos, Simon's mom in ten years-really this is what Ursula looked like - could be the fact that she was also Dutch! (Toos, you'll still look good!) We spent the rest of the afternoon looking for an old manual camera for Simon - henceforth we're mostly in places where it's not a wise idea to promenade with his digital one in hand...and you know Simon would feel lost without this accessory! But alas, no luck. Home to Camp's Bay to plan our time in town.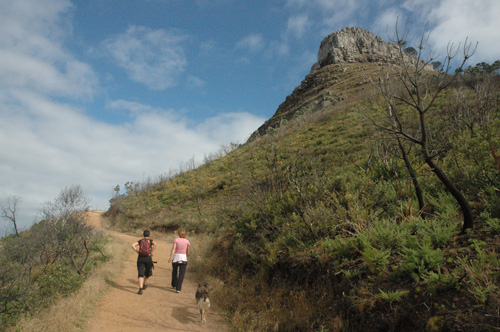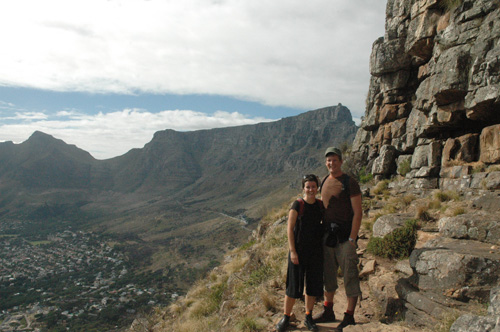 Day Two was a tour of the nearby wineries, led by Gareth, guide extrordinaire, and in the company of five other tourists (including 3 canadians!) we threw back sample after sample of glorious wine, and even a handful of cheese cubes. Hmmm, this is the life! Somewhere in there we also enjoyed a bike ride & a visit to a cheetah sanctuary.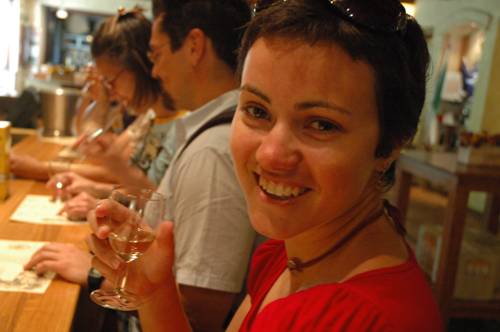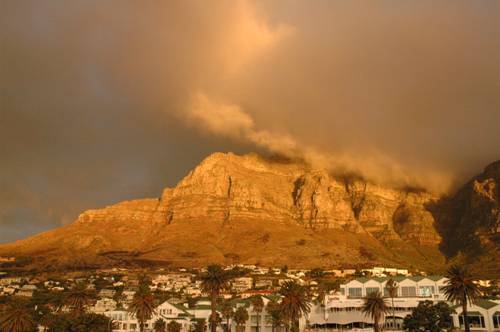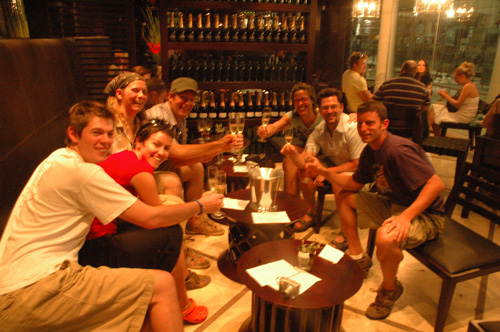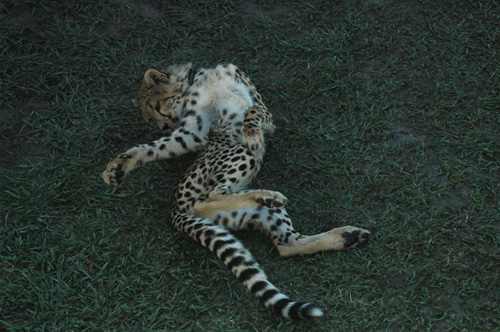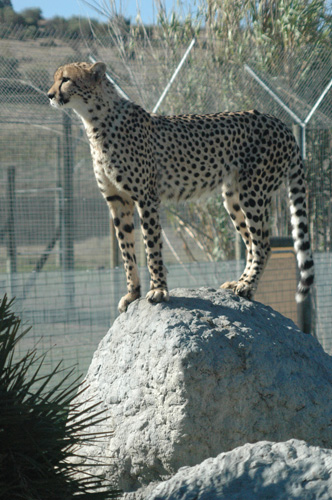 The day was topped with a fine dinner out with Pete & Heather & a movie - Blood Diamond. Contrary to the luke-warm reviews we'd heard, we all thought it to be a very well done flick-go see it! The only drawback was a night of bad dreams for Simon, brought on by some of the disturbingly violent scenes and compounded by the fact that this country we are happily visiting is still fraught with it's own appalling violence.
Day three saw us up early (by our standards!) & climbing Table Mountain with Kobe for protection (sadly there is crime even on the mountain). This proved to be unnecessary, as the day was beautiful and so the path was full of fellow hikers. We should have been worried instead about our conditioning for the hike, as we turned beat red in the blazing sun & lagged behind the unfazed Kobe. But we made it to the top & even decided that we had enough energy to hike down instead of riding the tourist -popular gondola. We were put to shame on our descent as we encountered Shirley Beste, an uncomplaining drag queen in full evening wear, including stilletoes, climbing the mountain for charity.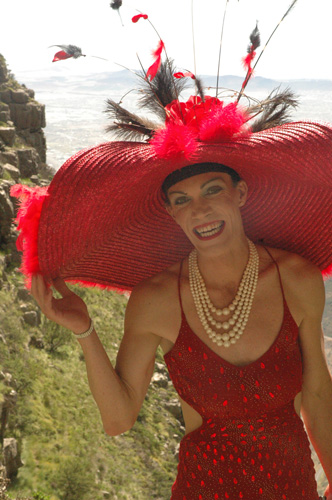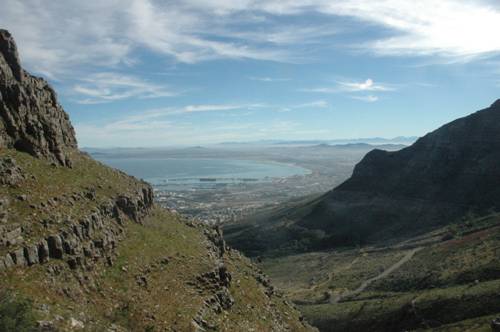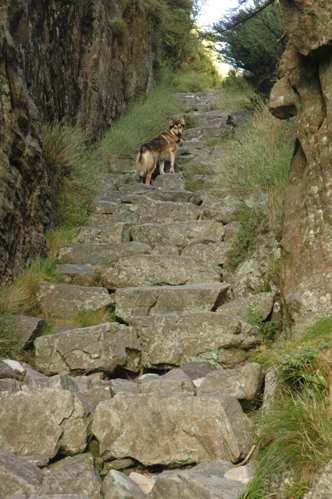 On Day four we awoke in great pain. Apparently our travels of late have consisted of too much sitting on buses and not enough climbing of mountains. Undaunted, though, we headed off on a tour of Cape Point, the most southern part of the continent & home to a national park.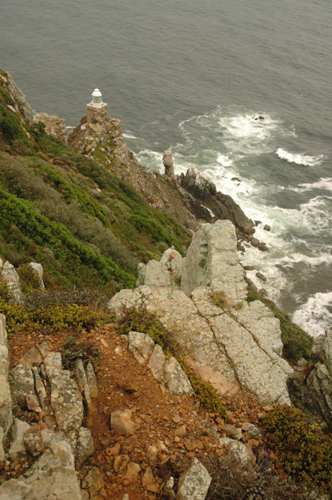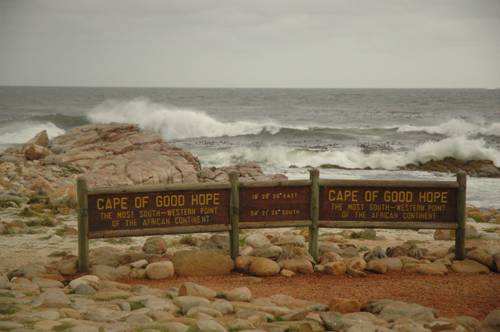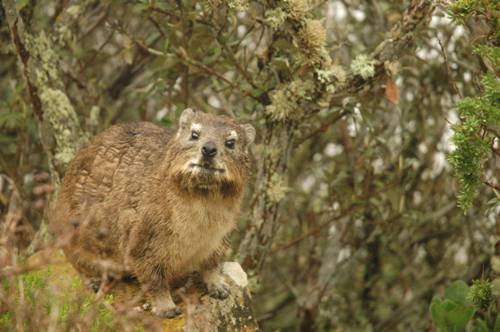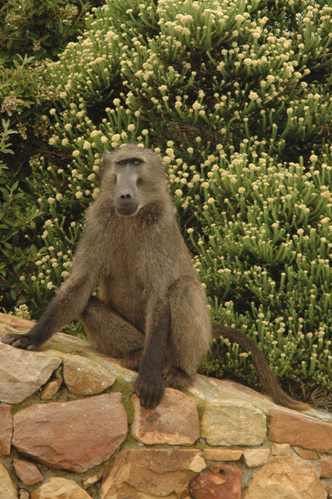 The we indulged in more hiking and biking & some wild-life sightings, Zebras, ?boks, & ostriches! After heading back up the coast a ways, we stopped again at a popular spot called Simon's Town (how could we miss it?) where I finally saw penguins! THese little guys can swim like dolphins but look just as silly on land as their larger Antarctic relatives. Another night of excellent food & company with our hosts & we bedded down for the last time in this fair city.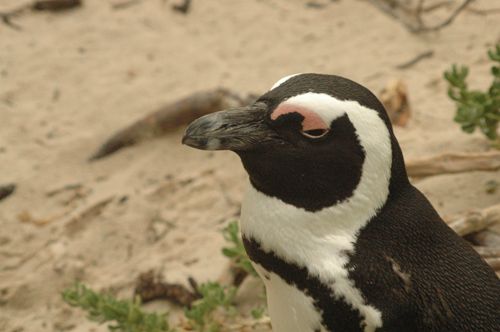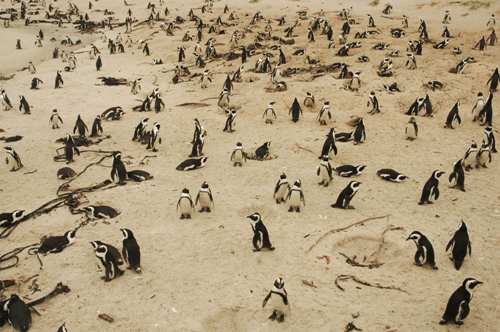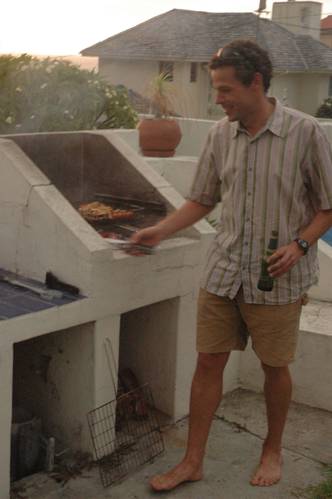 Day Five was some sad good byes & a re-packing of the backpack for the 1200th time before boarding a bus to Namibia.
Farewell Cape Town & Thank you, Turners!!!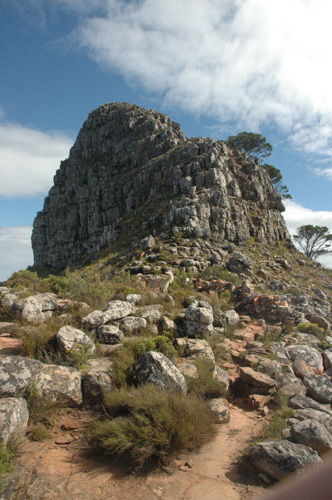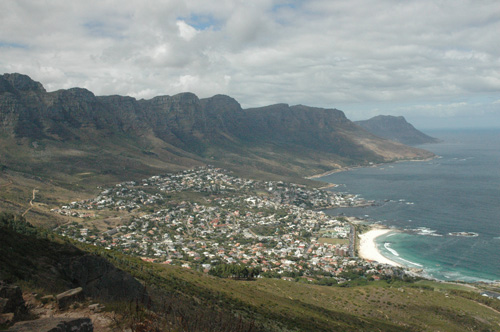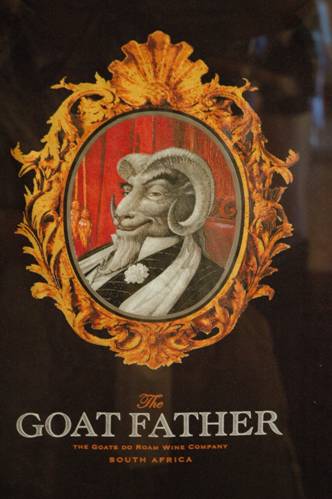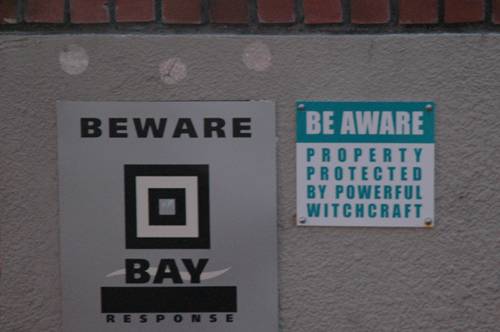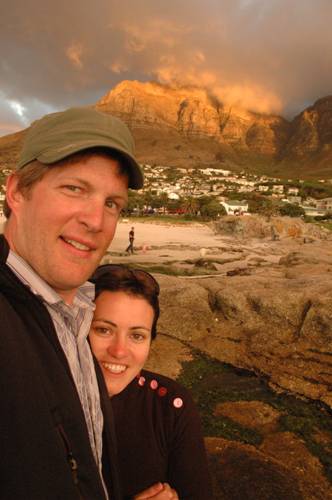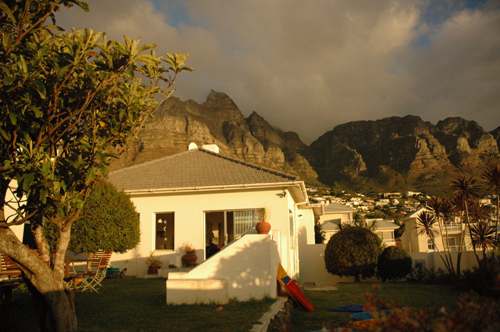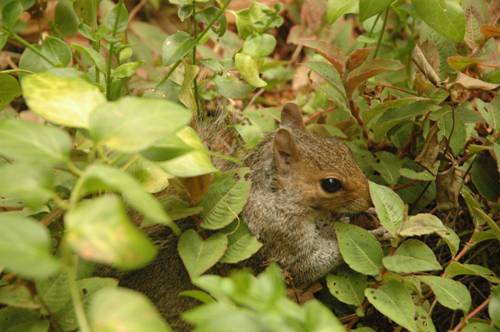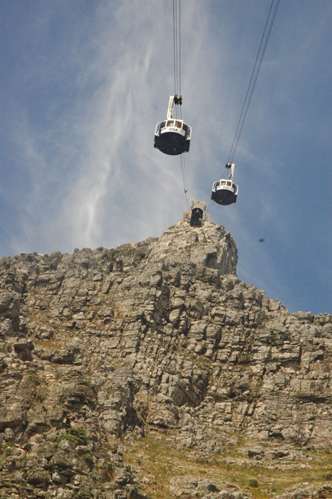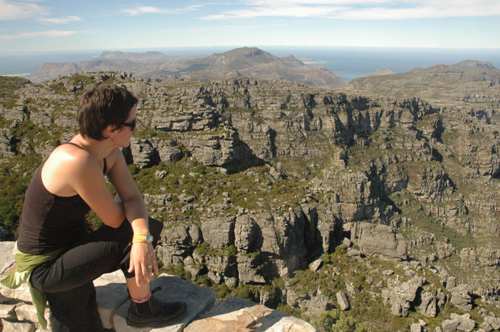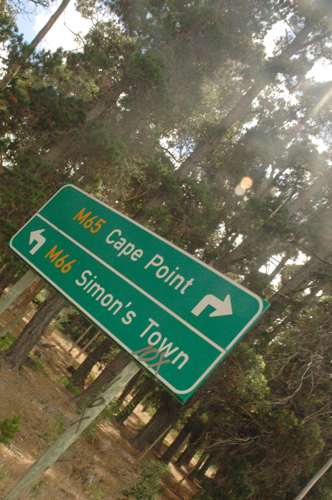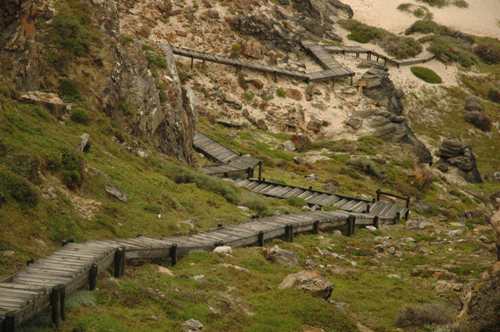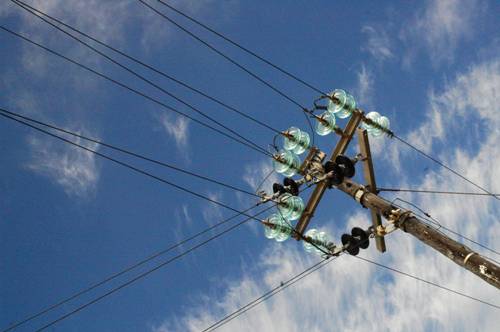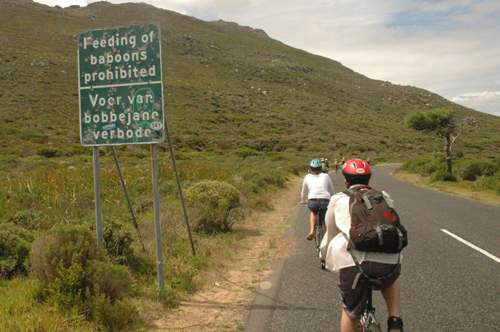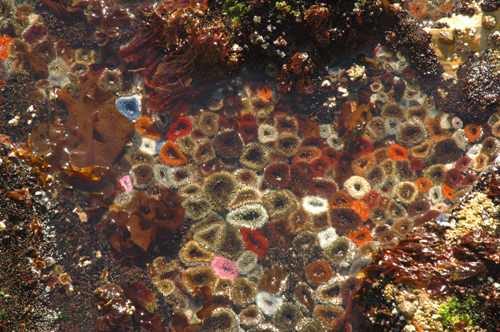 Posted by psy2099 at 06:52 AM
February 14, 2007
Surf's Up, Dude!
Even traveller's need a beach holiday sometimes right? All the emails of snowy old Canada were really getting us down, so we headed to Jeffrey's Bay, surfer's paradise. We no sooner had we deposited our bags in the homey rented flat, and dipped our toes in the ocean, thaan we decided to cancel our further planned immediate destinations & park it here for a while. It was a hard decision in that we've heard such wonderful things about several other places in the area, but on the other hand, it was easy to reconcile ourselves to a beach existence for five days.
A day in the life of Simon and Claire in J-Bay:
7 am - roll over & close the windows to muffle sound of people getting started with their day - snuggle back down in king sized (!) bed - no blankets needed!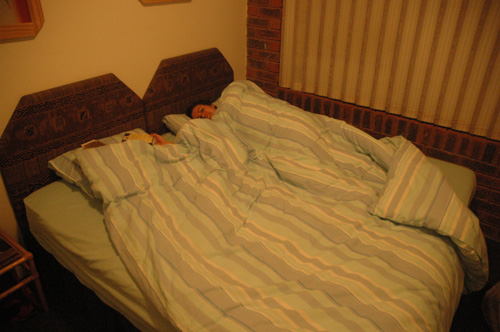 10 am - slowly open eyes & decide that it may finally be an auspicious time to get out of bed. Eat some corn flakes & toast.
11 am - after slathering our already red, splotchy bodies in sunscreen, walk to downtown along beach. Buy a tank top - it's hot & a sarong to serve as a beach towel. Book surf lesson.
12 noon - check internet for love sent digitally & internationally. Send some back & get a post up on the blog - can't keep the fans waiting!
2 pm - walk home via beach. Be fascinated and vaguely unsettled by the bizarre ocean things washed up on the beach. Then be in great pain when small jellyfish gets caught on my toe. Ouch!..for the next several hours!
3 pm - lunch! how 'bout leftover Simon burgers? Mmmmm.
3:30 pm - More mmmmmm...Nap!
4:30 pm - Go grocery shopping. What foods can and can't you get in South Africa? Everything you could need is available--except if you've chosen a recipe with pine nuts, fresh basil and parmesan--Doh!
5:30 pm - Beach! Swim in the smashing waves and afterwards sit in the setting sun, watching the ever impressive surfers. Simon will be this good tomorrow, right?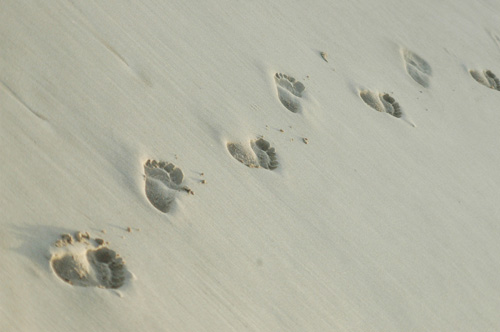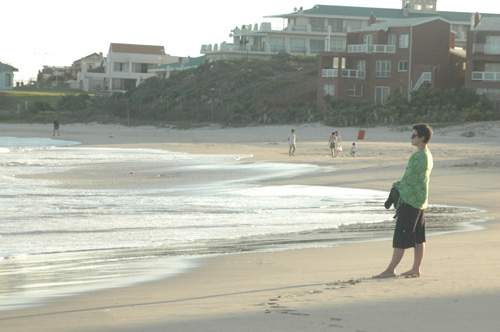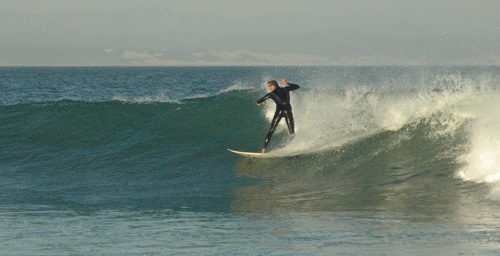 7:30 pm - Decide it's about time to think about dinner. Go our usual pace so that we eat at...
9:00 pm - Simon and Claire Dinner Hour---even abroad!
10:00 pm - Waatch movie on TV--not so safe walking the beach at night...
midnight - Did I mention we have a king size bed?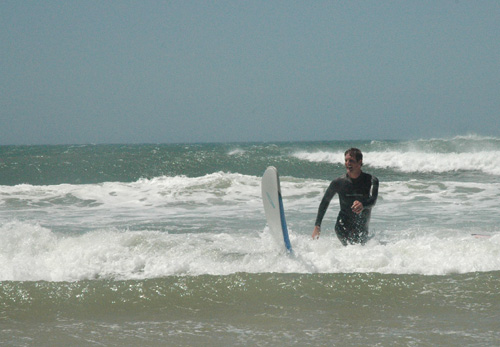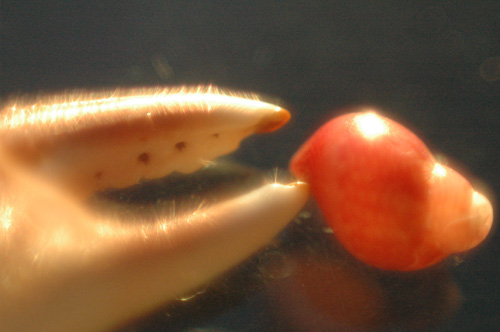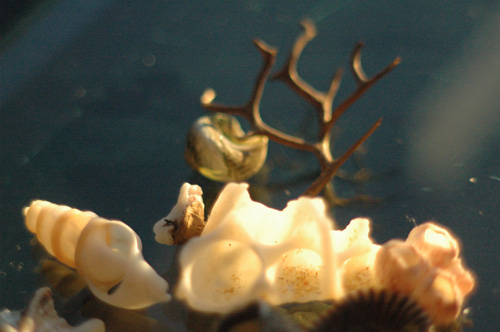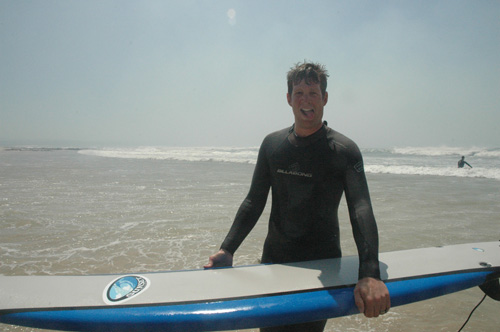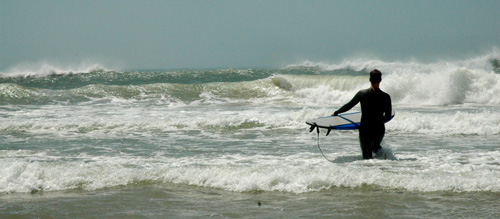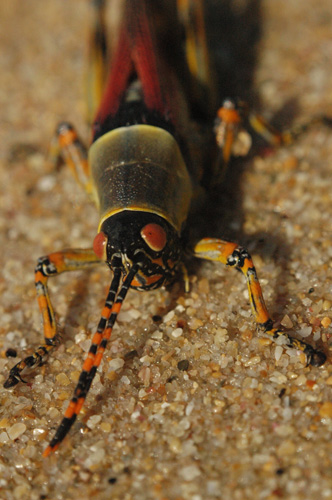 Posted by psy2099 at 07:28 AM
February 09, 2007
South Africaaaahhhh...
Yes Egypt was hard on us, the people there didn't treat us very well, but where one country doesn't provide, another will. This is the advantage of a Round the World trip; an unhappy place must never be endured for very long.
So one over night flight to Kenya via Sudan; and one day spent in the Nairobi airport, followed by yet one more flight, and we arrived in South Africa. Do you hear the choirs singing? The angels heralding our arrival in heaven?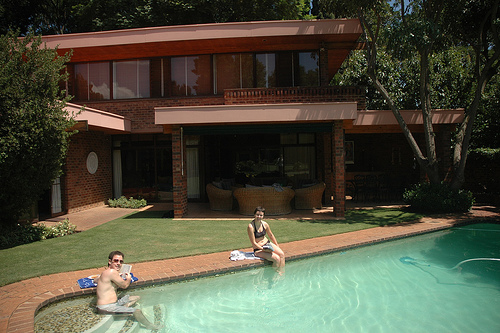 We were picked up at the Johannesburg airport by Muareen Roux, a friend of my Uncle Ted & Aunt Rosanne. Typically, we haven't been contacting the friends of friends around the globe, but we were admittedly a little wary of Jo'burg's reputation for crime. Maureen took us to her gorgeous home (complete with tennis court & swimming pool!) where we were met by the whole family, her husband Andre, son Paul and even her mother-in-law.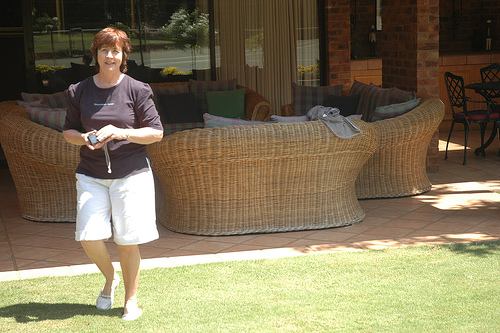 Over the next couple of days we enjoyed this family's generosity and outstanding hospitality. We were well fed & rested, provided with travel suggestions and clean clothes, taken on various outings, and just generally made to feel very at home. We can't thank the Roux's enough & hope to return the favour to their son Paul (who has recently moved to Toronto) when we return to Canada. Many thanks also to Ted & Rosanne for making the connection for us!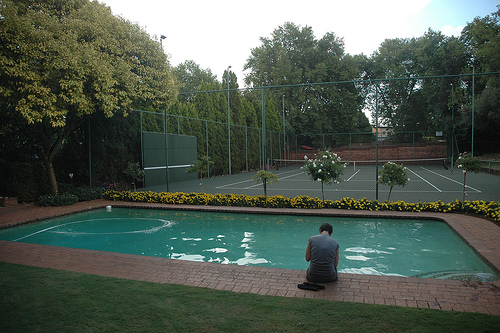 In between all of this relaxing and indulging, we did manage a few tourist activities. We started out with a trip to the Apartheid Museum. As you might imagine, this was a bit of a sobering place. It was made all the more interesting as Maureen accompanied us, and was able to give some context to these events, many of them happening at the very time she chose to emmigrate from Canada to be with S.A. raised Andre.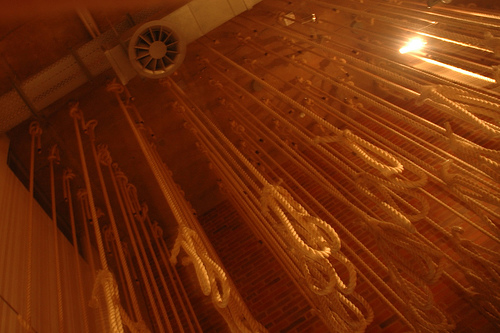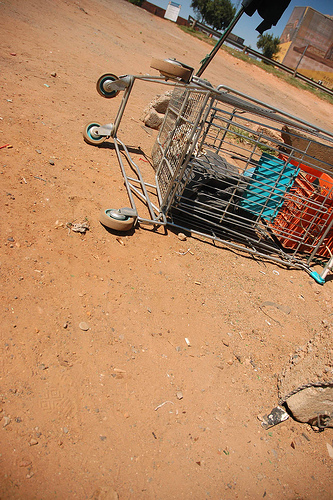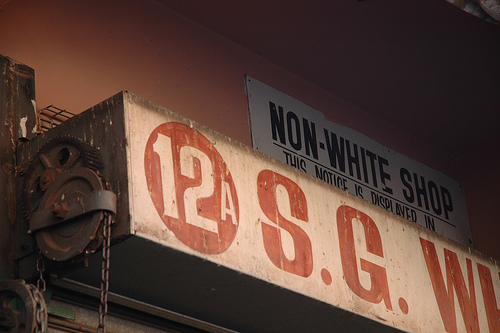 The museum also gave us a good base for our tour of the world's largest "township", Soweto.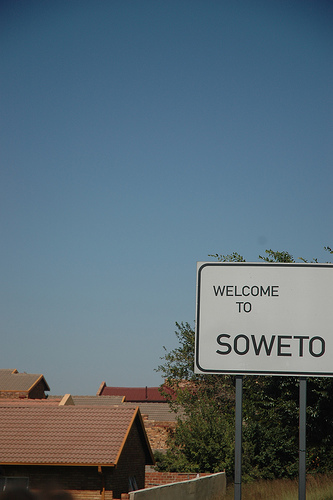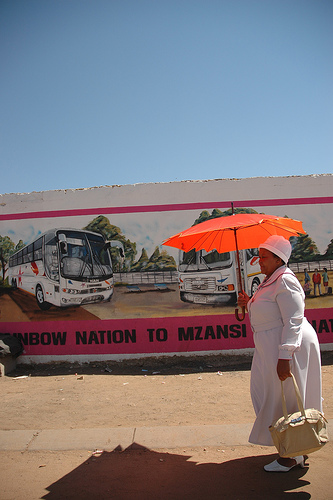 It may seem strange to treat this as a tourist item, but it is important to see how millions of Johannesburgers live & not necessarily a wise idea to wander about there on your own. The tour included a stop @ a great museum, the Hector Pieterson Museum, focusing on the 1970's riots, as well as a stop @ Nelson Mandela's previous house (we even used his loo!).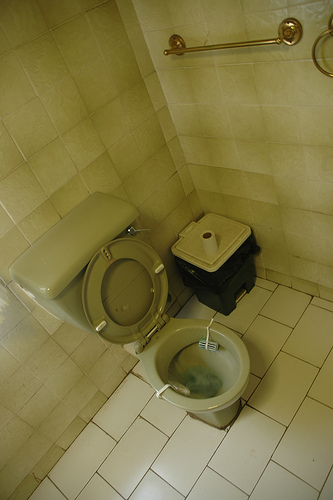 We also stopped in an immigrate squatter's area, where we saw the tiny home of eleven people, where it rained on the poor girl's head in her "bed" in the corner. The kids here were fascinated to see white foreigners & all wanted to touch us, holding our hands until we had to pull ourselves away. A very moving experience.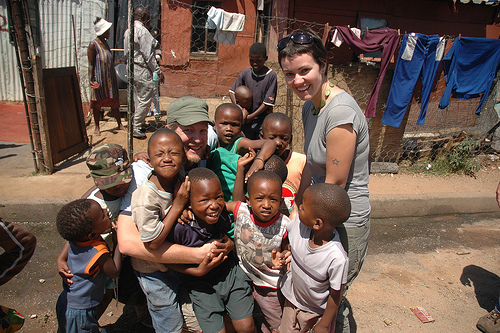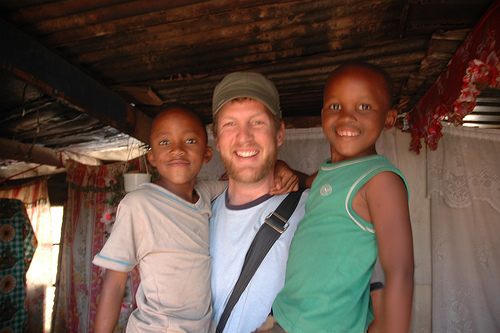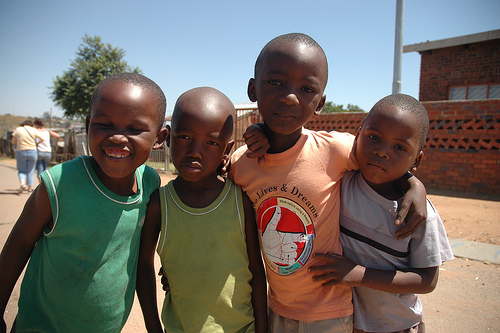 But as welcoming as the Roux's were, we doubted they wanted us to move in permenantly (though it was tempting!) So we pushed on to the south coast.
Posted by psy2099 at 08:33 AM
February 07, 2007
Pyramids - Sans Scam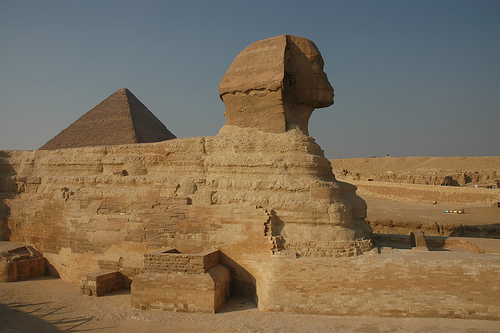 Back in Cairo we rejoiced in a couple of simple things; 1) we finally got our Indian Visas (phewph!) and 2) we met some other backpackers. Adam and Rowan were New Zealanders who were finding themselves as disappointed by Egypt as we were. When we expressed our mild foreboding at having to face the overbearing hassles at the Pyramids on our last day, they suggested we go as a team to better fend off the touts.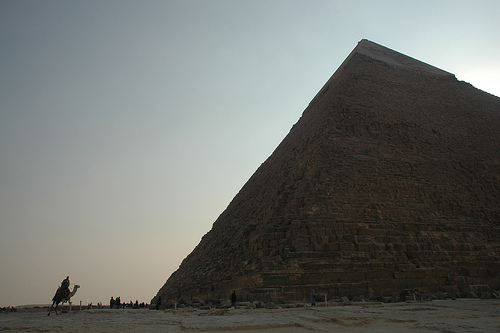 Well I'm not sure that that worked, as Adam explained to the boys that he could not possibly buy the ugly pyramid carvings from everyone who offered & took to announcing that he'd already been on 10 camel/horse rides. But all the same, it was a bright spot of company for us in our otherwise low time in Egypt. As opposed to our previous visit where we'd viewed the pyramids from afar at dusk (actually a very nice way to see them), this time it was up close and personal. We even descended the tiny tunnel to the heart of one - a very stuffy, baren place with a "guard" doing everything he could to get a little "baksheesh" (a huge phenomenon in this country. basically means tip) from anyone entering his lair.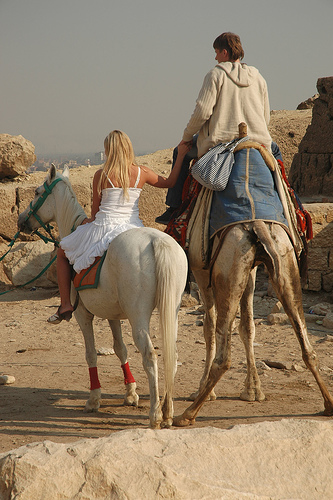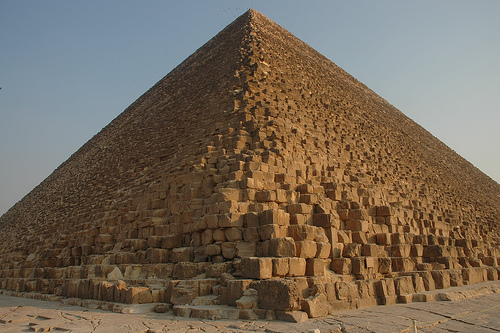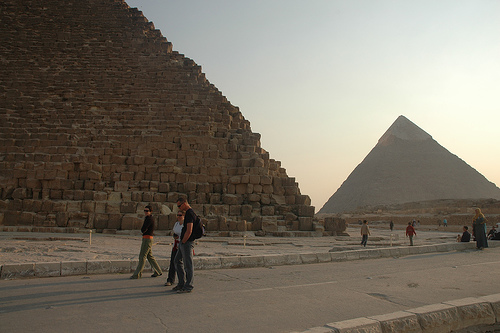 And so concludes Egypt. After a grueling 24hrs of transit we would arrive ing Johannesburg, South Afric-aaaahhhhhh...
As a finale: some crazy things you might see in Egypt...
* overflowing buses - people hanging out the doors, zipping along an expressway.
* same buses not stopping - just slowing - for passengers pick up/drop off.
* people wandering into hutling traffic, calmly crossing a street that sets my heart thumping.
* about a hundred near accidents a day, as vehiles cram six wide on a four "lane" road.
* a humble donkey (which I will be getting for transport when I get home) cart trotting along amidst above traffic.
* men on bicycles carrying 4 x 6 ft platforms full of flatbread on his head - also calmly through above traffic.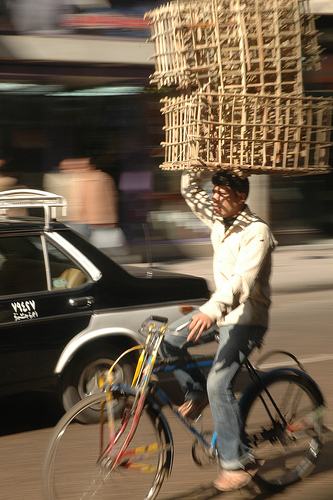 * person placing a toddler on guardrail bordering drop to underpass & rapidly moving cars.
* dead horses on the bank of canal in middle of Cairo.
* pyramids bordered by bustling city.
* smog MUCH worse than Toronto.
* a conglomerate of satellite dishes on every rooftop. No matter how poor people may be, clearly TV is a necessity.
* buildings in mid construction abandoned everywhere. most inhabited ones had been left with rebars sticking straight out the top.
Posted by psy2099 at 06:53 AM
February 05, 2007
Low in Luxor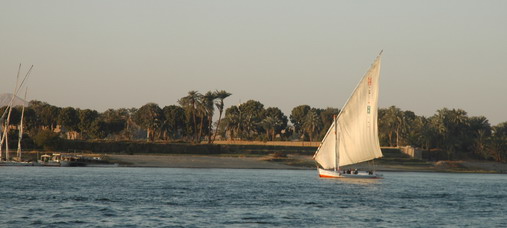 An admission from the weary travellers: we are low on energy and not loving Egypt. Clearly, if you've been following the posts, we have been moving around too much. A wiser plan for people with 10 days in the country might have been to park it in the Red Sea, and soak up some sun. But it's painful for me to think of being so close to these amazing sites straight out of high school textbooks without stopping in.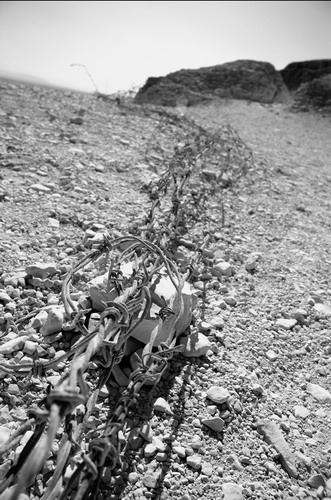 Besides the ambitious schedule though, we must confess that we are also tired of the place & people. Egyptians are said to be quite friendly & they often are on the surface, but sadly, self-travel puts you in the path of a lot of not friendly ones as well. Little things like purchasing a train ticket can become absurdly complicated, as the ticket agents will tell you that the train is full in order that they might make some extra money through bribes & the black market. Even walking down the street is tiresome as people will call to us constantly - offering taxis, wares etc. or even approach us & follow us with seemingly innocent questions of where we are from, where we're going etc...these conversations are formulaic & inevitably lead to us avoiding being led off to some papyrus shop. To be rude or ignore them is not really in our nature, but it sometimes comes down to that as our patience runs thin. Moreover, it is our friendly responses that leads them into thinking foreigners are rather dumb & easily duped.
*sigh*
Being here is a bit of a head game - one that we have no energy for & so have slipped into a bad attitude.
Despite all our negativity, we did manage some good sight-seeing, thank goodness! We've been suffering from colds (no surprise given our constant lack of sleep), so it was slow paced. But I did manage to drag myself about the impressively huge Temple of Karnak.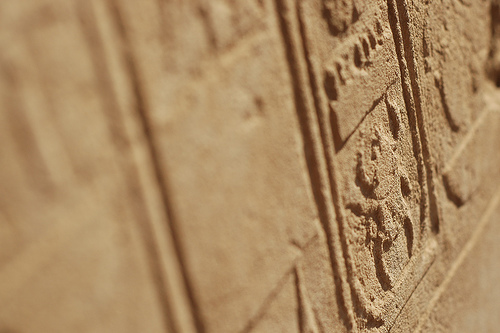 We also rented some bikes & toured the west bank of the Nile, visiting some well known sites there: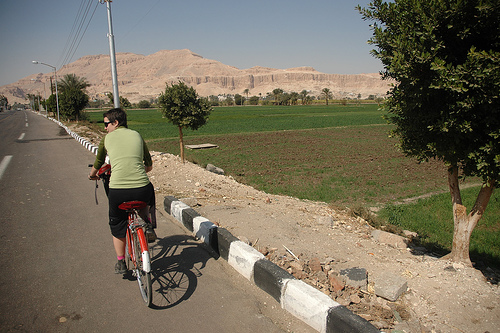 Temple of Hatshepsut - beautifully situated against the desert mountains looking our over the green Nile valley. This was the site of the 1997 Luxor massacre, not that you would ever know it as there is never any mention of these issues in Egypt.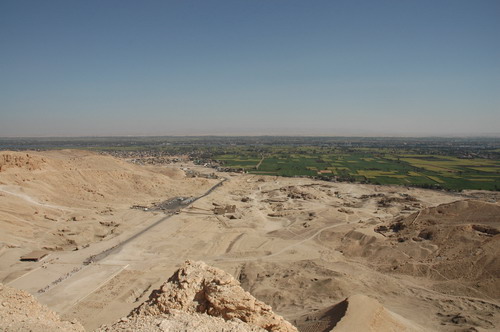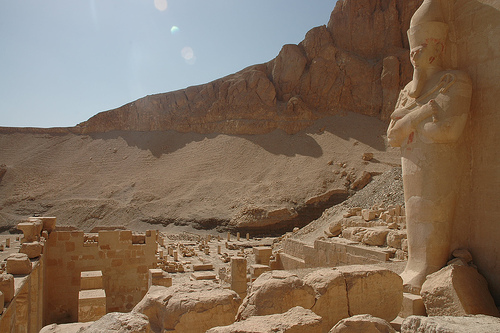 Valley of the Kings - We headed down into the mostly emptied tombs of some of the most famous Pharoahs - Ramses II & IV. The treasures of these caverns may be distributed over the world, but tunnels and chambers, still richly decorated with painted & carved hieroglyphics were well worth the visit.
Having seen what we came for, we boarded an overnight train (ugh!) back to Cairo.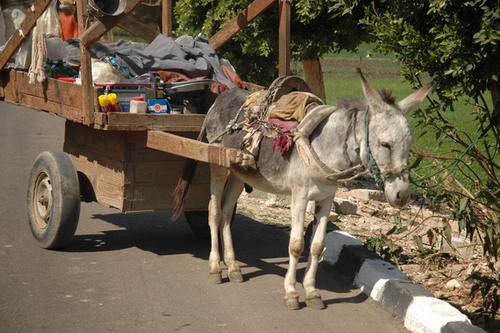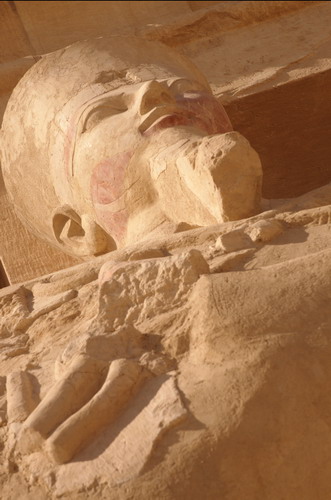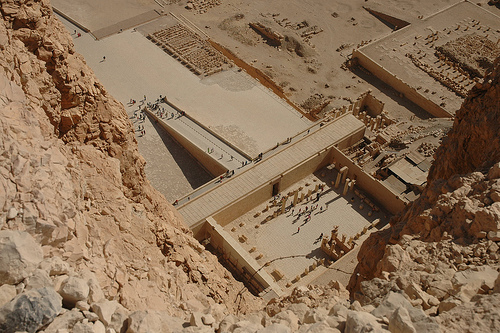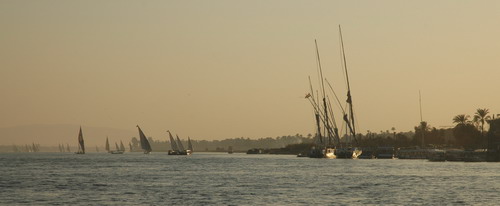 Posted by psy2099 at 04:16 AM