« November 2006 | Main | January 2007 »
December 28, 2006
Cinque Terra
You may have the impression that all this italian food could be turning us quickly into blimps. We had this impression too. Some good hiking was in order.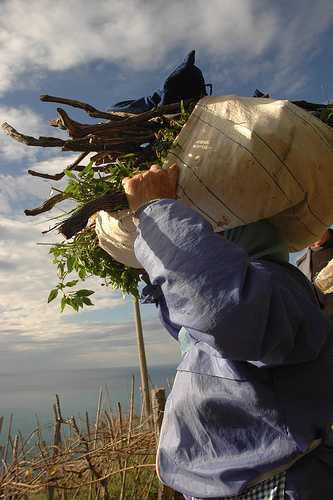 Off to the coastal, UNESCO protected site of Cinque Terra - 5 picturesque villages perched in the rugged scenery of the Mediteranean coast, with a hilly trail between them. The seamingly endless stairs were nearly the death of me, but we had two good days of hiking through vineyards, olive groves, seaside trails etc.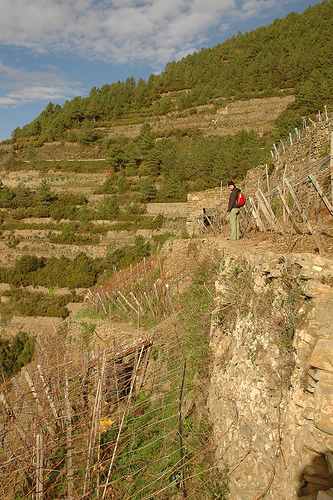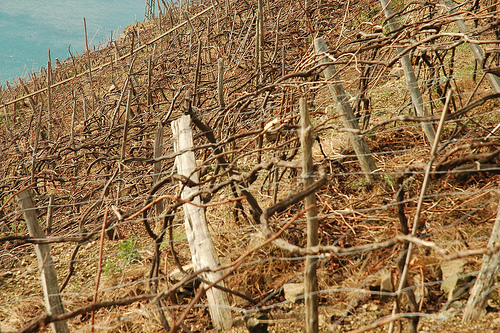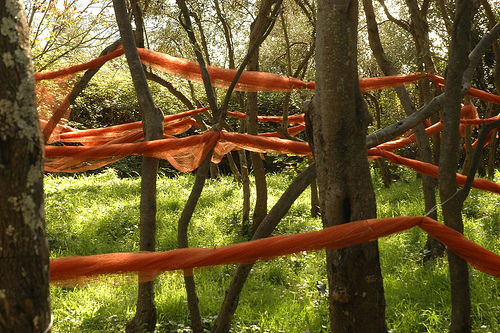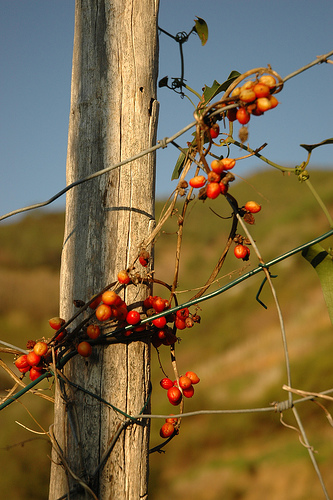 But all this healthy activity was too late to counteract our indulgences, it seems. On the morning we were to leave for Nice, Simon awoke at 5am with a migrane. Fortunately, it was a relatively mild one, with only one session of bowing to the porcelain gods. By 9am, shivering, he'd decided he'd rather drag himself on the 7 hr train ride to Nice than to remain another night in our icy tile and concrete apartment (this part of the world sometimes seems to ignore the fact that there is a season called winter).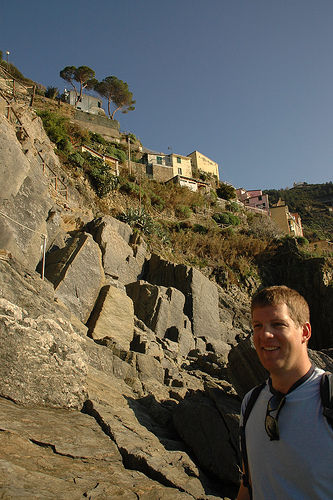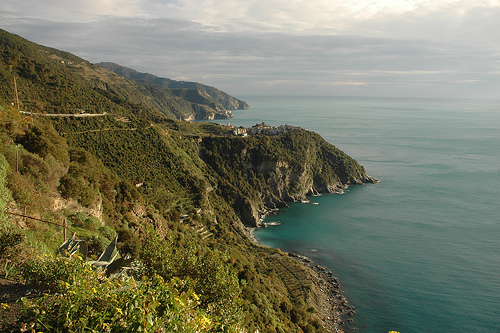 So off we went. But we didn't get far-we'd completed the first (thankfully short) leg of our journey, when we realized that we'd not got our passports back from the hostel when we paid. (the budget places we frequent often take a passport as security, an illegal practice we dislike and won't submit to again!) So back we went, missing all of our scheduled trains. We eventuall got to Nice, with Simon and our documents in tact....and it was....NICE! Ahh hahaha...groan
(what can I say, I'm a Baldwin, the aptitude for poor punscomes naturally...)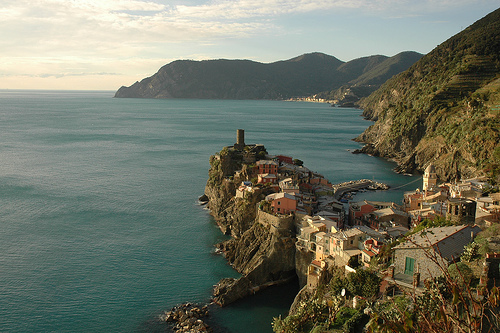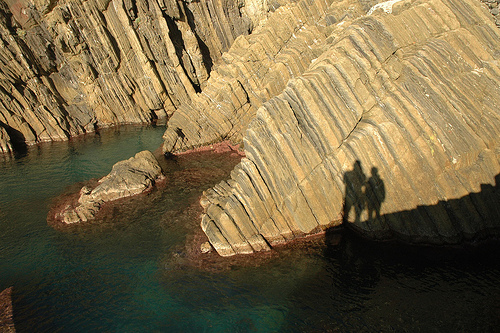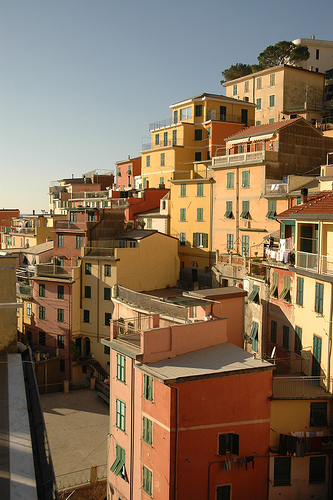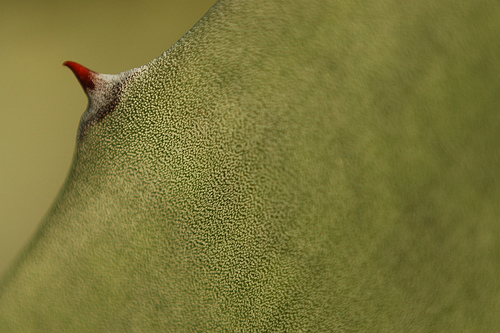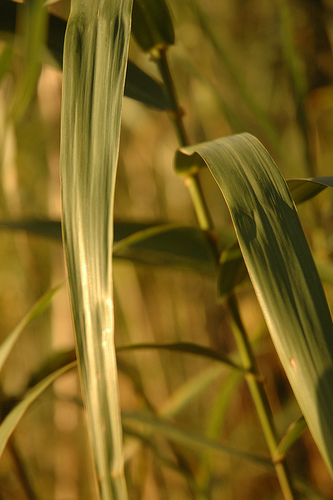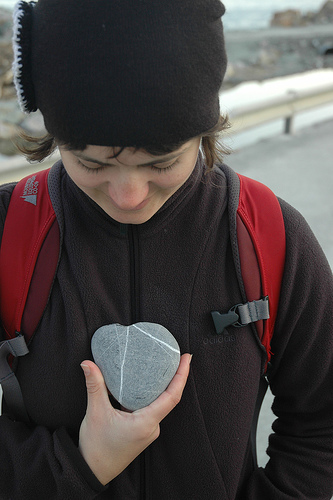 Posted by psy2099 at 08:51 AM
December 26, 2006
VENICE!
We'd met a venetian in Corfu who may very well have been vacationing from his seasonal job at the Venetian Anti-Tourism Board. He had nothing good to say about the place; Winter's too cold and rainy, Summer's too hot and mosquitoey, the canals are stinky and polluted, it's crowded and expensive...
Despite Victor's warnings, we resolutely headed for the capital city of Romance and instantly fell in love.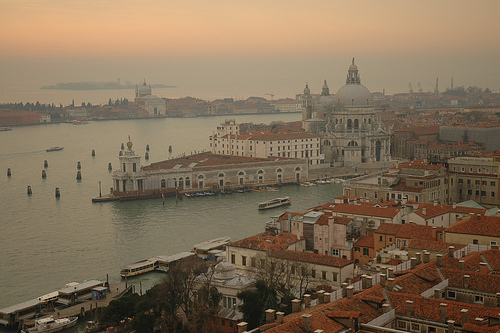 This is the perfect time of year to visit Venice! Streets were barely busy and cheerily lit up with Christmas lights. Plus, it was surprisingly easy on the budget, thanks to off-season room rates. So any of you thinking of a last-minute flight from Christmas--Come!
Our time here was characterized by, what else, fantastic food, and to our delight, great dining company.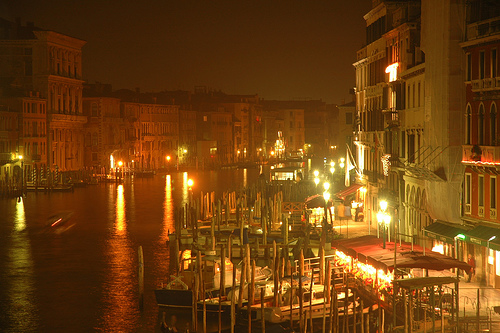 Night One: head to La Zucca (The Pumpkin), raved about in guide book as transcendant. Search tiny streets and dead ends bordered by canals for restaurant--venice doesn't operate on the street # system--curses! Find restaurant, but Drat!, no reservation. That's OK. There is one table left that we can share...with a seventy four year old Italian couple who spoke no english. Spend evening devouring amazing food and communicating in Italian/French/Spanish/Sign language hybrid with ambitiously conversive couple. Hazy grasp of theological and philosophical matters being discussed, but nod and smile enthusiastically and punctuate with many 'Si, Si!'s. Make reservation for following night.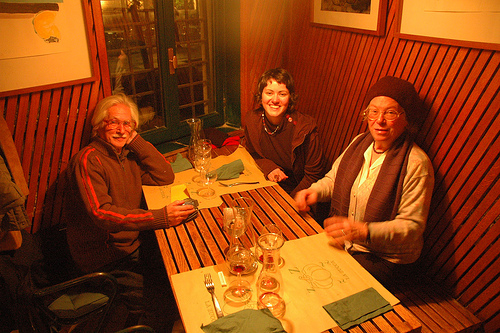 Night Two: No troubles in finding restaurant this time. Still much time spent deciphering Italian menu--must avoid such pitfalls as tripe and seafood! Despite having our own table, lively conversation shared happily with Kiwi/Brit couple at next table. Contented sighs again as we head for home.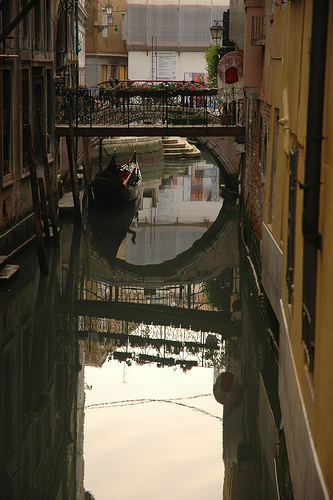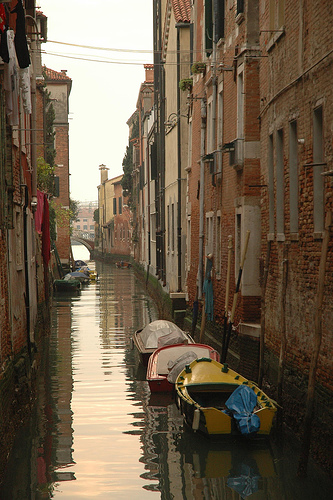 Day Three: Head to Peggy Guggenheim modern art museum to ogle Magrittes, Picassos, etc.. Hey! Who's this? Melanie and Beth, montreal sisters met previously in Normandy. A dinner date planned for later to celebrate their last day on the road.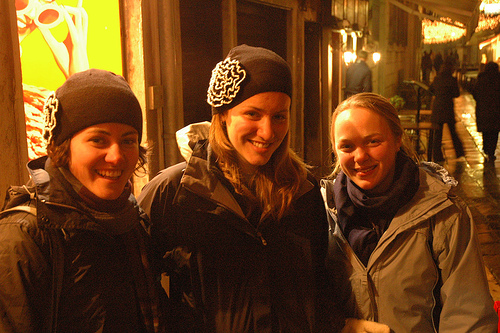 These meal events were happily interspersed with much pleasand no-hurry wandering of streets, often with gelato in hand and some predicatable sight-seeing.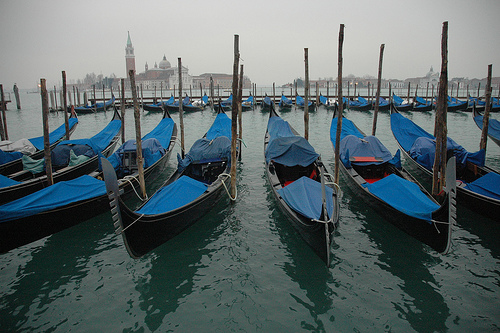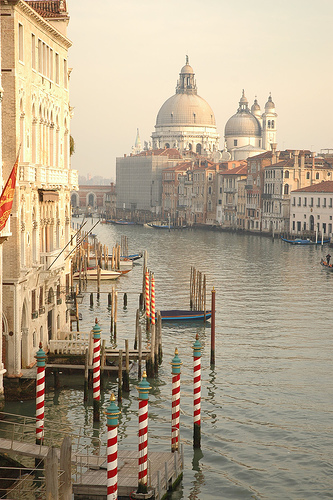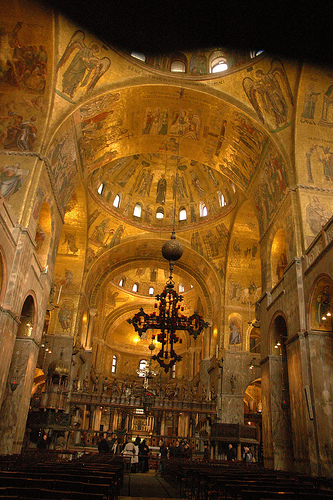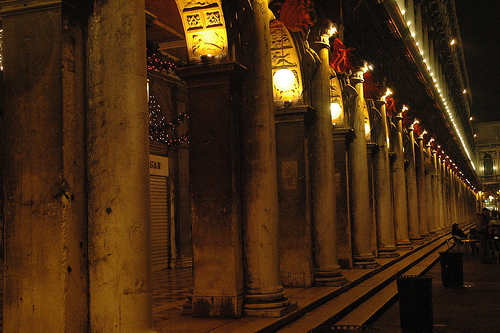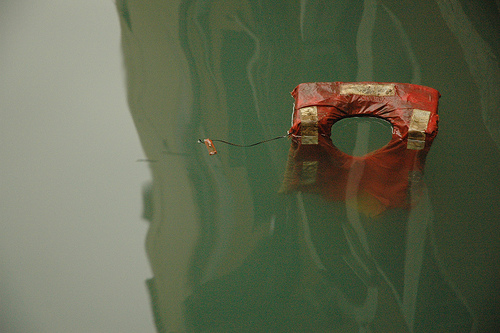 Our favourite activity in Venice: watching people make fools of themselves feeding the pigeons in St. Mark's square. Kim, it's your own private hell!!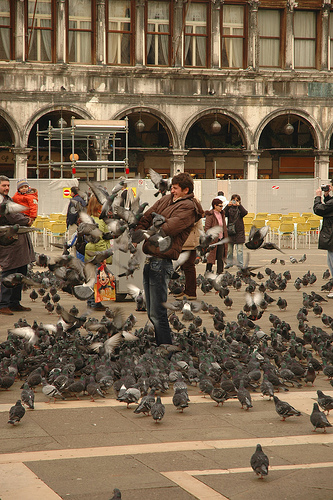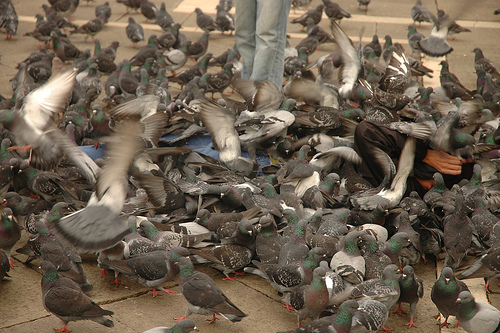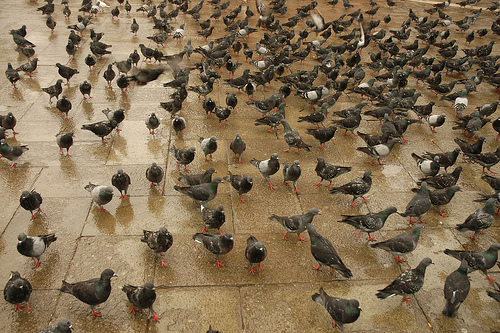 Posted by psy2099 at 08:30 AM
December 25, 2006
MERRY CHRISTMAS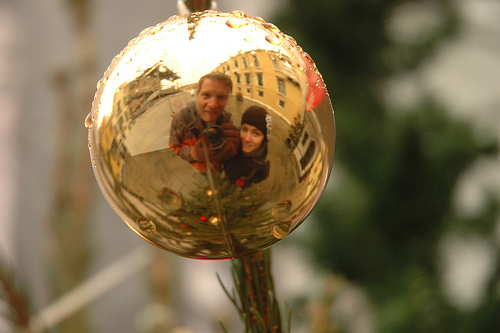 Merry Christmas from Nice! (picture from Venice...it's all sunny and warm here!) We miss everyone and wish we could give you all big holiday hugs. Have a wonderful holiday and a Happy New Year!

Posted by psy2099 at 07:58 AM
December 24, 2006
FLORENCE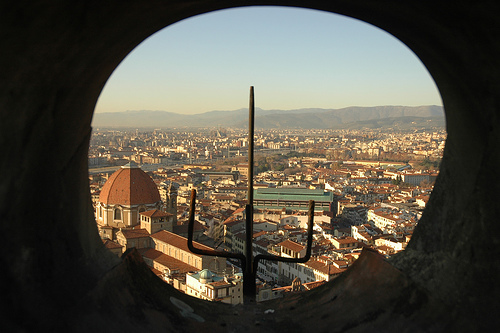 Who in their right mind would take the fiery, vivacious name of Firenze & translate it to the dowdy, great aunt moniker, Florence?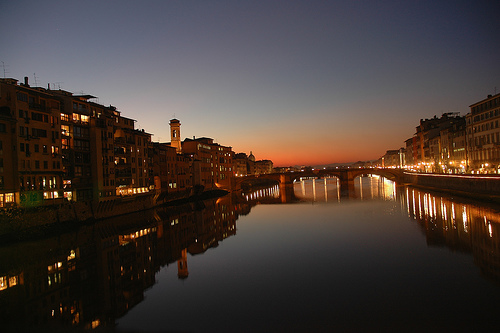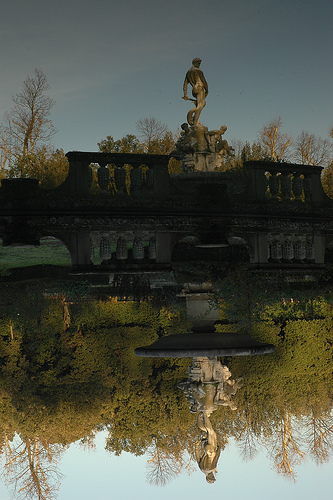 We did what you would expect in this Tuscan city: ate & visited museums and galleries.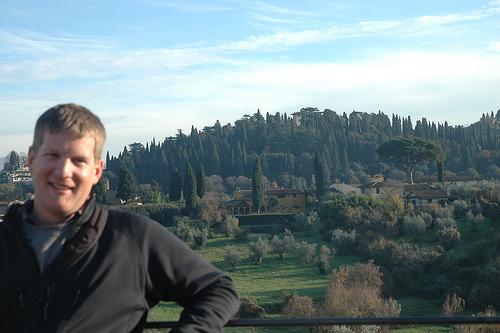 Michaelangelo's David:
We were surprisingly impressed by him even though we've seen a zillion sculptures lately & consider ourselves to have no eye for quality carving. But A) He's amazingly huge, and B) he is incredibly detailed down to the protruding veins and athletes foot. Oh, maybe that last one was stone degradation.
Simon even captured an illegal photo (Warning Pete & Diane & and others living in the USA: You may wish to censor the following from your young veiwers. The photographer claims no responsibility for education inflicted by visuals of enlarged genetalia.)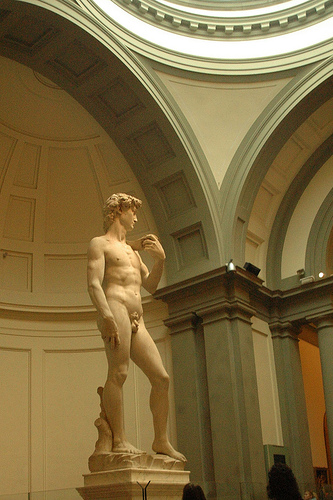 (does anyone else think his hands seem a teensy bit too large?)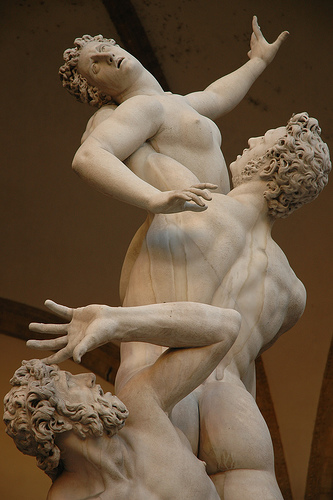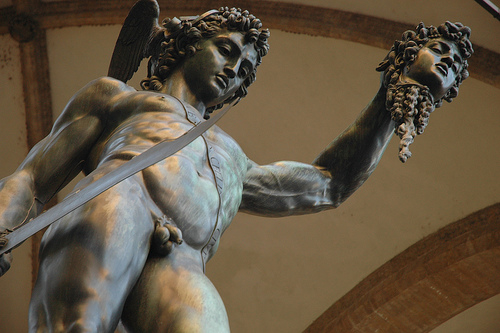 Gelato: Even oncoming winter doesn't dampen the Italian spirit for their national dessert. We avoided my father's mistake of buying this frozen delicacy from the main square. Val, thanks for the directions to a more affordable gelateria - we enjoyed the first cones of many to come in Italy. But can someone please clarify how gelato differs from plain old ice cream? I can taste it, but that's as far as my knowledge goes.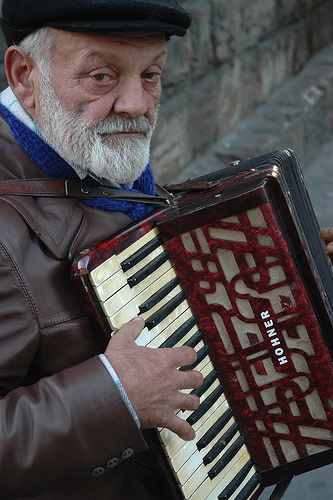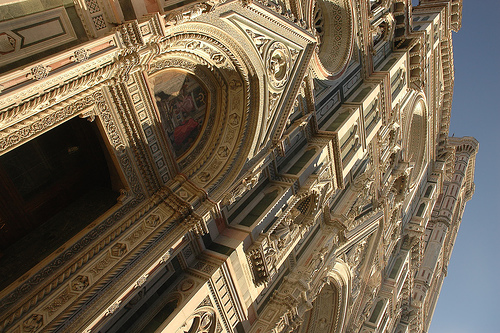 Five course meals!: Ok, well we;ve held back somewhat on this one. But it really is confusing to figure out how much is a full meal, Is the primeri patti pasta enough, or is it merely a starter, as the Italians inten it? Will my segundi patti meat dish come with anything, or am I meant to order a side dish? The best I can figure out is that it varies from ristorante to ristorante.
Also variable is the quality. We have had fantastic Tuscan food and barely mediocre stuff--as with Italian restaurants at home, I suppose.
Finally, our confusion peaks at the question of a tip. Our guide book is ambiguous on this point. Sometimes it's included in the bill, sometimes it's appreciated, sometimes it's part of the nominal coverti cover fee, charged for the privilege of a table at every restaurant. (One diner we met, an American ex-server, reasoned his reluctance to tip in Italy since every Italian he'd ever served pretended not to know about the concept.)
One thing that never changes, though, is the vinni--always cheap and to be drunk in plentitude with every meal past noon! You know what they say...when in Rome...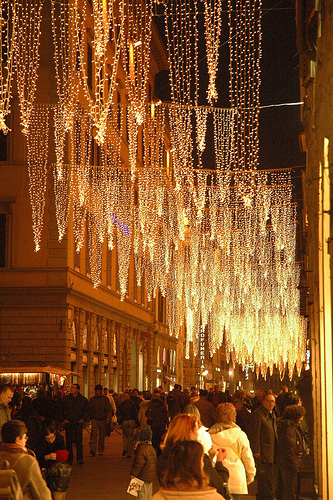 Here I must admit that, not only are we not in Rome, we will not be going there. It was a hard, posibly unwise decision, but as you will see, there are too many alluring spots to visit in this country. So with Christmas fast approaching, and our desire to at least be settled for the holidays, the Pope will have to wait for us to grace him with our presence some other time...

Me with my favourite smooth stone: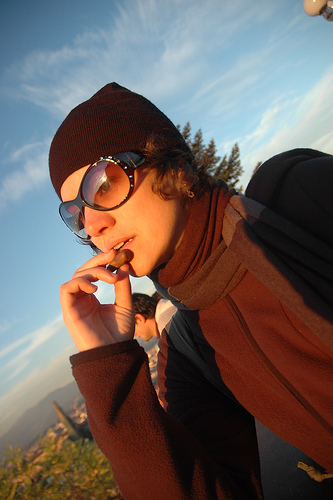 Me with my second favourite smooth stone (somewhat less portable):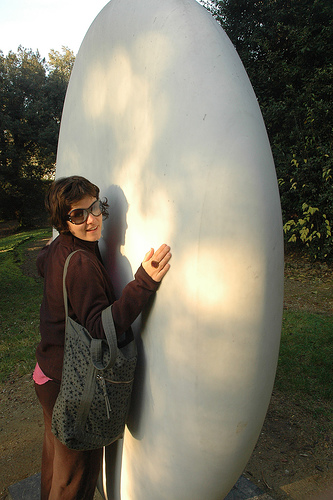 Scooters are to Italy as bicycles are to the Ntehrlands.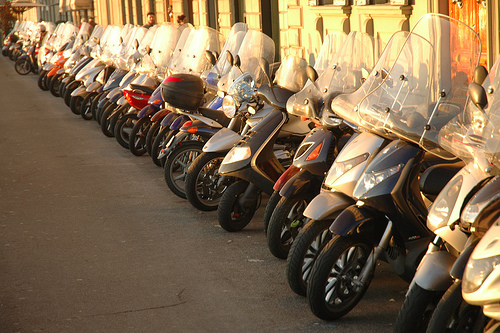 Of course you may want a little more room; you may wish to take the car instead...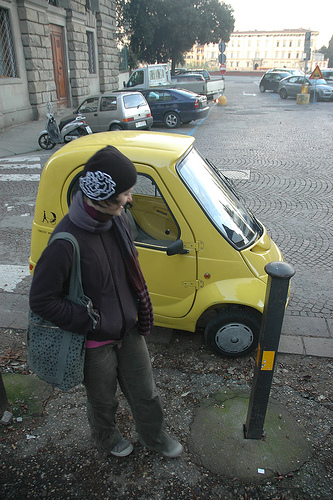 Posted by psy2099 at 04:48 PM
December 13, 2006
Corfu!
Greeks do a lot of yelling. This can be preplexing, and unsettling, particularly if you are on a bus, lost in Athens, and the driver seems to have forgotten to tell you where to get off. Which in turn, seems to have precipitated a yelling match between the driver and several passengers, all with no direct acknowledgement to you as to what might be transpiring. You might be even more concerned when everyone on the bus simultaneously made the sign of the cross.
In the end, it was all fine and we decided that the sudden religious fervour was in response to a church which we happenned to pass at that inopportune moment.
Our impression of Athens, based only on this wayward, extended city bus ride, it's port and bus station, is much as our impression of Edmonton had always been after frequenting only the industrial yard area during our tree planting days. But we didn't bother to linger long enough to find out if Athens also has a sweet spot.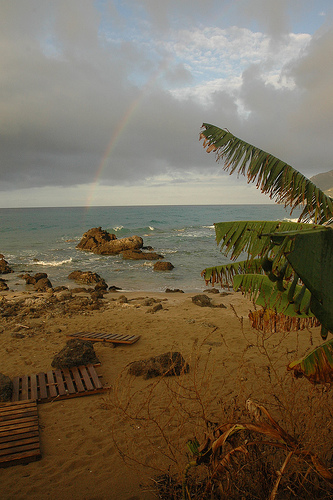 Instead, we headed across the Greek mainland to the island of Corfu. This is another part of the country that has loomed large in my imagination, thanks to the hilarious writings of Gerald Durrell (read 'My Family and Other Animals' or 'The Picnic and Other Such Pandemonium'). The books are chraming accounts of the author's life at the age of ten, living with his eccentric family, discovering the natural life of the island of Corfu. (Anne, since you asked, you CAN visit his villa apparently...don't know which one as the family seemed to move on the slightest whim...but we did not)
Among other seemingly preposterous observations about the island, Durrell suggests that all male inhabitants of Corfu seemed to be quaintly named for the island's patron Saint, Spiros. So we were amused when our bus was met by our villa owner and his wife, Spiros and Madeleine. After a fantastic meal,we bedded down to to the sound of the turbulent ocean.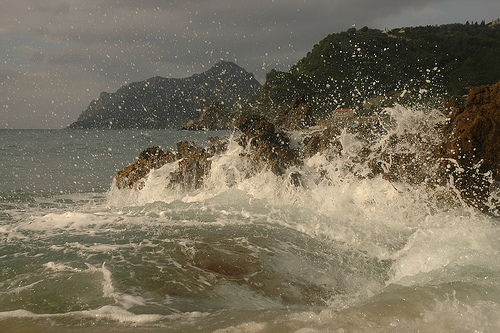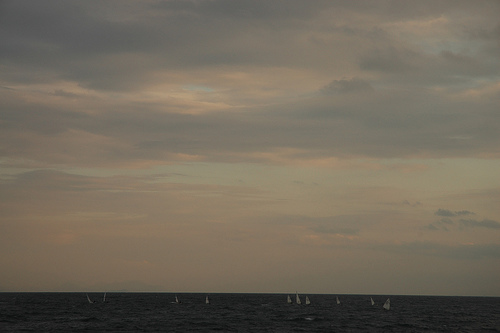 We awoke the next day to find it fifty paces from our balcony. The sands were dreamy and the waves and rocky outrcops, picturesque. So much so that Simon got thoroughly drenched wading out to photograph them! Again, if only it were lovely enough to lounge and swim comfortably (though of course we wouldn't hvae the luxury then of enjoying the whole beach to ourselves!).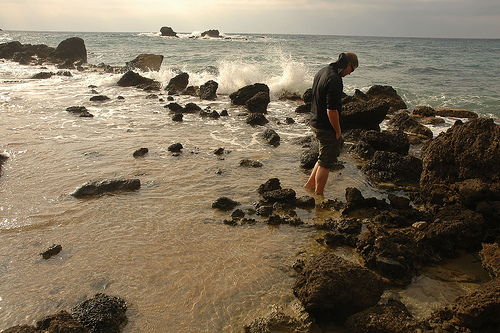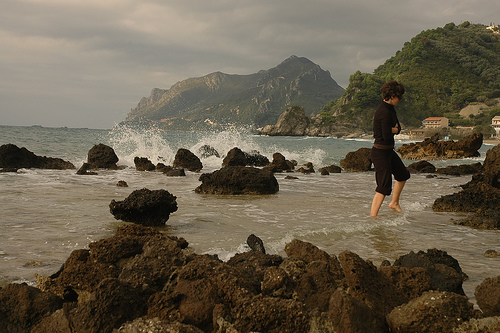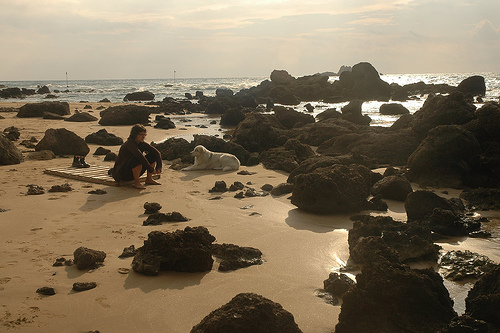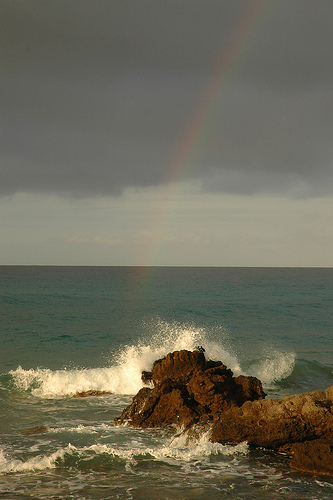 It's olive season on Corfu. The family that ownes our villa, also has a farm and were in the process of making olive oil. Although the ground around the olive plantation is typically covered in black netting to aid the collection, the room-and-board foreigners on staff compained bitterly about this process. As with maple syrup, it is a process where it takes a lot of raw material to make a little end product.
The other interesting thing we learned, is that olives are dangerous. That's right! This isn't just anti-olive propaganda from a couple of olive-haters--they can be responsible for leathal falls and car crashes. As Corfu and its roads are so hilly (we bemoaned this just in walking to the bus stop), a good slick from crushed olives on the road can give a motorist far more to worry about than any of our snow drifts! Even pedestrians have to beware...I very nearly skated down the mountain to our villa.
So we decided to leave this treacherous terrain and head to the other olive capital of the world...Tuscany! Yay for overnight ferries and waking up in a different country!
Posted by psy2099 at 11:45 AM
December 11, 2006
Santorini:Close Your Eyes and Picture the Greece of Your Imagination
This is the fairytale Greece that has been in my mind ever since I was a teen, when our family friends took a sailing trip through the islands.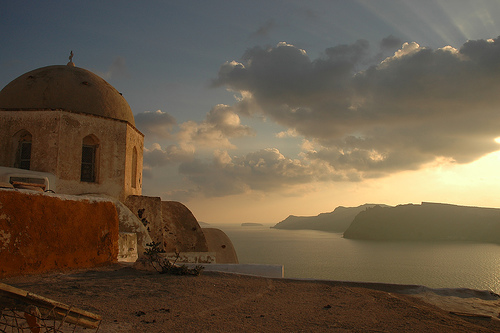 We'd initially settled on Santorini (out of all the Cyclades Islands) as our first choice destination based on the recommendation of my boss at Outland who had holidayed there this past summer. But when ferry schedules counfounded us, we had only to read our guide book's description of Santorini to find new resolve to get there somehow.
We arrived to find the island fairly deserted, but with vistas as beautiful as they could possibly be at any time of year. Santorini has a unique landscape as it is, essentially, a volcano. (Don't let this worry you, though. The tourist literature assured us that the innactive volcano is so carefully monitored that all visitors would have plenty of time to evacuate in an emergency---sucks to the locals, i guess.) The white villages are spilling down from the rim of the caldera, though the center island in the middle of the crater is still an uninhabited mass of black lava rock.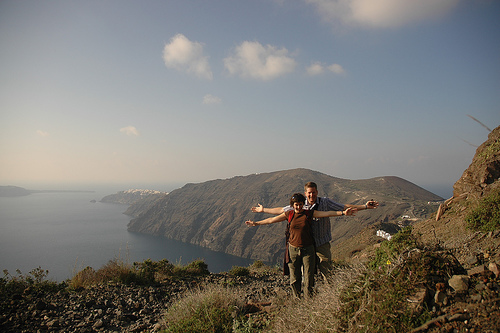 We spent some easy days here. Our first day was spent on a three hour walk along the rim of the island to the pretty town of Ia. Despite our determined indifference to the ever-loving steet dogs,we still had one as company all day. The only problem with this is that we later boarded a bus back to the town of Fira. Dog, of course, had no such luck, and is, we suppose, now securing his place in a new pack of dogs. We hope he likes his new home!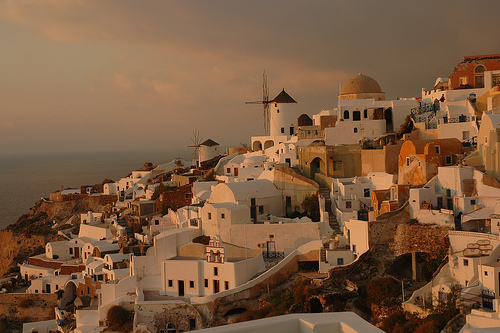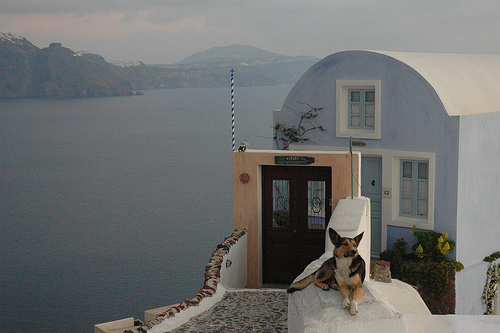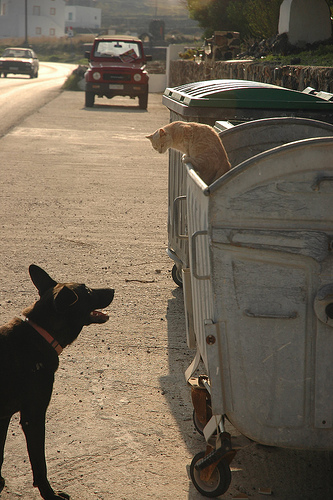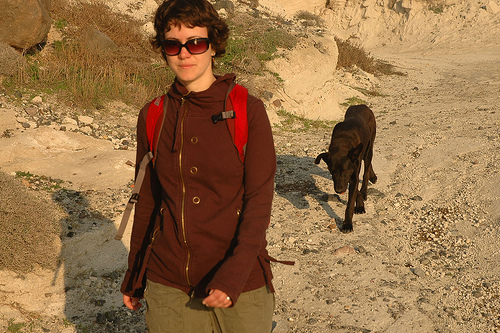 This surge of actuvity was duely followed by a lot of time eating fantastic Greek pastries and gazing out at the splendid view from a swanky cafe.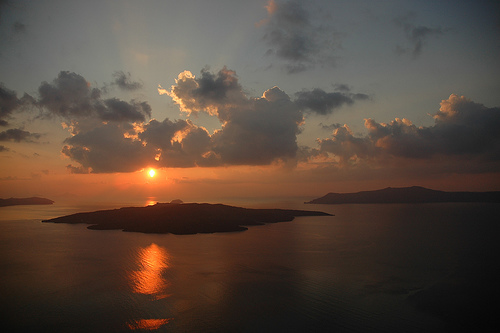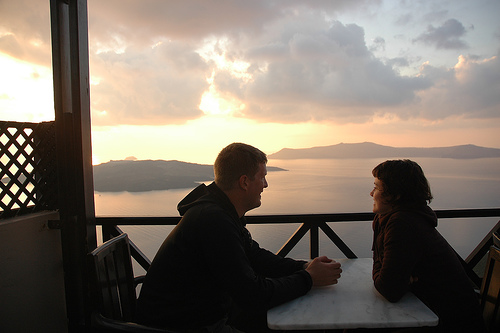 We even beached it one day. We were, predictably, the only people there, and well clothed at that. But it was lovely to have the black sands to ourselves.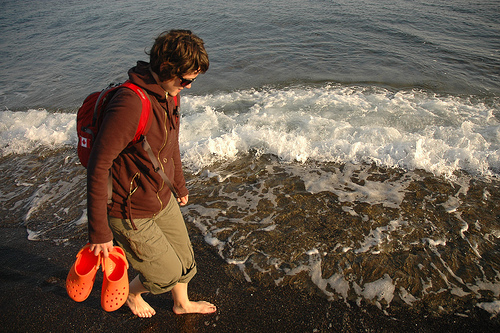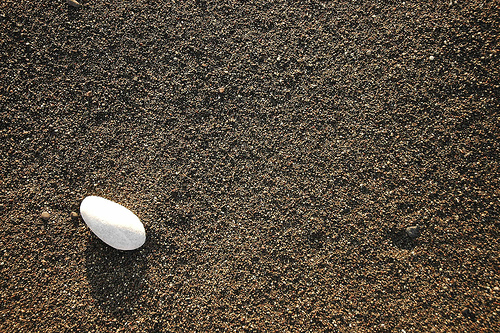 We topped it all off with a small cruise out to the center of the volcano, and a swim in the (not-so) hot springs. The latter was only enjoyed--if you can call it that--by a handful of mostly Canadians, including us, as we had to swim through the cold ocean where the boat was anchored to reach the tepid waters. The rest of the group stood on deck, bundled up, and watched.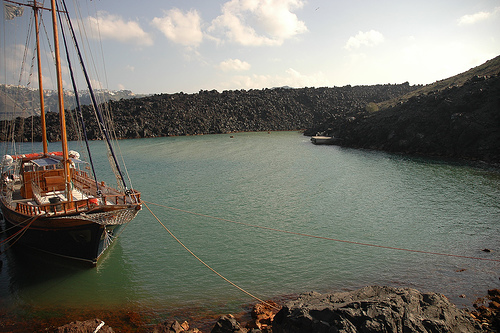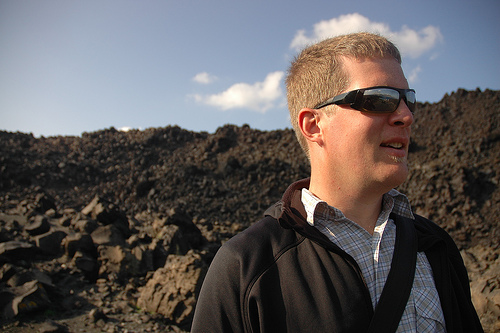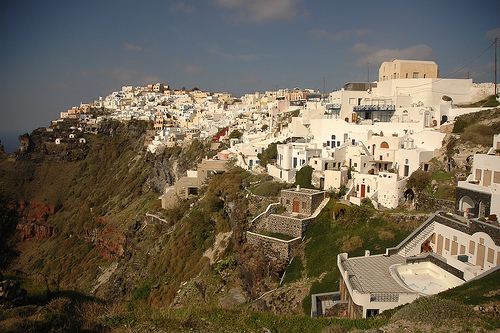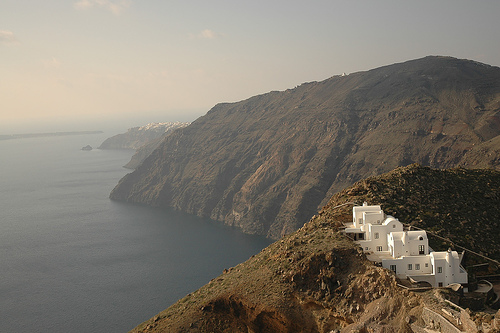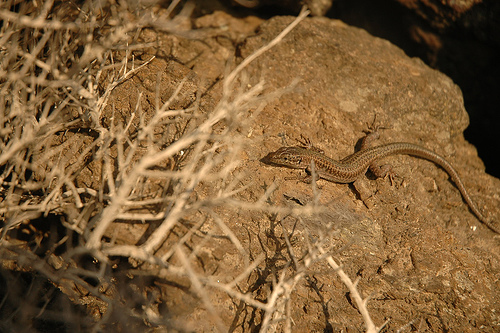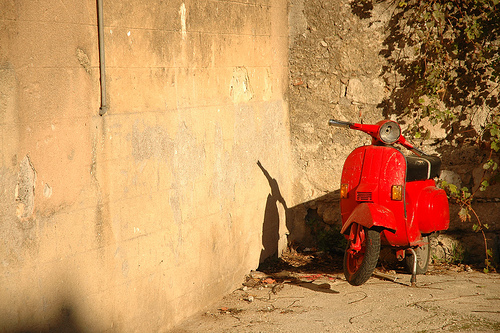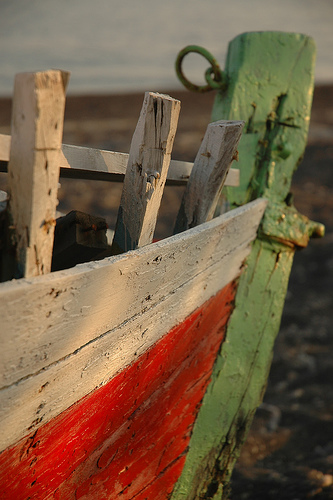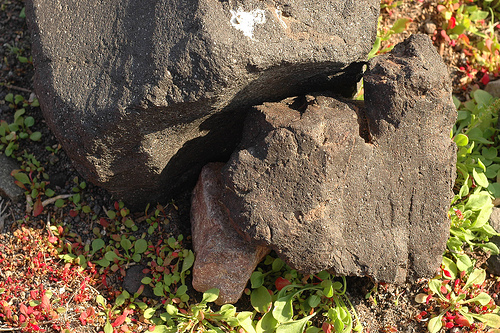 Posted by psy2099 at 11:20 AM
December 09, 2006
Do They Know It's Christmas? (Rhodes, Greece)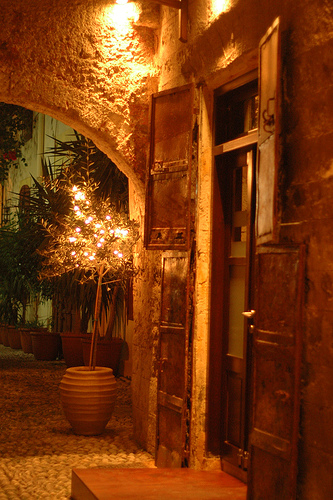 Had we stayed in Turkey, the season might have passed us by without us taking any notice. Being a Muslim country, there is, of course, no Christmas and, therefore, no Christmas retail prelude. Here, I have to admit that I am a closet Christmas paraphenalia fan. I like the decorations, the lights, the music, the bustle. So the cockles of my heart were warmed when we arrived on the island of Rhodes in Greece to the warm glow of festively arranged lights. Infact, the decorations of illuminated stars, garlands and snowflakes were so tastefully done that we wonder if Rhodes may have a ministry of lighting, much like St.Petersburgh.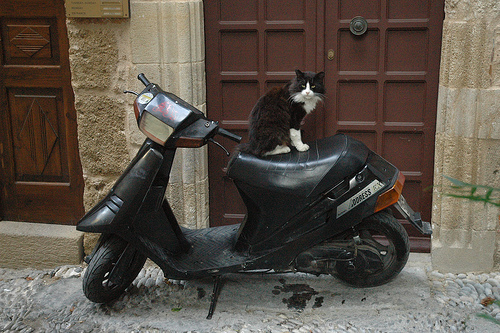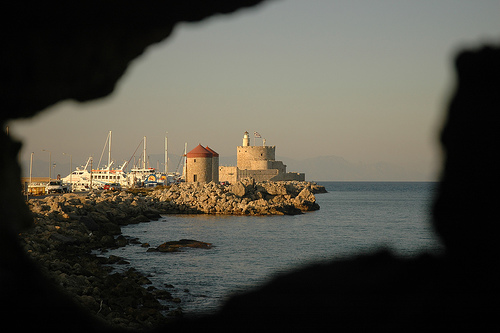 Again, we learned that we are most pleasantly surprised by a place when we have absolutely no expectation for it. Rhodes was just a necessary transition spot for us. The folly of being a tourist in the off-season was once more apparent to us by the looks of incredulity that met our our declared intention to ferry between Greek islands. So with boat schedules from Turkey and beyond only running infrequently, we settled for a couple of days in the old city of Rhodes... and what a delight! The quaint winding streets are set within the walls and dry moat of a thirteenth century castle. The place couldn't have been more charming if it tried.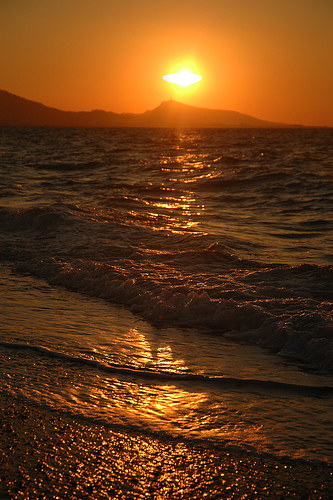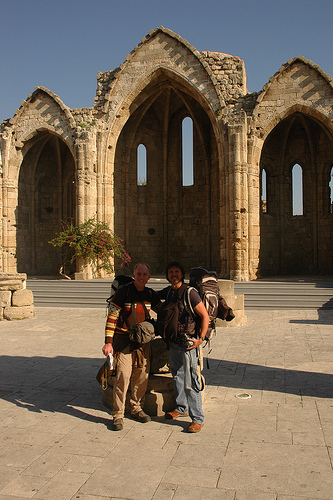 We also benefitted, during our stay in Rhodes, from the company of a couple of Americans. With Brian, the super-uncle software programmer and Chuck, the gregarious feminist, we wandered the streets looking for our pension, a restaurant (where do Greeks eat???), and a way out of the moat!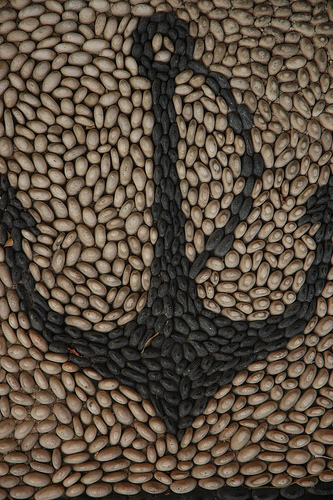 We would happily have stayed on (especially after we discovered a fantastci restaurant where the talented chef cooked up delicious feasts right under our noses---with plenty of wine and garlic mmmmm), but after a couple of days we had to grasp our opportunity to depart for Santorini on a four a.m. ferry.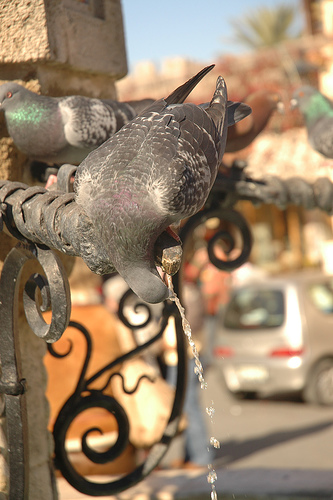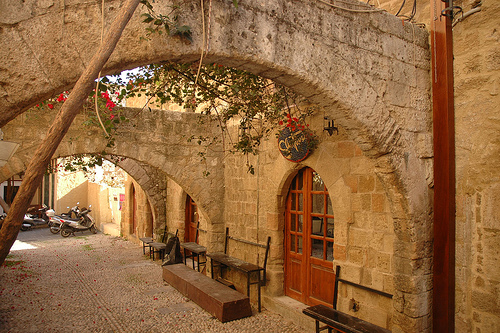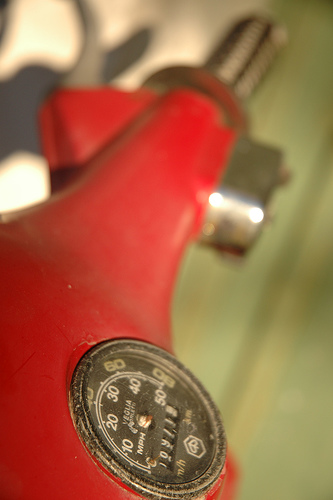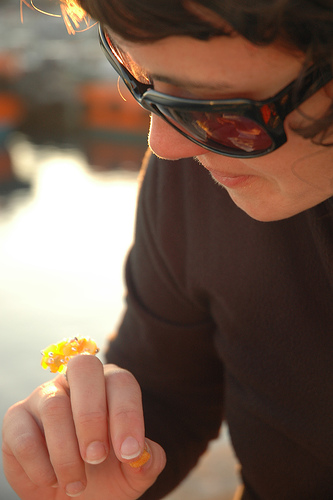 Posted by psy2099 at 10:58 AM
December 05, 2006
Turkey Part VI: Tiring of Turkey? No, Just Lamb and Chicken.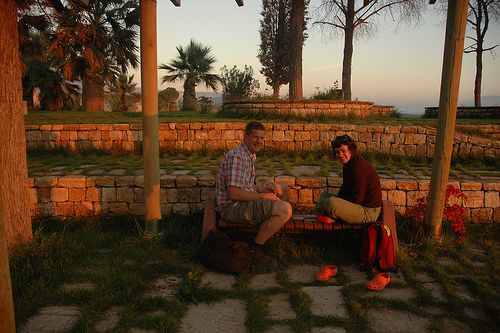 I have always thought that France was universally regarded as the bread capital of the world. But now I know better. I have never seen a culture more deidcated to this food staple than the Turks. I am not exaggerating to say that every other person seen walking on the street had a bag of loaves with them--and not only one or two, but six or seven! These were purchased from any one of the many little market stores that have a glass display cabinet on the street just for bread. At 30 kruch/loaf (aprox. 20 cents CAD), such an appetite for the stuff is, thankfullly, sustainable. We quickly became bread snobs, whispering between ourselves that the soft chewy stuff on top of the basket was clearly hiding the day-old (gasp!) stuff at the bottom. (To use a terms we've enjoyed since reading Bulgakov's "The Master and Marguerite"--'Second-Grade fresh'!). The only downside to this bread is that it suffers from the same problem as the rest of Turkish food--lack of variety. The loaves are always the same crusty, white, football-shaped filler.
Initially delighted by the most amazing freshness of the food in Turkey (your tastebuds can really tell if produce has travelled, trust me), we are at the point in our stay in Turkey that we are feeling somewhat desperate for a large quantity of some other cuisine. In other words, not Köfte (spicy, flattenned meatballs), not kebabs (şiş or doner), no more chicken and lamb (mmm... how 'bout a little pork...), no more salty feta-like cheese, no more cucmber parsley and tomato salad!
So tantalizing and cheap to begin with, the charm wore thin after ten days of the same. But it's not all bad--there are even some regularities that I could get used to---the availability of fresh-squeezed OJ (soooo delicious!) and the obsession with çay (tea) or apple tea, served everywhere (even the bus stop!) in delicate tulip-shaped glasses, held byt their rims.
At least this Turkish lack of interest in the dining experience left us more time for other things...
Like visiting the ruins of Hierapolis (surprisingly extensive and captivating)...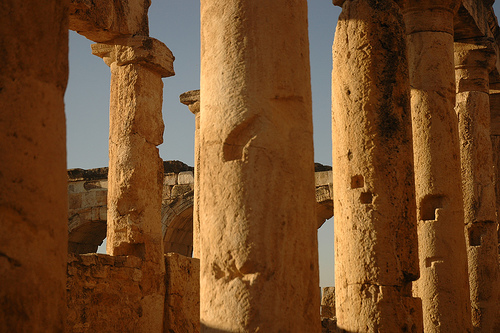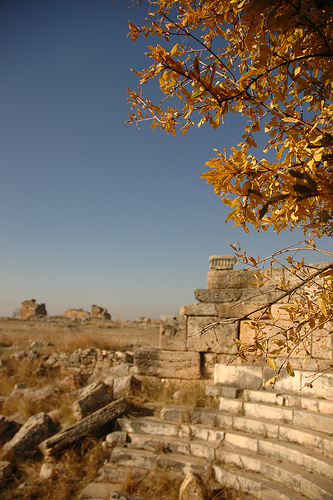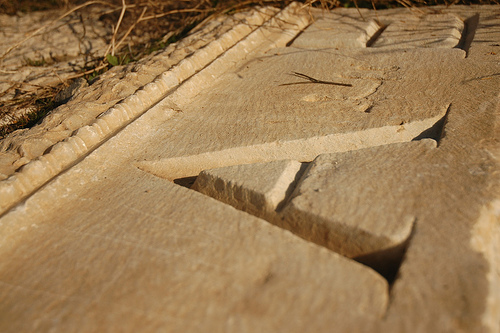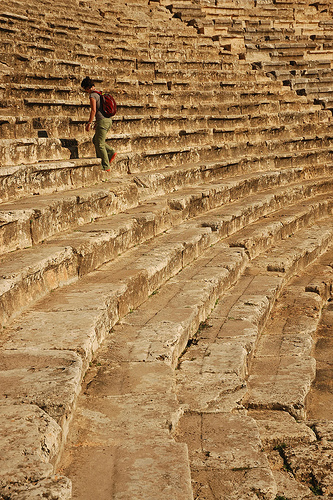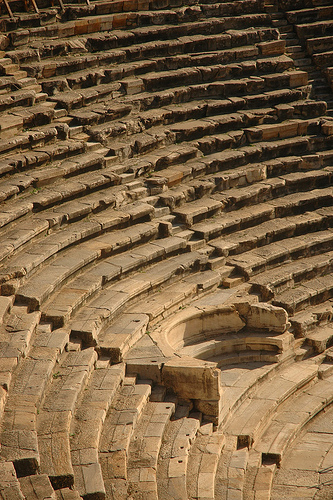 ...and the calcium-formed travertine pools and hot-springs of Pamukkale (slightly disappointing compared to advertising pics as they rotate the water flow in order to keep them looking lovely).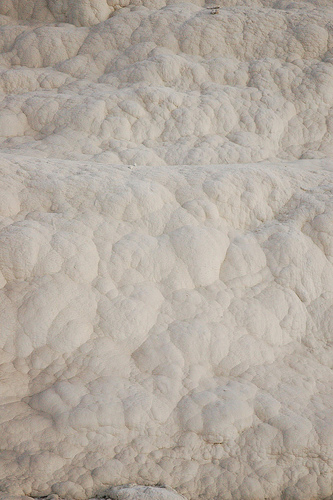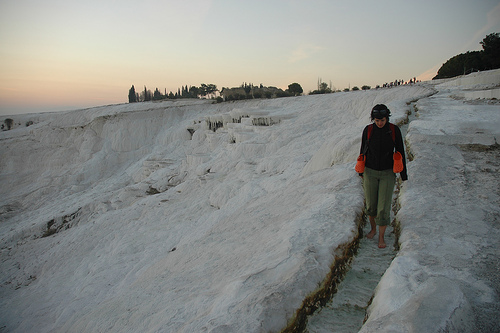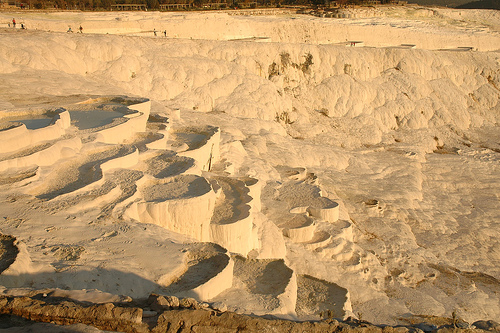 With our Turkish holiday winding to a close, we hopped a bus to the city of Marmaris where we could catch a ferry to Greece. We arrived to our hotel (booked online), to find...surprise, surprise...it was closed for the season! Fortunately, one of the oweners lives there, so kindly let us in and found a clean room for us.
Zeki, as it turns out, is running the hotel with his brother while waiting for his carreer in clinical research to take off. A doctor by training, with a master's degree in kinesiology from a Louisianna University, he has been unable to find work in his field in the States, Canada or Turkey. If you know of any foot-in-the-door positions, email us--we've seen his resume and it's a whole lot more impressive than either of ours!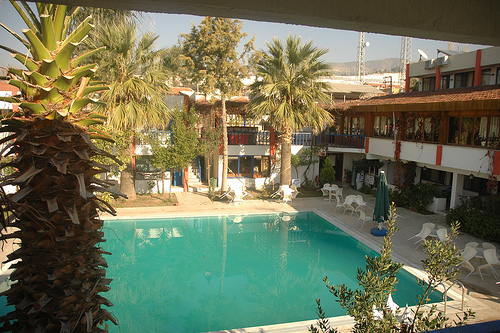 (our hotel in Pamukkale--that was NOT closed!---boasted a year-round pool... but un-heated! brrrr!)
After a brief night's sleep it was boarding time on the small boat that called itself a ferry, destined for the Greek island of Rhodes.
Farewell, Turkey! Until we meet again...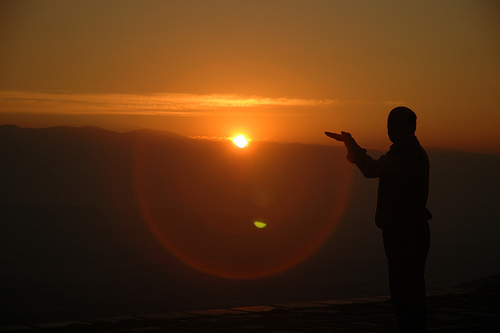 (Goofy, friendly Turkish man presenting us with another lovely sunset)
Posted by psy2099 at 10:17 AM
December 03, 2006
Turkey Part V - Even the Pope Loves Turkey
Since our arrival in the country, we have been informed by every store owner, restaurant server and hotel staff about 'Papa's impending visit. You may have read the news reports about protests, and there may well be, but we've seen nothing of the sort. People's reactions have mainly been mild curiousity at why the Pope could be interested in visiting a muslim (though non-secular) country.
The answer seems clear enough to me: He's German! This is were "all" Deutchlanders come for holiday. Ok. Ok. It could have something to do with some important Catholic/Biblical historical sights. Like for instance the house Mary resided in in Selçuk, the town wejust visited. Thank goodness we cleared out the day before his arrival-by the looks of the news reports the Pope has the power to stop traffic dead!.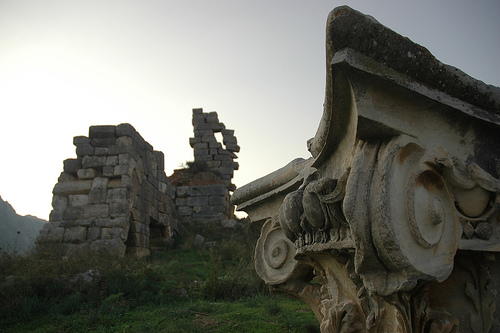 While we took a raincheck on Mary's house (reports suggest the authenticity of this claim are, not suprisingly, somewhat dubious), we did see the remarkably well preserved ancient city of Ephesus.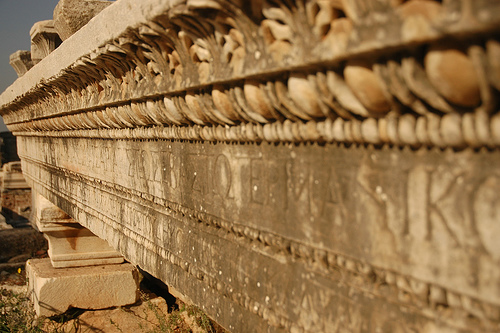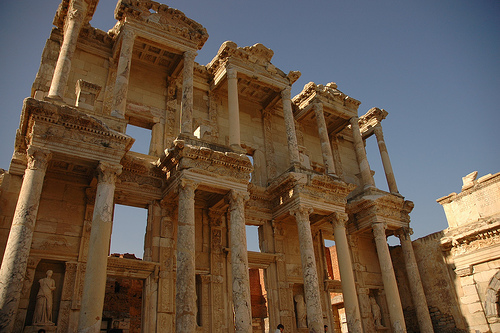 And don't forget one of the Ancient Wonders of the World - the Temple of Artemis. Somewhat less wonderous than it once was - all that remains is a column capped by a stork's nest.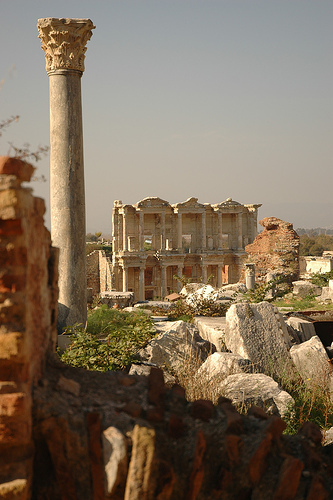 While in Selçuk we enjoyed three other experiences:
1) Running into travellers we'd seen earier along the road. Pete (from Calgary) and Tracey (Australian)-previously met in Olympos-and shared a game of scrabble with us & even gave us some Eucalyptus oil to help with Simon's cough (we're both sick now).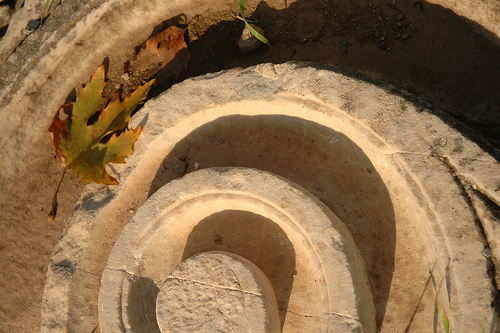 2)Simon had a haircut and shave - a true Turkish experience. It was so thourough as to include a face wash, nose hair trim & even burning of his cheek and ear hairs! A well spent 10 Lira!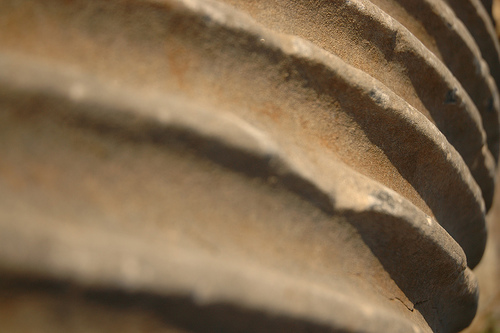 and 3) A chat with -who else - a carpet salesman! This one was different from the zillions of uncles, cousins, brothers, etc that try to sell their wares. Gokhan is in his early 20's and was clear that he was not trying to sell us anything, but rather looking for some conversation to spice up his, otherwise, boring day. In fact, when I inquired about buying a small decorative trinket, he insisted that it was not necessary to buy anything & I had to force the issue. Perhaps it was reverse psycology, I don't know, but whaever it was it is most unlike the tatics of the throngs of carpet sellers who nab you at every chance.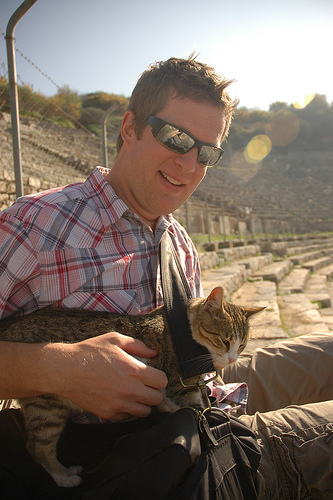 From Gokhan we learned that the wild honking and tiny parades we'd been witnessing all over were the young men going off for their required 15 months in the army. We also learned that the only way to avoid this duty was to a) be physically or mentally incapable b) run away and never come back or c) commit suicide. He had just returned from his tour of duty - embarked upon only 2 weeks after he was married. Still, he didn't regret the timing of his wedding, as he had married a distant well to do relative at the insistance of his grandmother, who died happily four days after the union. He had met his bride only a couple of times prior to this arrangement! Aieee!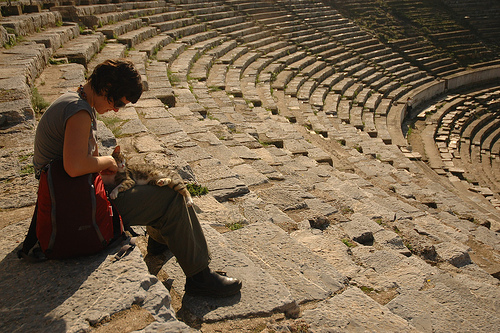 Posted by psy2099 at 10:31 AM
December 02, 2006
Turkey Part IV - Koyceğiz, Cats and Dogs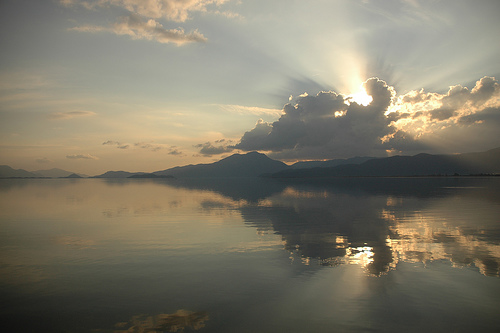 On to the sleepy town of Koyceğiz. Not much is happening at this time of year, though the lake that the town borders is beautiful any month of the year, I suspect. I guess we're in scooter mode now. That & no public transportation goes to the tourist destinations at the moment.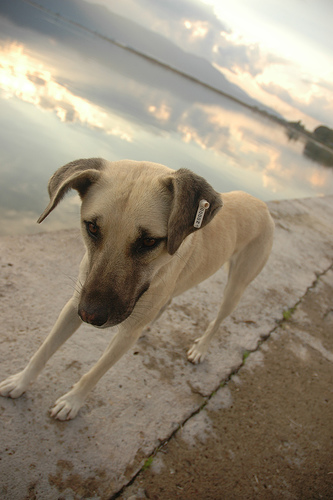 Anyhow we got us a steed & headed around the lake, making stops at the waterfall - Beautiful, Thermal bath - Icky, & Kanos ruins - a miniature prelude of ruins to come. A pretty laid back day with lots of time logged on the bike (I forgot about how this can be a strain on the old muscles!) & only a minor worry that we would run out of gas along the winding mountain road.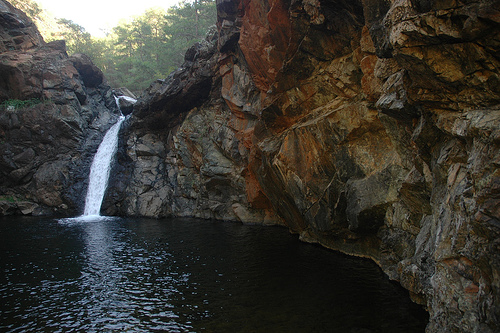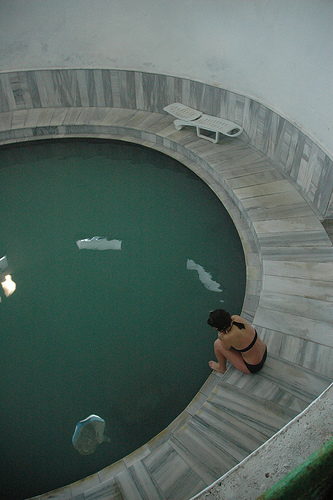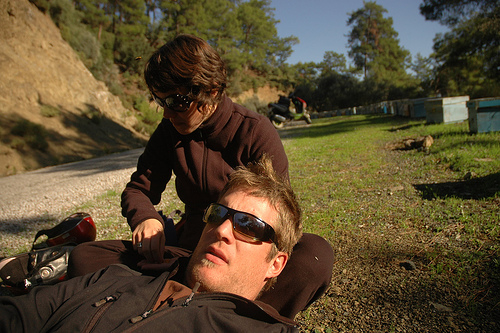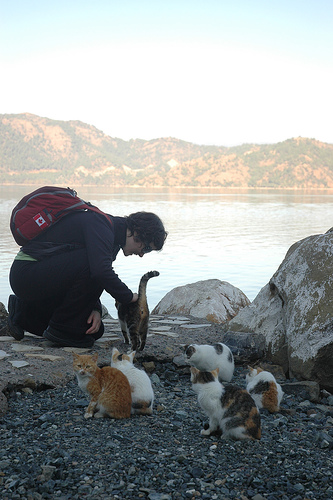 You may start to notice a theme to the pictures. A Furry one. This is not because we lack beautiful scenery to photograph. It's more because there are so many stray cats and dogs in this country that they virtually become the scenery in places. What's more impressive, is that these are no mangy mongrels & anti social felines. They are clearly well fed by locals and tourists and are ready to adopt any friendly body as their owner-for-a-day. At times we've found ourselves sneaking around, trying to hide from an overly friendly fido, in order not to be followed all the way into our hotel room!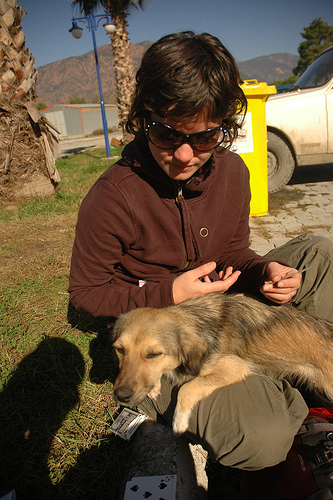 We can only suppose that these animals have learned their manners from the fine example set by the Turkish people. To say that Canadians have a reputation for friendliness is laughable in comparision to the welcome we've met with here. True, there is a small amount of smiling to disguise an ulterior motive, but it's best not to get your back up about it too much or you will miss out on the genuine thing.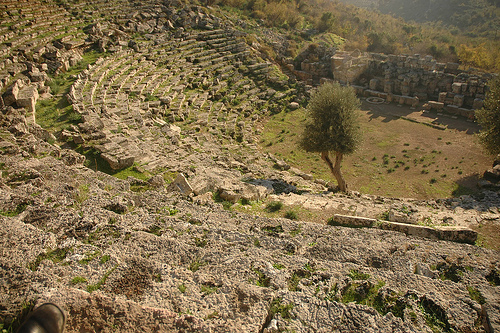 Am I starting to sound like a tourism ad? Good. By the sounds of the year they've had they could use a little help. Statistics put this year's tourism revenue down by 60%. We've heard a variety of reasons for this - FIFA (Turkey has a huge proportion of German tourists), big guns in the tourism industry redirecting people to Spain in order to prop up their post aid-the-US-in-Iraq slump, semi annual bombings by the PKK (Kurdish peoples army) who want their own province in the south, etc, etc...
What ever the reason, you can imagine how devestating this will be if it keeps up. It is apparent to us, as we see all the tourist spots boarded up for winter, how much of this country must rely on tourism dollars...So come to Turkey!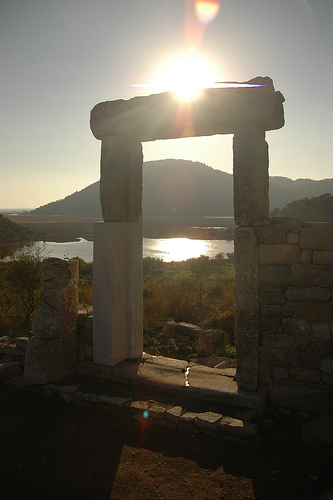 Posted by psy2099 at 10:39 AM